Bas du Fort Marina, Guadaloupe

Ocean Gem
Geoff & Eileen Mander
Fri 20 Dec 2013 15:35
Position: 16:13.28N 61:31.78W
Date: Friday 20th December 2013
The Volvo engineer turned up as promised on Monday morning to replace the faulty part on our engine. Everything seems to be OK but we'll find out for sure during the next few weeks.  However we also had another engine to repair, namely our Suzuki outboard engine.  There is a Suzuki agent in the marina, and I wanted him to see if he could fix the thing.  More on this in a later log entry.
The marina had been the finishing point for a French Transatlantic race, namely the 'mini Transat 2013'.  This is a non-stop single handed race from Europe to Guadaloupe in tiny 6.5 metre racing yachts.  The boats were just so tiny, and the crews mostly youngsters.  And they made some impressive times as well.  Here is a picture of one of the boats alongside Ocean Gem.
The lead boats had arrived about a week before we got to the marina.  However we did get to see the last few boats to arrive.  Here's the last man to finish who arrived about two weeks behind the winner.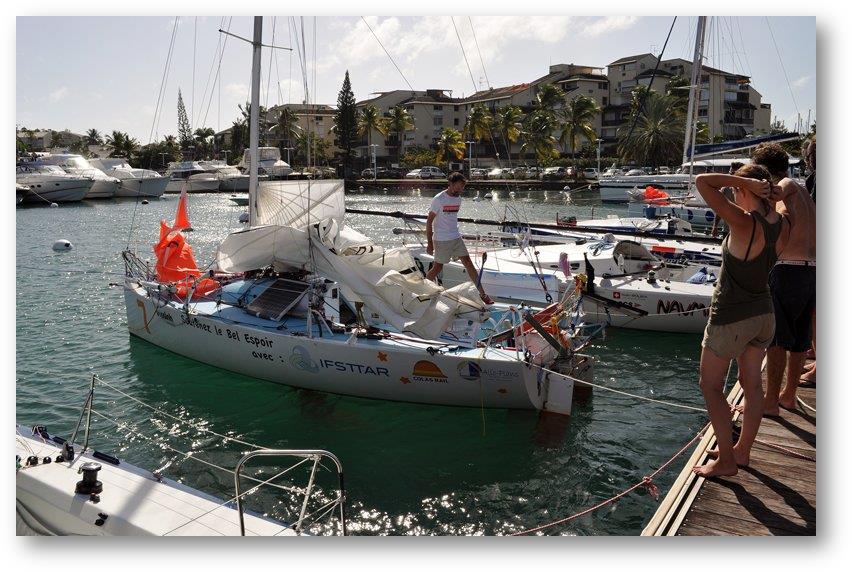 When I spoke to him he told me that he could have sailed in about 12 hours earlier, but he hadn't any charts for the entrance to the port, so rather than attempt it in the dark he took shelter behind Marie Galante, a large island just south of Pointe a Pitre, and had a sleep.  When there was enough light he sailed in to the harbour.  He sounds more like a gentleman cruiser than an out and out racer.
Whilst we waited for the Suzuki outboard to be fixed we hired a car for a couple of days and took a trip around the island.  We revisited some of the places we had seen last May as Eileen wanted to see the tropical gardens again and we just had to go to the chocolate museum and sample some of the exquisite produce.
As we drove around I was also interested to see some of the road side signs announcing the names of the towns we drove through, spelt in both standard French and the local Creole.  The Creole seems to be so gloriously phonetic.  Here are some examples:
French                      Creole
Deshaies                    Déhé
Pointe Noir                 Pwentnwa
Saint Rose                  Sentwoz 
We took a drive out to Le Moule on the Eastern side of the island, just to take a look.  It had that glorious, run down, sun drenched, port town sort of quality, that of somewhere that nearly became popular some considerable time ago but has slowly declined ever since.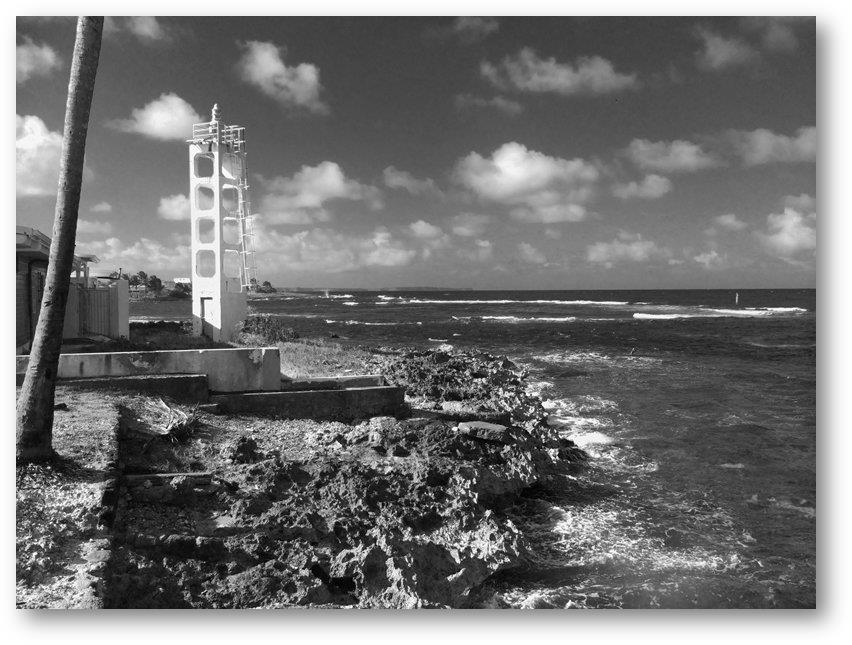 ---