Isla de Culebrita, Spanish Virgin Islands, Puerto Rico

Ocean Gem
Geoff & Eileen Mander
Mon 17 Mar 2014 02:07
Position: 18:18.875N 65:13.970W
Date: Monday 17th March 2014
Just a couple of miles east of Culebra there is a small uninhabited island called Culebrita (small Culebra) that we thought we would go and take a look at. To get there you have to dodge around a few reefs, but in good daylight this was not a problem. As we approached the western shore of the island we could see that the seas were calm and there was an acceptable anchorage there. However as we got closer we saw that there were two mooring buoys, one of which was free. I know that I have sworn never t use these again after our experiences in The British Virgin Islands, but there was a modest and constant wind blowing so I decided to give the buoy a try.
As we hooked up we could see that the water was a stunningly clear turquoise with a shoreline consisting of a thin strip of sand backed by low lying bushes. The only building in sight was a derelict lighthouse atop the hill overlooking where we were. When we arrived there were only two other boats there and one of these left almost immediately, so we had the place almost to ourselves. We were soon in the water exploring the coral and looking at the marine life.
The stunning waters around Culebrita:
We had left the VHF radio turned on and we could hear the US Coastguard relaying a Mayday message on behalf of a missing diver in our general area. We were startled to hear the coastguard calling us 'Ocean Gem this is US Coastguard'. They told us that they believed we were in the area of the missing diver and could we look around us to see if we could spot him. As we were in such an isolated spot we wondered how they knew where we were, but then I remembered that I had my AIS unit turned on which broadcasts a continuous stream of information including our boat name and position.
Just before they had called us we had been discussing an isolated diver's buoy that had appeared about 100 meters from our boat whilst we had been snorkelling around the bay. It was not moving. I told the Coastguard and they asked me to go over to the buoy and see if it was attached to a diver. I launched the dinghy, rowed over to the buoy and with some trepidation started to pull it in wondering what I would find on the end. To my relief it was just attached to a weight in the water.
Shortly afterwards 3 or 4 swimmers appeared from shore and asked what we were doing with their buoy. Apparently whilst we were snorkelling they had been dropped off by a tour operator who had also left the buoy behind to mark where he had left them. I was able to let the coastguard know that we had not found the diver.
Later that day I went ashore and hiked up to the ruined lighthouse which had some splendid views over the surrounding area.
Along the path there was a cluster of land hermit crabs, presumably called to discuss local housing shortages.
The view looking back towards Culebra: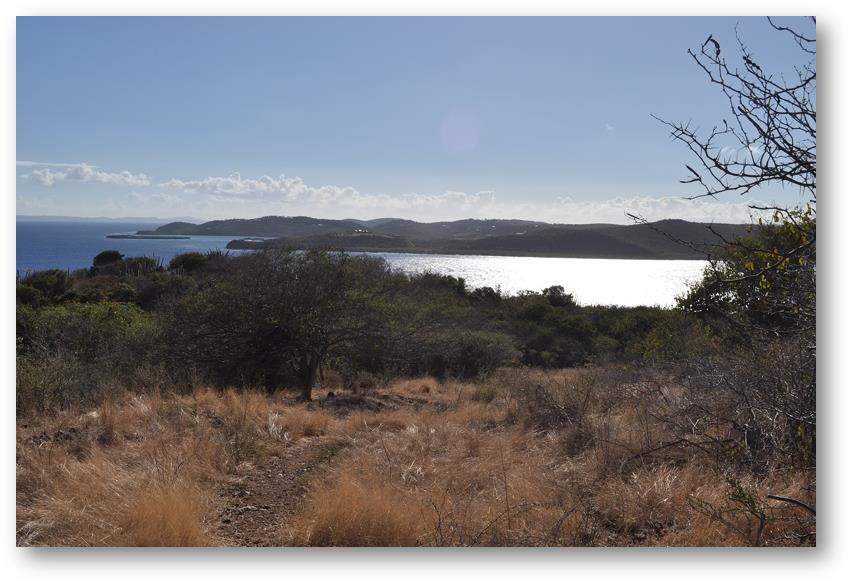 Late afternoon we went back to Ensenada Honda on Culebra for the night as it was so splendidly sheltered and still there. On the way we were delighted to hear that the missing diver had been found.
---