Pico Island

Ocean Gem
Geoff & Eileen Mander
Fri 2 Jun 2017 11:00
Date: Thursday 1st June 2017
Position: 38:31.975N 28:37.503W
Paul and I wanted to take a look at the nearby island of Pico so we left the boat early in the morning to walk around to the ferry dock in Horta to catch the 7:30am boat to Madalena. Once there we picked up a hire car and drove clockwise around the island.
The main volcanic peak on Pico is semi dormant and reaches a height of 2,351 metres forming an almost perfect cone. The volcanic soil is very fertile and allows a number of crops to be grown, but it is perhaps most famous for its wines which are making a come back after several decades of neglect.
The northwest coastline has been subject to recent volcanic activity and is characterised by black basaltic rocks spilling into the sea with breaking waves pounding on their shores. Scattered around them are a number of small attractive villages.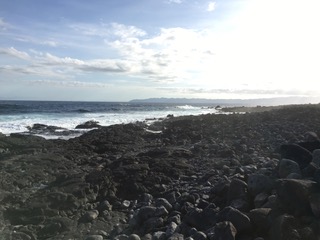 On this shoreline rock shelters are built to protect the vines.
Running parallel to Pica and to the north lies the similarly volcanic island of São Jorge: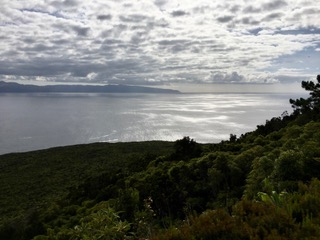 Numerous wild plants proliferate:
Until 1984 whaling in traditional small boats was still active on Pica. There is an interesting whaling museum in Lakes do Pico where we stopped to take a look. They had a video of an actual whale hunt made sometime in the 1970's by an independent film crew, complete with a commentary in best BBC English.
---