Gaviota Bay, Stocking Island, Exumas, Bahamas

Ocean Gem
Geoff & Eileen Mander
Mon 5 May 2014 02:49
Position: 23:31.177N 75:45.534W
Date: Monday 5th May 2014
We spend a few days anchored across the bay from Georgetown. It was a well-protected spot in a relatively deep anchorage. Turquoise waters surrounded us, close to our north on Stocking Island was the small resort of St Francis, and about a mile away to our south was Georgetown on Great Exuma Island.
One afternoon Eileen was planning to take a swim from the back of the boat when I caught a glimpse something under the hull that looked quite different from the fish that we normally see. I couldn't quite make out what it was at first, but suggested that she stay on the boat until it became clear what had come to visit.
Whatever it was continued to stay out of sight until later in the evening when I was trying to put the dinghy away. The mystery fish was trying to stay close to the bottom of the dinghy and I got a good sight of it. It was a Remora, about 25 inches long, and it also had a companion that was a little shorter. I'd seen them before in various aquariums but never had I seen one swimming freely in the sea. They are unusual in that they have a large 'sucker' on the top of their heads which they use to hitch a ride on larger marine creatures, such as sharks, rays and turtles. They have also been known to attach themselves to boats (and sometimes even people). Indeed the name 'Remora' comes from the Latin meaning 'delay', because in antiquity the fish were often blamed for ships sailing slower than was expected.
As we were in the Bahamas the beaches around us were of course shallow, with white sand and turquoise waters. One of them had a small stand selling conch meat and the unused fleshy parts of these molluscs were regularly thrown in to the water to attract stingrays. Some of these were huge, maybe five feet across. They were quite an attraction for holidaymakers and many would try to get into the water close to the rays and make physical contact. The rays seemed not to mind, as long as they got fed. But the sight of very young children, some much smaller than the fish, trying to touch the rays made us feel very uneasy, particularly in the light of the tragic demise of Steve Irwin in Australia.
Beaches on the Atlantic coast of Stocking Island:
A wary osprey watching our every move.
Not sure if this is volcanic, coral or fossilised sand.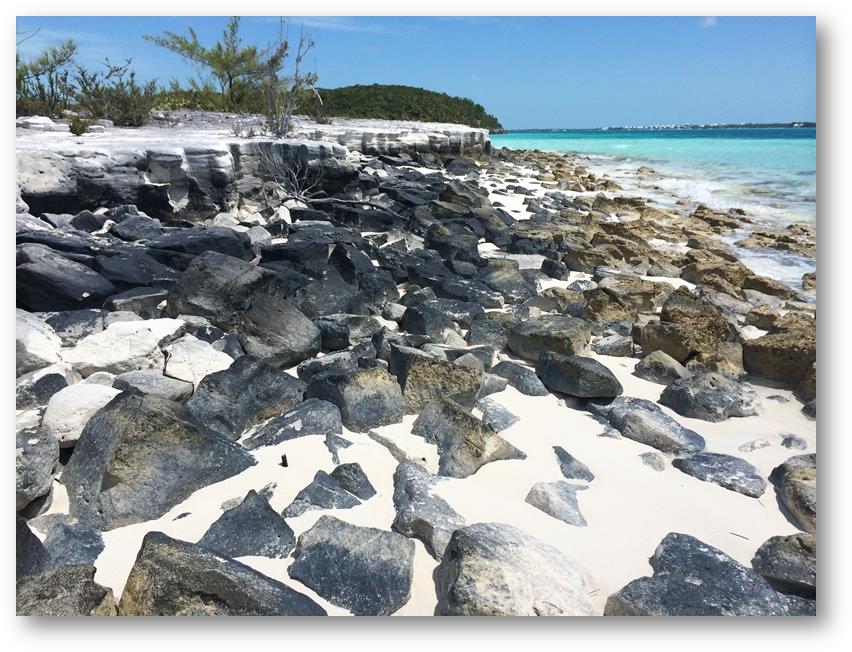 The monument on Stocking Island.
---