The Baths, Virgin Gorda

Ocean Gem
Geoff & Eileen Mander
Fri 28 Feb 2014 21:35
Position: 18:25.979N 64:26.773W
Date: Friday 28th February 2014
The Baths are one of the highlights of Virgin Gorda and it would have been unthinkable to be so near and not go and take a look at them. They are located only about a mile or so south of Virgin Gorda Yacht Harbour and so it took us only a few minutes to raise the anchor and motor down to pick up a mooring buoy there.
The Baths are a collection of large granite boulders, some as much a fifty feet across, that have been scattered in a large cluster on the shoreline. Either side of them are picture postcard white sandy beaches backed by palm trees and indigenous vegetation. Because the boulders are so large and vaguely spherical it is possible to walk, crawl or scramble between them from one beach to another. For most of the way you have to paddle through water that is around knee deep, with sand underfoot and the loosely fitting rocks above you blocking out most of the sunlight. The rough texture of the stones, earthy colour tones, shafts of light percolating through the holes between the boulders and the echoes of the waves breaking against the outer rocks create a wonderful marine ambiance.
You are not allowed to take your dinghy to the beaches either side of The Baths and since we had to moor further offshore than we could swim comfortably we decided to take the dinghy as close as we could and tie it off to the line of small buoys that had been used to cordon off the beach from seaward. With camera, wallet and other essentials safely wrapped in a waterproof bag we then slipped over the side of the dinghy and swam the 100 meters or so to the beach. Just as we were about to get in the water a large barracuda swam up to us for a closer look.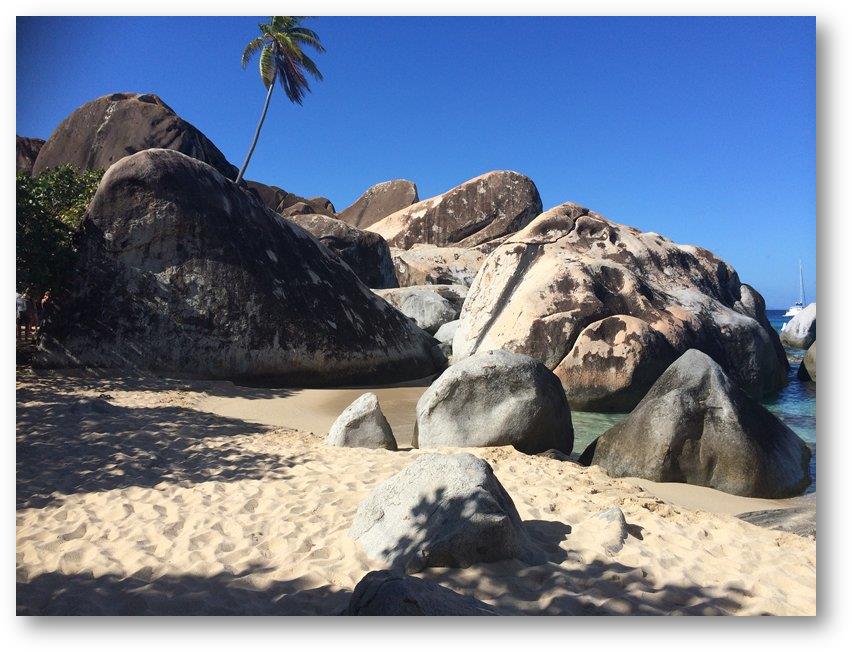 After 20 or so minutes we emerged onto Devils Beach on the far side of the rocks.
Devils beach is actually a very narrow strip of land with the sheltered waters of Sir Francis Drake Sound on one side and the Caribbean on the other. We walked down to the Caribbean side which was fully exposed to the uninterrupted trade winds.
---