Norfolk Virginia

Ocean Gem
Geoff & Eileen Mander
Thu 26 Jun 2014 00:30
Date: Thursday 26th June 2014
Position: 36:51.149N 76:17.869W
I stayed in Norfolk for just over a week. Gary and Greta very kindly allowed me to stay at their dock, right in the centre of the city which gave me the opportunity to relax and recharge my batteries after the very tiring trip through the ICW.
Here's Ocean Gem in her berth outside Gary & Greta's apartment.
Here are a few pictures of the area of the city close by.
The Chrysler museum was just a short walk away.
Whilst I was there they had a two day festival celebrating Louisiana culture. In the evening there was a music festival with several different bands performing.
The headline act was 'Dr John' who I had not heard of for many years. One guy in perhaps his twenties, standing next to me in the crowd, asked 'Who's Dr John, is he any good?'. I was able to reply 'don't know about now but he was OK 35 years ago'. When he came on stage he was clearly quite arthritic, but he put on a good set which warmed up as the night developed. By the end there were thousands of people of all ages stomping around and having a whale of a time.
One of the major sites in the city is the warship 'Wisconsin' which was finally laid to rest in a specially designed berth in December 2000. Not only is it gigantic but it has a very distinctive profile.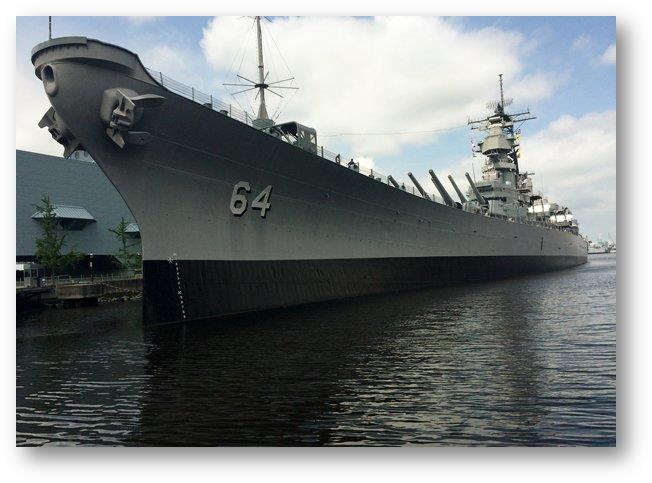 In this photo it would appear that the US Navy meets hippie culture, both at their zenith in the 1960's.
---