Road Bay, Anguilla

Ocean Gem
Geoff & Eileen Mander
Sat 22 Feb 2014 01:57
Position: 18:12.053N 63:05.705W
Date: Saturday 22nd February 2014
We had been in St Martin far longer than we had originally planned and it was time to move on. On Monday 17th February we upped anchor and sailed the 11 miles to Road Bay in Anguilla.
It is a low lying island with lots of fine white sandy beaches and shallow turquoise waters. Judging from the literature produced by the tourist office its other principle assets are its hotels, restaurants and the expats and rich celebrities who have chosen to buy houses here. The population is small (around 14,000) and the main industry is tourism. It is still a British Overseas Territory. In fact it has much in common with the island of Providenciales in The Turks & Caicos Islands where we have spent much of our time over the last few years and we have had a strong feeling of familiarity all of the time we have been here.
Anguilla,…..life's a beach……but not much else.
Road Bay is about ½ mile across and protected on three sides, being open to the west from which the wind only rarely blows. It has fine sandy beaches around almost all of its perimeter. Behind the eastern end of the beach there is a salt pond although no salt has been extracted for some time. To the south are attractive ochre coloured cliffs around 100 feet high, and to the north a steep incline largely covered with scrub. There is a small commercial dock in its centre, but it seems to be a natural part of the landscape. There are also a small number of rusting wrecks around the shoreline that from a distance just merge into the background but from close up are quite interesting to look at.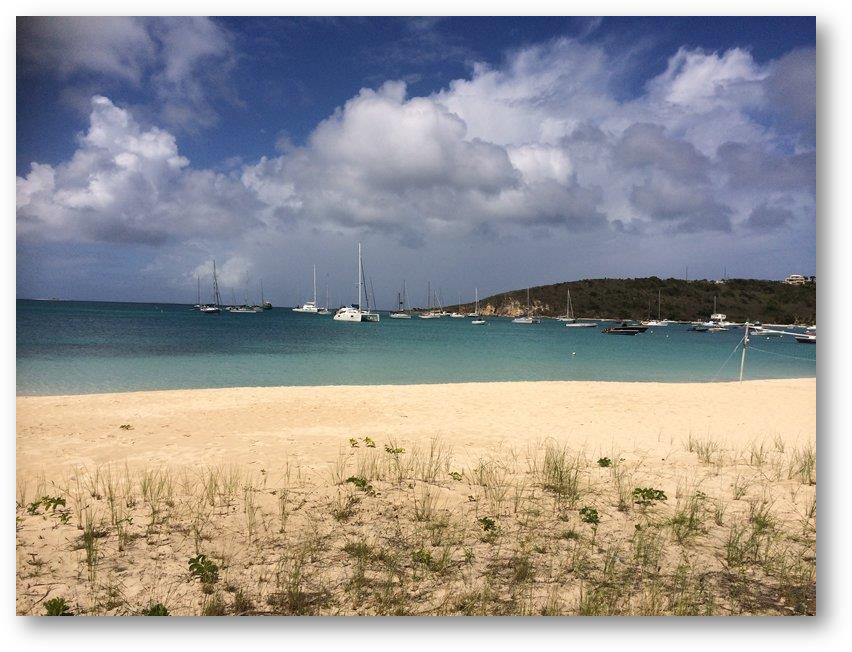 Just north of Anguilla there are a few very small uninhabited cays that are within Anguilla's national marine park. They are quite petite and beautiful and on Wednesday we took a trip out to see them. However the authorities levy quite a hefty fee for the privilege, in our case $140 EC for a day's permit. We spent most of the day at Prickly Pear Cays, the middle group of islets, and there were four or five other private yachts moored near to them and two or three large tourist catamarans that had sailed out from St Martin for the day; so for tiny islands they were rather busy.
On Friday we needed some fresh food so thought it would be a good idea to take a taxi to a large supermarket in the nearby town of Valley and take in a view of part of the island at the same time. As far as we could determine there was no bus service from Road Bay where the boat was anchored. Our driver was an amiable if a little impassive sort of guy who was very helpful and did his best to explain all of the local features to us as we drove past. He was however painfully honest. After we had arrived in Valley I asked him what were the main attractions on the island and could he could take us to see them. 'Well' he said 'there aren't that many really. It's all pretty much the same as what you have already seen. There are other beaches and some good hotels, but I guess you're not too interested in visiting them are you?'.
Although there are a number of anchorages around the island the majority lie within the marine park and so access to them is controlled. To visit them you have to provide a detailed itinerary and purchase an over-priced cruising permit, not something that we were inclined to do. So we didn't see much more of the island than has been described above.
Crime doesn't seem to be a problem. This house had a guard goat:
In summary the island is small and friendly and the beaches are as good as any we have seen. But the restrictions imposed on the free movement of boats reduce its attractiveness as a cruising destination.
Here are a couple more pictures taken around Road Bay:
---