Carriacou Island (Tyrell Bay)

Ocean Gem
Geoff & Eileen Mander
Mon 18 Feb 2013 12:00
Position: 12:27.453N 61:29.215W
Date: Monday 18th February 2013
We left Clifton Union Island soon after completing the customs clear out formalities, and then had a good sail over the short distance (about 6 miles) to Hillsborough on the island of Carriacou to check in to the next county (Grenada). Having to spend so much time clearing in and out of each tiny country is one of the real pains of cruising these waters. Each territory has a slightly different procedure, they are all long winded and mind numbingly tedious and involve writing the same information over and over again onto slightly different forms; and when you try to analyse what they achieve the result is a number less than zero. Clearly the drug smugglers, people traffickers, gun runners etc. don't bother to stop off at customs and immigration and complete the necessary paperwork.
At least the officers we have met so far have been polite and even willing to share some amusing conversation. Unfortunately this could not be said for those at Hillsborough. Whilst I was checking in at immigration another yachtsman entered the office and asked the officer a question. The officer (young and wearing very casual clothes, no uniform) admonished him like a schoolmaster "so we left our manners outside did we, where is your 'good morning'". He wasn't trying to make a joke. The person he was speaking to was more than twice his age. He then proceeded to demonstrate his own good manners by holding a conversation with his colleagues about what they were doing last night and ignoring those of us waiting to complete paperwork. After a while he got round to doing his job and handed me back my papers. Fortunately I checked what he had done and found that he had omitted to stamp Eileen's passport. I can imaging the trouble we would have had when we eventually come to clear out if that stamp had been missing.
I went back to the boat where we upped anchor and sailed around to Tyrell Bay, a large anchorage on the west of the island. It's a large bay, clear water most of it a good depth for anchoring. There are a couple of shoal patches but these are easily avoided. Ashore is extremely attractive, a narrow beach backed by manchineel trees and a small road. There are a few small restaurants a couple of grocers and a couple of rum shops. All very tranquil and peaceful.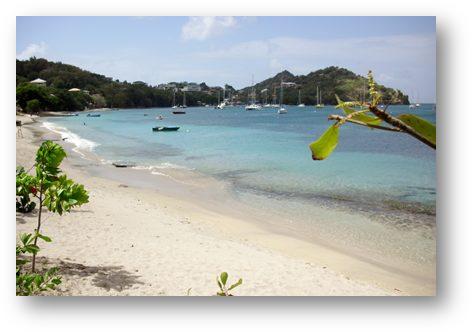 In the afternoon we took the dinghy over to a part of the bay overgrown by mangroves. It's a national park and engines are banned, so we stowed the outboard engine and rowed. It was so green, still and peaceful. There were no people, a few fish and birds and no man made noises other than those of our oars breaking the surface of the water.
The mangrove swamps are used by small boats for shelter during hurricanes. Clearly a few had been forgotten to be collected after the storms had passed through.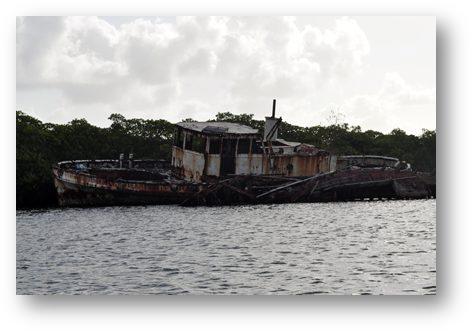 ---