Basse Terre - Guadaloupe

Ocean Gem
Geoff & Eileen Mander
Wed 1 May 2013 11:00
Position: 16:13.288N 61:31.781W
Date: 1st May 2013
We decided to take a tour of part of the island and made arrangements with a taxi driver called Alaine to drive us around the north western part of the island, Basse Terre. He drove slowly along the most picturesque roads, which we both appreciated. He also kept up a running commentary on various facts of interest that we could see. His special interest was botany so we were introduced to numerous plants that we had not seen before.
Our knowledgeable guide:
Cashew nuts growing alongside the road: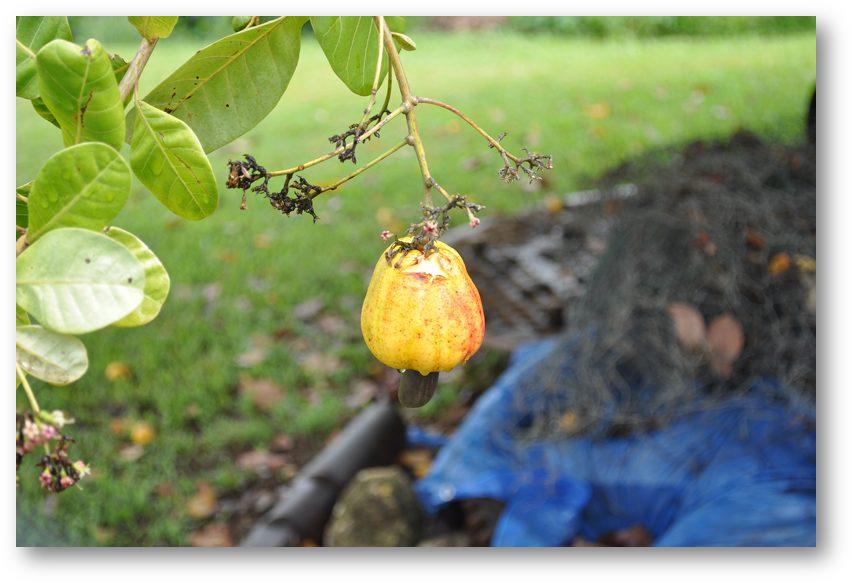 The road started to rise through the foothills of the mountains on Basse Terre:
Eventually we entered the rain forest that clothes the upper slopes of the mountains. There were numerous mountain streams, waterfalls and exuberant foliage.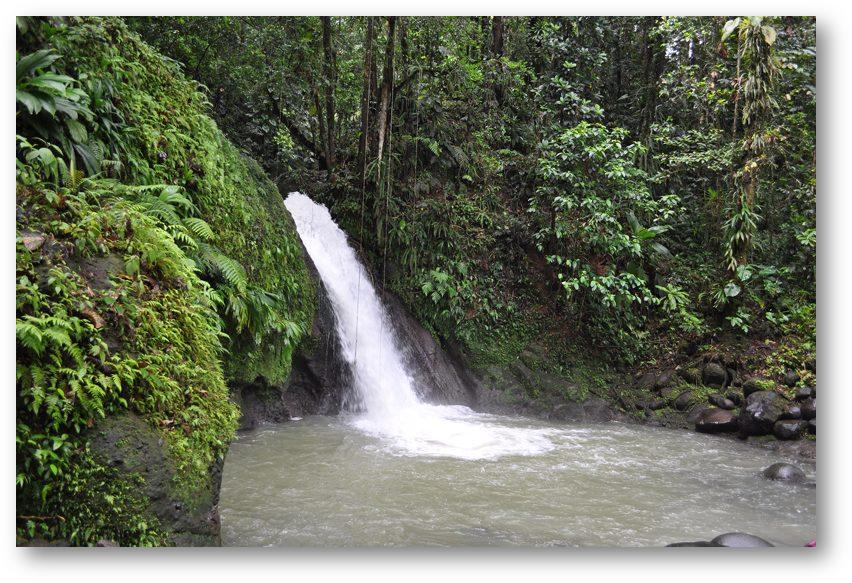 Most trees maintained colonies of epiphytes and bromeliaeds.
There were orchids to be found if you looked closely:
In particularly shady areas some fantastic mosses and lichens cover every surface.
We stopped at a small cocoa plantation where they grew some cocoa beans and made their own chocolate on the premises. The trees produce very small delicate flowers directly from their trunks, and it is these that eventually develop into cocoa pods. We left well stocked up with various chocolate products.
After lunch we stopped by at the spectacular tropical gardens just outside the town of Deshaies. There were an unbelievable collection of plants, orchids and trees all growing in their natural setting. Here is a picture of one of the most unusual, a vine that has a jade coloured flower:
Later we descended to the coastline and drove through a number of the smaller villages along the north west coastline. Just to show that we are in French territory a number of the town halls display a bust of Marianne wearing her dainty Phrygian cap, and commemorating 14th July 1789 (but don't you think she looks a bit like Kevin Keegan?).
We ended our trip in the north western town of Deshaies, which has a number of spectacular beaches. Interestingly the British TV series 'Death in Paradise' was apparently shot around this area.
Storm clouds were approaching:
We made our way back to the boat, after a delightful trip.
---