Charleston, South Carolina, USA

Ocean Gem
Geoff & Eileen Mander
Tue 3 Jun 2014 18:30
Date: Tuesday 3rd June 2014
It was clear that the adverse weather off Hatteras was going to last a few more days, so we were likely to be in Charleston till the middle of the coming week. Jim had limited time available and as Charleston was a good place for him to fly from he left the boat to get back to work. But before he left we were able to take a trip into town and take in the sights, and also to wander around the naval infrastructure on display at Patriot's Point.
The city was very attractive with wide streets and buildings that reflected many different styles but which still created a very pleasing harmony with each other. It was clear that they were well cared for. And many mature trees including oaks and tall, fragrant magnolia trees were scattered around the town along the streets, in various gardens and other public places.
I had made contact with the OCC Port Officer for Charleston, Emmett Johnson, and he could not have been more helpful. He drove me around town showing me the parts of town too far to walk to, and also helped me with various errands to boat stores and food provisioning. Many thanks Emmett.
Here are a collection of photographs of the town:
The military hardware on display at Patriot's Point was also impressive: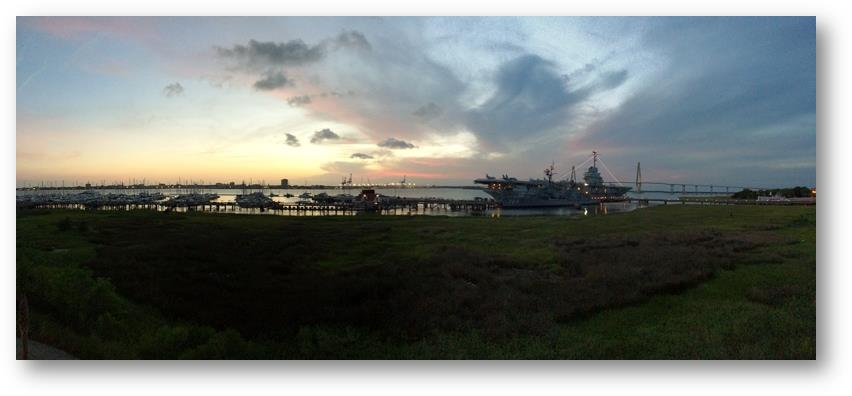 Sightseeing was OK for a couple of days, but to be honest it was not what I wanted to do. I wanted to be sailing northwards. The weather would keep me in harbour for a few more days but as soon as I could I would be leaving the marina and heading up the coast.
---