Norfolk, Virginia

Ocean Gem
Geoff & Eileen Mander
Thu 19 Jun 2014 16:05
Date: Thursday 19th June 2014
Position: 36:51.149N 76:17.869W
Bothe Wednesday and Thursday were hot, muggy and windless days. But I was invigorated by the thought that the ICW was almost all behind me, and I would soon be enjoying ocean breezes again. I slipped away from the marina at Atlantic Yacht Basin and waited for the giant Great Bridge to open, which it did on time. Just behind the bridge lay Great Bridge Lock, which is used to balance the waters between Chesapeake Bay and the ICW. By now a small convoy of seven boats had accumulated and we all tied alongside the lock walls waiting for the water levels to equalise.
There can be a bit of turbulence in the locks as water enters or leaves, and it is normal to have two people per boat tending the lines, one at the bow and one at the stern. In my case this was not possible, but the lock operator showed me how to take both lines amidships wrapped around the same large cleat on the lock side. If the lock operator had allowed the water to enter as rapidly as had been the case when I last entered a lock in France, then I would not have been able to hold my boat in this way, but fortunately he was very careful and there were no problems.
As the lock gates opened all boats followed in convoy to the next obstacle, which was a low bridge that had to open to allow us to pass. I slowed to allow all of the power boats to overtake me, and then Ocean Gem and another sail boat brought up the rear of the small group making their way together to Norfolk. I spoke by VHF radio to the sailboat following me and they told me that their antenna had hit the first bridge that they tried to pass under in the ICW. It had been badly damaged so they had a repair job on their hands once they had cleared the waterway. I felt grateful that I had avoided this fate.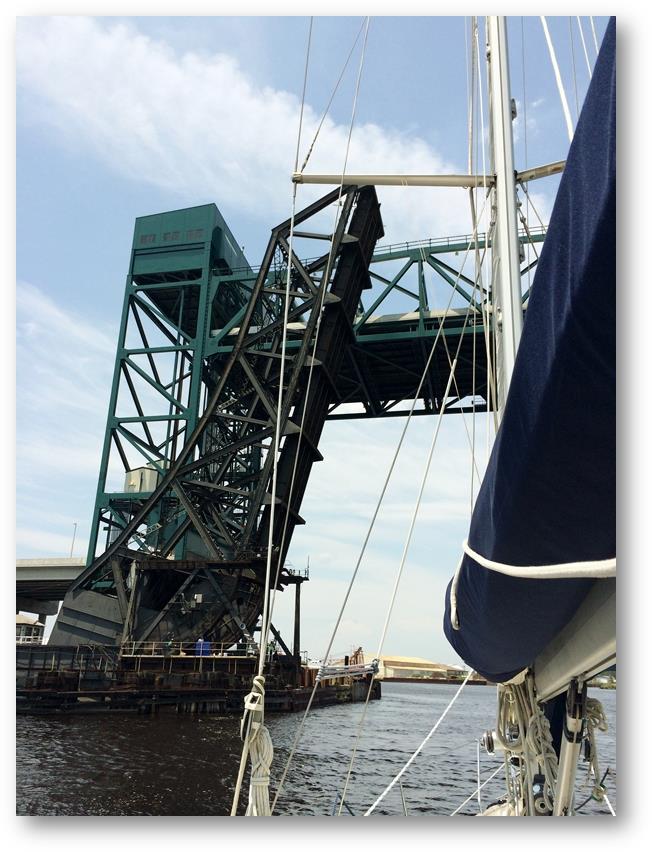 Some of the barges are quite large
After a few more bridges and some twist and turns in the Elisabeth River I soon came to Norfolk. It's a major naval port and as the river widened, its bank were lined with some impressive military ships undergoing various forms of refit.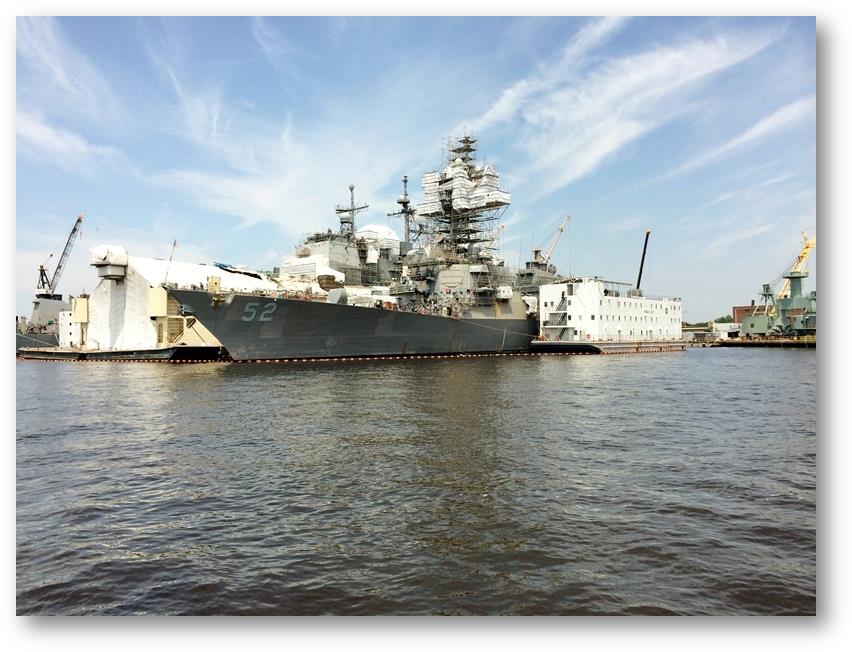 I had already spoken to the OCC port officers there (Gary & Greta) and they had very kindly offered me the use of a private berth outside their apartment near to the NOAA building. As I arrived I was greeted by a small crowd of people helping to take my lines and tie up. Apart from Gary there were two other British boats there (Anne & Michael on Nimue and Graham & Wendy on Oystermist). There was also an American boat (Loon with Ken on board). We almost immediately retreated to Gary's apartment to watch England gloriously lose to Uruguay and get thrown out of the World Cup.
On reflection the ICW takes you through some stunningly beautiful countryside and you can get very close to nature in a way that would be impossible if attempted by road. However if you have a boat with a high mast and a deep keel then it can be a very demanding journey, particularly if you are sailing alone. I am in no hurry to repeat the exercise and if possible, in the future, I would choose to take a coastal route. However when the time comes, if the weather offshore is bad, then I may be tempted to enter the ICW again, but I would make sure that I had crew with me and I would probably replace my hard antenna with something more flexible that would bend without damage if it came into contact with a bridge.
---