Back to Antigua

Ocean Gem
Geoff & Eileen Mander
Wed 11 Dec 2013 00:33
Position: 17:04.49N 61:53.50W
Date: Wednesday 11th December 2013
We're now both back on board Ocean Gem and anchored just outside Jolly Harbour.
I arrived back in Antigua several weeks ago to start work on getting the boat ready for sailing again. During the summer months she had been stored on the land in the marina's secure yard. This gave us maximum security but meant that until she was moved from there to the main working yard I would be unable to live on board, or indeed do any important maintenance like applying anti-fouling paint. As this was not scheduled until mid-November I rented a small villa, close nearby. As a place to stay this was OK, but it wasn't the Ritz.
In fact during the first couple of days there I began to feel like I was on safari. The local small birds were so brazen that when I attempted to eat a meal outside they would land straight on my plate and take the food as I was trying to eat it; just outside the front door there was a large hole where a super-sized land crab would stand guard inspecting me every time I tried to enter or leave the villa, the local mongooses (or should that be mongeese) would gambol around the small garden whenever I was indoors; and as a special treat on the first evening as I sat in the kitchen eating my supper a rat came in under the door, hopped over my feet and hid behind the cooker.
What the rat had not bargained on was that I had some traps on the boat. By the second evening I was ready for him, and he met a sad end.
Big white hunter 1, local fauna nil.
I took a trip into the capital city, St Johns. It's a lively place although there is not much architecturally to get excited about.
One rather incongruous sight right in the centre of town is a monument to the first national leader, Doctor Vere Cornwall Bird Snr, now posthumously named as a National Hero. I have a picture below, but to me his pose is reminiscent of a 40's romantic crooner, in mid song, declaring his passionate love to some unseen sweetheart.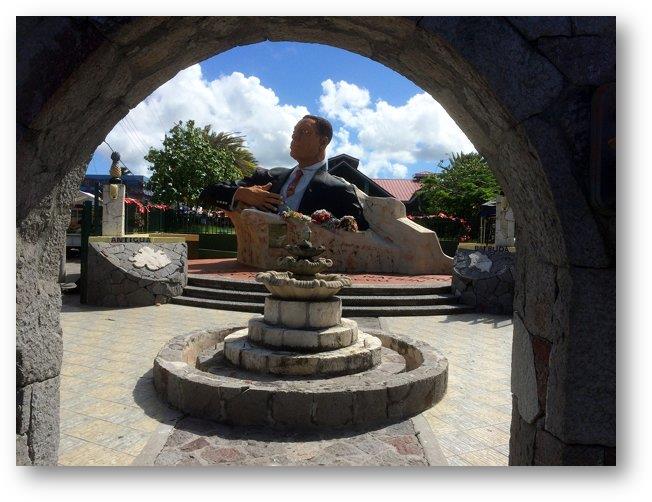 Right opposite is another building that it would appear is more likely to quicken the pulse of the local citizens. Recently opened, several people pointed it out to me as the place in town to eat.
There was a fishing tournament in Jolly Harbour whilst I was there. Local boats went out for the day and returned with their catch. There were a few really large Mahi-Mahi, but I have never seen so many large Wahoo. Boats were having to use wheelbarrows to bring their catch to the weighing station.
Work progressed slowly but purposely on the boat. One of the problems to be resolved concerned antifouling. For anyone reading this who is unfamiliar with boats, the bottom of boats need to be painted with a special noxious paint that deters marine organisms like barnacles growing on the hull. Such growth increases the resistance of the hull and reduces sailing speeds. The paint that I had applied in The Canaries had not worked well in the Caribbean and as a result there were lots of old dead barnacles to scrape off the hull before any new paint could be applied. Below is a picture of Denzel, who actually did the work of scraping off the old growth and applying new paint.
Up until about 30 years ago antifouling paints contained a tin based compound that worked well and killed anything that cuddled up close to it. In fact it worked so well that the environmentalists had it banned. Killing marine creatures was not controversial, but one report showed that it caused some female gastropods to grow penises, and we can't have any of that sort of thing going on can we.
Banned that is in Europe and the USA. Here in Caribbean you can still buy it legally, included additional tin boosters to make sure that the job is really well done. So I now have a boat with lots of tin based paint on it, and I'm expecting some strange behaviour from the marine molluscs in my area. I wonder what a barnacle glam rocker looks like?
Ocean Gem polished, painted and almost ready to go.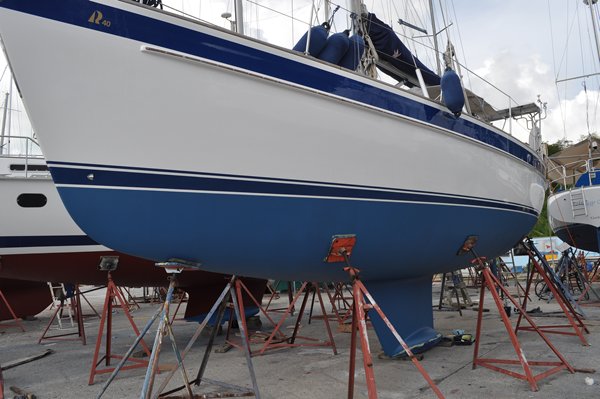 The boat was eventually put back in the water on 26th November, and Eileen flew out to join me on December 8th. My plan was to take the local bus to the capital, St Johns, and then a short taxi ride from there to the airport to meet her. Then we would both take a taxi from the airport back to the boat. On a wet Sunday afternoon I walked to the bus stop only to see the bus leaving before I could run to it in time. I cursed just a little, but then after a few minutes an unofficial extra bus appeared. Apart from the driver (Ken) and his young daughter I was the only passenger. As we approached the bus terminal in town I heard the driver tell his daughter that they would then go on to the airport to collect her mother (where she worked) and then go home. I told the driver that I was also going on to the airport. 'Oh that's great' he said, 'I'll take you there. In fact forget about paying me the bus fare, I'll wait for your wife at the airport, run both you and your wife back to the marina and you just pay me the normal one way taxi fare from the airport to the marina'. As Ken said, 'sometimes misfortune can be a blessing'.
Eileen settled in fine and after a couple of days rest we were ready to make our first trip down to Guadaloupe where we have some unfinished business with the Volvo engineers. So late this afternoon we motored the few hundred meters from the marina berth to the anchorage outside the lagoon so that we can make an easy and early departure tomorrow morning. The weather is not brilliant, with lots of rain, strongish wind and forecast seas of 2-3 meters. We'll just have to see what we get.
---