Warderick Wells, Exumas, Bahamas

Ocean Gem
Geoff & Eileen Mander
Sun 4 Jan 2015 02:27
Position: 24:23.656N 76:38.107W
Date: Sunday 4th January 2015
On New Year's Day we upped anchor at Shroud Cay and sailed down to Warderick Wells, where the National Park headquarters are located. Other than the few park wardens who reside there the island is uninhabited.
There are actually a cluster of small islands that over the years are either separated or re-joined by storms moving sand around. They form an approximate circle providing almost all-round shelter. Most of the inner part is shallow sand that is almost white in colour, but running through the sand is a stunning blue, horseshoe shaped, deeper channel through which the tides move water at a considerable speed. This channel is the only place deep enough for most boats and because it is so restricted the park have placed about 24 mooring buoys and visiting boats have to use these buoys rather than their own anchor.
The overall setting is just exquisitely beautiful, particularly so at night time during a period of a full moon, when the sands just shimmer a radiant white.
On the beach outside the park headquarters they have put together the bones of a sperm whale that died (apparently as a result of ingesting plastic bags) and was washed ashore.
We discovered that there was a sort of ritual whereby visiting boats would paint or carve their names onto driftwood and deposit them on the top of the highest hill on the island. I suppose it's the acceptable face of littering.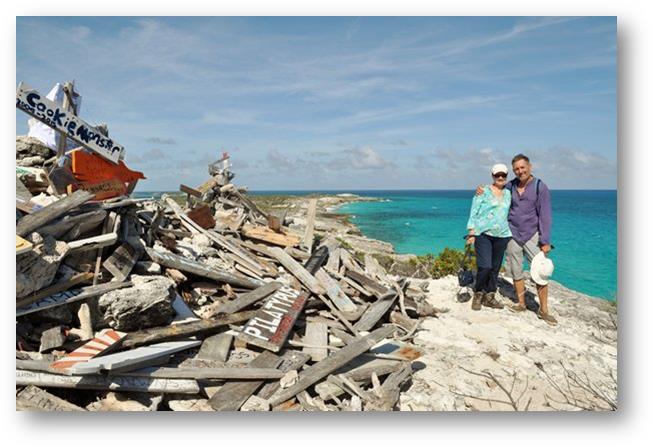 There is only one endemic land-based mammalian species still alive in The Bahamas. It's a nocturnal, chubby, brown, rabbit-sized rodent called a Hutia. In pre-Columbian times they were a food source for the Lucayan Indians. Until 1996 they were thought to be extinct but then a few surviving animals were found on a small and low lying island called East Plana Cay (between Aklins Island & Mayaguana). There was a risk that a hurricane sending a storm surge over the island could finish them off, so a few animals were taken to a couple of other islands, one of which was Warderick Wells where they are thriving. But as they still only live on three small islands a really bad storm could yet render them extinct. Even though they are endangered, on Warderick Wells they have become something of a pest as they have no natural predators and they are destroying large amounts of vegetation. They selectively devour their favourite shrubs to the point where the vegetation dies leaving stands of stark bleached branches between the less tasty and still thriving bushes. I managed to catch a picture of one of the little chaps as he crept on to a beach at dusk to see if he could find some food scraps left behind by visitors.
Here's another picture of the magnificent bay near low water showing boats moored in the channel.
And here is Ocean Gem looking very happy in such stunning surroundings.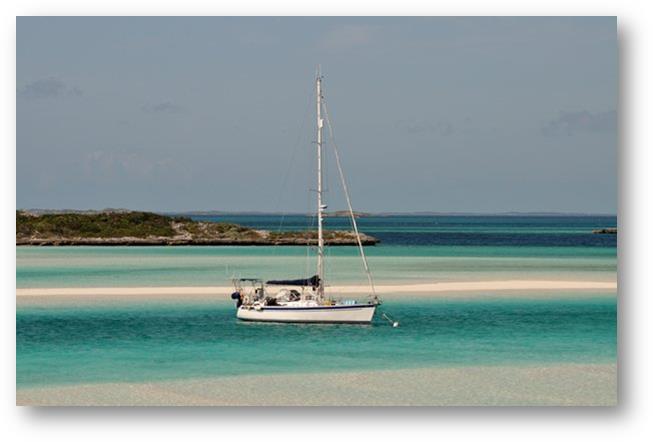 ---