Bozcaada

S/V Monterey
Les Crane
Sun 12 May 2013 06:47
39:48.3N 026:05.0E
Bozcaada
Sunday May 12
Depart at 6:30 for Bozcaada. Breeze fills in SW12 and we go wing and wing for a bit then start experimenting with the cruising spinnaker on the furler. We had the yard put a stronger bow sprit on the boat during the winter. It flexes less than its predecessor but we note the bow plate flexing and decide it should be a foot shorter to reduce the leverage. Change to the yellow spinnaker in its sock and all is fine for an hour or so until the wind falls out and we start motoring again. Stbd fuel runs out at 16:30 despite the gauge showing 1/8 tank. Bleed and switch to Port to find it is also out. This gauge had read 3/8. Up with the sails in 5knots from the south. Wind dies with the sun and we drift along still making 1 ½ knots toward Bozcaada. Once around Memer Point, we tuck in and drop anchor in 9 meters.
Monday May 13
07:00 Take the dinghy into Bozcaada village to get some diesel. With the help of the morning coffee crowd at a restaurant, we find the only cab in town and head out to the only fuel station on the island about 3 km from town. Of course they do not have a jerry can so the taxi takes us back into town to scrounge for some 5 liter water bottles.
08:30 we are back aboard with 15 liters, get everything sorted and head for the town dock where the fuel truck is to meet us.
Bozcaada is a bit disappointing – a bit dingy and untidy but perhaps it is because the day is overcast.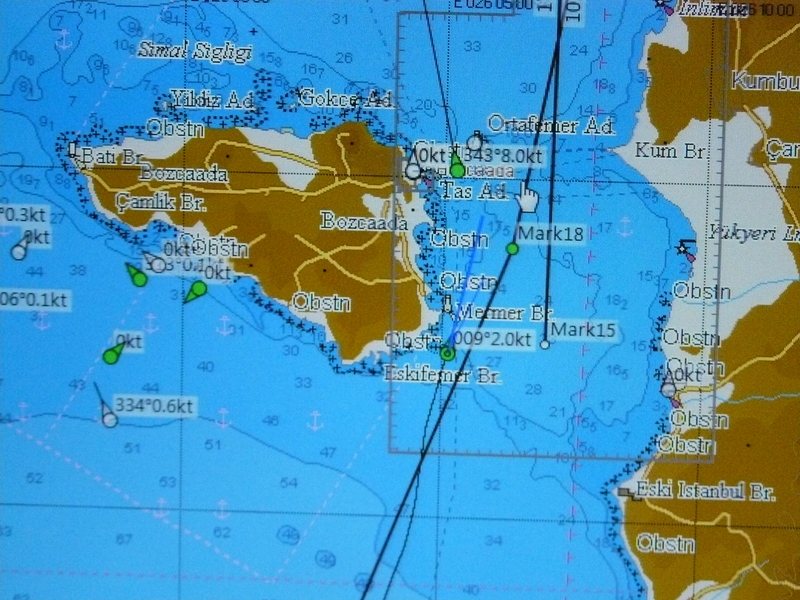 ---