Spilia

S/V Monterey
Les Crane
Mon 27 Jun 2011 12:29
38:39.7n 020:45.5e

Monday June 27

Spilia

Motor south through the canal and set sail for Meganisi in NE6. Try to set
our Gennaker but the wind dies and we end up rolling it up again. Motor on
to the south side of Skorpio and anchor off for a swim and lunch. Probably
15 other boats there.

Up anchor and arrive at Porto Spilia about 1730. We are motioned to take the
last place at the end of the stone mole in the south west of the harbour
west of the restaurant. The wind has picked up to 15 knots from the NE and
there is a lot of chop coming down the harbour. Babis' brother Plano is
roaring about in a rib acting as a pusher tug when we come in. He swings
himself up on our bow and looses the boat. Just before he falls in the water
he passes Rob his cell phone and then it's into the drink to reclaim the
boat. He's back on the bow in a minute helping Mags and Rob with the lazy
lines. The lines look a bit tired but Babies says they are attached to one
ton blocks and will fine. There are two lines so it's ok. Monterey is
bobbing significantly with our bow to the wind but a half dozen flotilla
boats tied across the wind are in a maelstrom yawing violently into each
other.

Mags and the kids go for a tour of Spartochori as I standby the boat.

The wind dies off by 2100 and we head to dinner around 2130. The flotilla
has beaten us to the food and the choice is a bit limited but still good -
good cold hors d'oeuvres mousaka, pork schnitzel for the boys and bream for
the girls.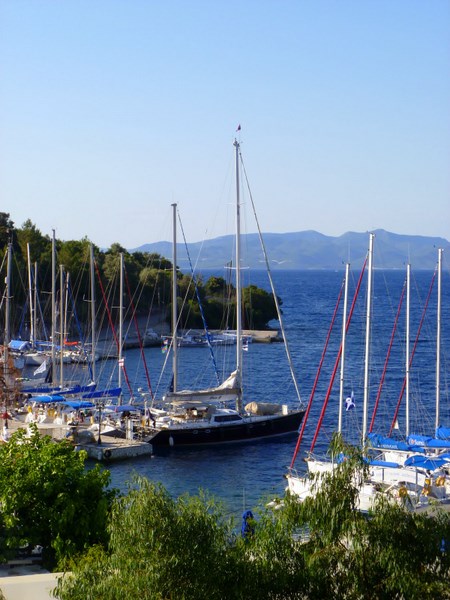 ---