M Skolg - Stermasi

S/V Monterey
Les Crane
Fri 27 Aug 2010 06:26
42:42.3n 017:44.7e

Friday August 27

Motor to Mljet and pull into narrow bay behind some rocks on east end of the
island for lunch and a swim. Absolutely gorgeous. A boatload of nudists
leave shortly after our arrival. Anchor in 4.5 metres, grass - does not look
like a safe place to spend the night. After a great swim and lunch, Mags
notices signs for some restaurants, Ken & I go ashore. The restaurant with
most of the moorings (yellow) looks deserted and we are about to head out
when we pass stairs up to another restaurant, Stermasi. Go up to investigate
and learn they have a mooring that has held a 30 metre boat, restaurant
looks good and the view over the anchorage is excellent - we decide to stay.
Swing room on the mooring is a bit tight so we take a line to the town dock
and we are set for the night. Great dinner - best fish of the summer!!
K1250/4.

Take a walk across the island the next morning to Saplunara Cove which has a
brown sand beach - the first sand we have seen in Croatia. Bay is open to
the West but very attractive.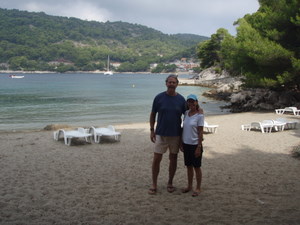 ---