Ston

S/V Monterey
Les Crane
Tue 21 Jul 2009 14:22
42:49.0n 017:43.3e

Tues

Anchor in small cove just west of Broce the entrance to the final leg of the
Stonski Kanal. Good mud and weed bottom. Beautiful clear water and mountain
views down the Kanal. Take dinghy up canal - not a place to bring a keel
into.

Wander around the village of Ston and Mali Ston. Very interesting wall
fortification runs up the mountain behind Ston all the way to Mali Ston on
the east side of the Peljesac Peninsula. Ston was apparently much damaged by
the fighting in the '90's. It is still in poor repair with several abandoned
buildings and missing roofs. Cafes and restaurants a bit scruffy in keeping
with the theme. A bit more upmarket in Mali Ston which is a smaller village.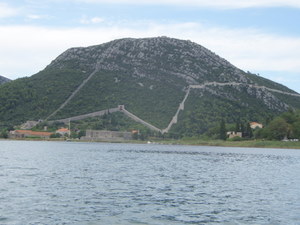 ---