13 April - Return to Antigua and off to the Azores

Escapade of Rame
Richard & Julie Farrington
Sat 13 Apr 2019 17:46
17:04.2N 61:53.1W
I returned to Antigua and Escapade on 27 March, a month to the day since returning to England.
Our time at home went quickly but was very productive. Julie and I caught up with immediate family and a good (albeit incomplete) list of friends, bought a car and a bed, moved back into the house and started to turn it back into our home. Julie went back to work on schedule and I found myself unexpectedly busy with some old work colleagues who seem keen to have me back in the fold. Monochrome when we arrived, England's wonderful spring colours were emerging as I left and there's a legion of good reasons to be returning in Blighty.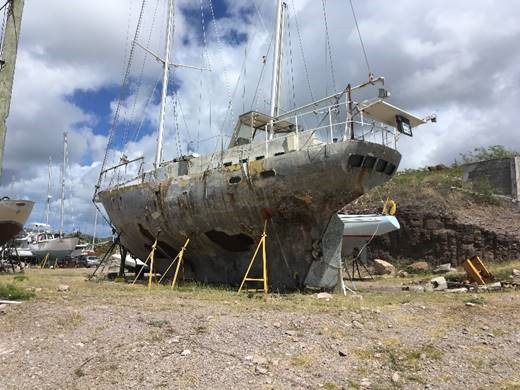 Not Escapade… but somebody else's dream in ferrocement at Falmouth, Antigua!
In Antigua, the boat was in good shape. We had prepared her for the month away (the longest I have not been onboard since acquiring her in 2014) as though we would be away for six months. All the systems flashed up as expected and even the fabled Jolly Harbour barnacle growth has proved to be manageable with a mask and snorkel – I was half expecting to pay a diver to clean the hull. Testament to the quality of the Pettit Trinidad SR antifouling paint that we applied in Maine in September.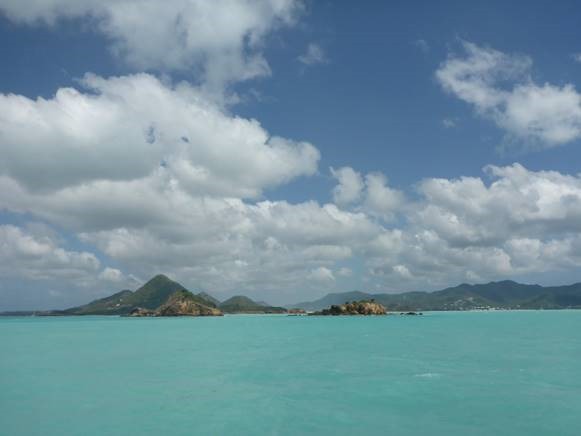 The approach to Jolly Harbour
The two weeks since have flown past. The Downing family visited Antigua on a cruise ship and came sailing for the day. I took them down to English Harbour where we managed to get a temporary mooring off the Pillars. Poor George was seasick and being far too polite for his own good, disappeared below to contain his misery from the rest of us. Fortunately it didn't last, judging by the speed at which his appetite returned when lunch appeared! I moved round to Falmouth, one of our favourite Caribbean harbours and left the Jonbuoy Man Overboard Recovery module with the local Ocean Safety agents, Seagull Inflatables for its annual service. They had it for a couple of days whilst I started going round everything in the boat, looking for potential issues and generally greasing and maintaining.
I knew there found be some gremlins lurking somewhere and eventually I found them. We have a very old distress alert system which sends out an automatic signal over HF, MF and VHF radio frequencies if required and it has its own dedicated aerials and GPS (incase we lose the mast). In technology terms, it has largely been replaced by the satellite EPIRB system (I have two transmitters onboard) but it does bring a reassuring sense of permanency and proper manufacturing to the chart table. Anyway, the cable to the GPS antenna had failed. It's a simple bit of coaxial, but it proved hard to simply resplice it with the tools I have onboard. I also thought it possible that the antenna itself might have failed after 20 years sitting on the guardrail, so I asked around. The prices on Antigua were ridiculous and I bought one on Amazon for a tenth of the local quote.
Our daughter Anna came down from New York for a long weekend and brought it with her, so I went back to Jolly Harbour to pick her up. We had a fine carnivore's feed at Flatties in the marina there, before sailing back to Falmouth and spending the afternoon at Galleon's Beach in Freeman's Bay at the mouth of English Harbour. This is definitely one of the most spectacular harbour entrances in the world – albeit small and often crowded. The beach was nearly empty though. We rehydrated at the Cheeky Marlin beach bar – my idea of what a beach bar should look like. Interestingly, they have no electricity at the moment. They are linked to the hotel behind the beach in some way; the hotel has been for sale for two years. How sad, that a good sized facility in such a wonderful location should be unable to attract a buyer or investors. I wonder whether it's because the property, made up of chalets, tried to sit in the middle of the leisure market and ended up appealing neither to the exclusive, high end customers or the budget bandits? Has the cruise ship or the AirBnB private operator stolen the market from this sort of place? Have our tastes changed?
Anna eyes up the Oyster fleet assembled at Nelson's Dockyard for the Oyster Regatta. Sadly we are not participating!
We fitted the new antenna and spliced the wire. All good for about 10 minutes, until I decided to waterproof the exposed connection with some self-amalgamating tape. Back to square one and each time I tried to repair the splice, the wire got shorter. I decided to scour Antigua for the proper tools and connectors, rather than the DIY versions available in the local chandlers. Anna caught a taxi back to the airport from Falmouth and I went back to cleaning the bottom of the boat. The water in Falmouth is a bit clearer than it is off Jolly Harbour.
On Tuesday, I hired a car for the day. I needed to collect a lifejacket from Falmouth (I had found one with a firing mechanism about to go out of date and discovered that the fitting has been discontinued, so none of my spares fitted. I felt uneasy about offering the jacket to one of my crew, so gave the problem to Seagull). I wanted to chase down the coaxial cable bits and visit the largest supermarket on the island in the capital, St John's. I must have traipsed around a dozen hardware shops, electrical shops and car auto parts shops, with little to show for it except a crimping tool. I needed an electrician, so I returned to Falmouth for the second time that day and found Arougoo Adams, the owner of Marionics at the Catamaran Club on the harbour. We made a date for first thing on Friday morning.
Back north, the supermarket had most of the things on my list, apart from tomatoes that would last more than 24 hours, any sort of aubergine (normally a staple in the Caribbean) and only a feeble selection of wine. It was good to get back to the boat as darkness fell, and for the first time, with the fridges full and the twin cabin emptied except for spare tins of food and a bag of onions, I felt a touch of ground rush.
Ed Pearson, a Navy meteorologist and sailing friend from the RNSA J80 team, turned up on Wednesday and Tom Reed, a frigate navigator, RNSA J-109 sailor and family friend arrived on Thursday.
We signed the on as crew with the people at Customs and Immigration and completed the formalities for departure. We headed down to Falmouth to meet up with Arougoo and attend the Friday night ceremony at the Royal Navy Tot Club of Antigua and Barbuda. The passage down to Falmouth was straightforward to start with until we decided to cut inside Cade Reef on the south coast and motor dead into wind. We were running out of daylight and it seemed like the quickest thing to do. The sea state was high though and it turned into a very uncomfortable hour – a timely reminder that Escapade is a sailing boat and much prefers taking big waves just off the bow, rather than head on. We collected a good pile of Sargasso weed and the teak deck was probably grateful for the drink of salt water, but we were equally grateful for a rum punch at the Antigua Yacht Club.
The Antigua Yacht Club
The boys showed a genuine liking for the rum, so dropped me back onboard before returning ashore to conduct further research. They spent much of Friday morning mulling it over in their racks and I'm still waiting for the report into their findings.
Arougoo turned up on time and the new GPS antenna is now secured in a locker in the aft cabin just under the deck. Don't ask me how, but apparently it can see through half an inch of glass fibre and teak at the constellation of satellites and once again, we have a working system. In fact, as I write, all the gremlins are firmly locked away and I believe I have a defect-free vessel.
Just as well, because the rum researchers spent some useful time on the Internet looking at the weather. Light winds could well be a problem (hard to imagine sat here in Falmouth with a steady Easterly 4-5 blowing almost 24 hours a day. They have recommended that we sail on Saturday for the Azores, in order to skirt around the western end of some high pressure stretching all the way to the Azores, which offers very little wind. Our plan is to head north for several hundred miles to find the southern edge of the series of low pressure systems that run eastwards towards northern Europe. When the winds allow, we will turn more east towards the Azores, nudging south if we get too close to one of those depressions, nudging north if we fall into the high pressure. IN a straight line, it's roughly 2200 miles from here to the Azores. If we are lucky, we should sail no more than 2500 miles, but it looks as though it could be an interesting tactical challenge.
I don't expect to be hit by storms, but we will need to manage our diesel stocks if we fall into light winds and may need to fall back onto some rather unappetising looking emergency rations if our time at sea extends too far. Let's hope that all-conquering lure from last year can rediscover its form and provide us with a tuna or two?
Last night we attended the Tot Ceremony at the Copper and Lumber Hotel in Nelson's Dockyard. It was a lovely occasion, we were made to feel very welcome and we met some terrific people with a pile of mutual friends between us. Mike Rose and Richard Fear are names that will be known to many readers of this Blog: I'm pleased to report that they are thriving!
So, we're off today. We'll call at Jolly Harbour for fuel, a last minute top up of fresh supplies, then get underway. Below decks, things are pretty shipshape – all that remains is to stow the dinghy in the lazarette at the last safe moment and secure the 100 litres of emergency fuel (a day's steaming) on the upper deck.
Between now and the Azores, I plan to update the blog daily at lunchtime local time, subject to the satellite phone gremlins staying locked up, with a position and a brief summary of life aboard. Photos will have to wait until the Azores!
We have a well- found boat which has been maintained to the best of our ability, the weather forecast looks manageable and I'm lucky to have two experienced, chilled companions for this trip.

Fully fuelled… Tom, Richard and Ed on departure day
---