4 Feb - Music in Mustique

Escapade of Rame
Richard & Julie Farrington
Sat 10 Feb 2018 18:09
12:52.6N 061:11.3W
It's a short sail from Canouan to Mustique, but upwind and across the prevailing currents and Atlantic swell, so you need to pay attention. As you clear Charlestown Bay, to the north you can see St Vincent, Bequia and a rash of smaller islands to the north east, including Mustique. It is subtly different from the others in that there are fewer signs of human habitation – but what there is, is clearly substantial. We needed two reefs in the main and genoa – a balanced rig in 20 knots plus, that allowed us to make between and six and seven knots through the water without sliding sideways whilst retaining enough power to punch through the 2m seas.
Another spectacular Caribbean sunset, this time at Britannia Bay, Mustique
We arrived just before sunset and picked up a buoy in Britannia Bay. The island is private but they allow yachtsmen and visitors in a controlled fashion. The bay is beautiful and the majority of boats are required to moor to a buoy as it is less damaging to the fragile coral and sea grass environment. Superyachts and boats over 20m anchor further offshore. It's not a well sheltered bay and with a northerly component in the prevailing easterlies there was some swell running through the anchorage. We inflated the rubber boat (I don't like towing it offshore here, as the squalls and big seas could take charge of it) and craned the outboard into it using the mainsail boom in an operation that is becoming pretty slick the more we practice it. After supper, we went ashore to the 'legendary' Basil's Beach Bar for the Blues Festival.
Basil's Beach Bar – hang out joint for the rich and famous (and the odd washed up yachtie)
This is an annual two week 'residency' for about 10 musicians – a 'house band' of four who support six artists playing a variety of styles based around the Blues. The biggest name this year was Joe Louis Walker who is a modern-day version of James Brown; there was a Brit from Fareham named Ian Siegal who is a cross between Springsteen and Clapton; the lead singer from Kool and the Gang Skip Martin; an Algerian French chap named Amar Sundy who reminded me a little of George Benson; an extraordinary transplant from the California of the 1950s, Rick Estrin, who plays harmonica and wears outrageous suits and a tiny Frenchwoman Tia Gouttebel carrying what looks like the world's largest guitar. The house band were fantastic: the drummer and bass player were Joe Lewis Walker's regular band members, the English pianist Matt was quite outstanding and the superb lead guitarist Morali Coryell is well known on the circuit. The audience was pretty small – no more than 75 people at any one time and an eclectic mix of yachties in shorts and t-shirts, a handful of native islanders and a larger group of 'residents' and holidaymakers in a variety of 'aristocratic eccentric' garb and high fashion. Everyone was having fun and the musicians happily engaged with mere mortals like Julie and I. The live music started at 9pm and they played without a break until 1:30am. We stayed right to the end like a couple of teenage groupies, were charged £7.50 for the privilege of front row seats and I haven't enjoyed a concert so much for years.
The house band with Amar Sundy
The next morning we ventured ashore. It's like Tresco (Scilly Isles, not supermarket) on steroids: beautiful, immaculate, a hushed sense of paradise with not a palm frond out of place. The views are spectacular and as a non-resident, you can wander around the public roads and a good proportion of the beaches. It's clear where you can't go and I have no problem with that – I wouldn't like people walking through my front garden at home to get a better view of the sea either! We walked up into the village where the native population live. The houses are in much better condition than elsewhere in the Caribbean, but they lack the bright paintwork and cheerful defiance that you see on other islands. The local people we met didn't automatically say 'hello' in the way that everyone does in, say Grenada, although they were exactly the same once we engaged. I wondered if this was a reflection of the sort of society that dominates here. We walked north to Endeavour Bay where a beautiful park area looks out onto a prefect bay and sandy beach with views across to Bequia and St Vincent. The Cotton House Hotel is here, so we stopped for a drink on their 'deck' overlooking the water. A large yacht flying the RYS White Ensign was on its mooring, some fishermen were unloading their catch at the dock. After a few minutes, a group of four holidaymakers settled at the next table.
The Cotton House at Endeavour Bay, Mustique
'Oooh, ossum' said the gangly, thirty-something brunette gazing at the view. 'It's sooo ossum'. 'Oh yaar'' replied her slightly younger, thinner English friend, clearly an aspirating 'it-girl'.
Their two male escorts (exact relationships unconfirmed) were sharp young American executives on vacation, clearly with plenty of money. They spoke as though they had fallen out of an F Scott Fitzgerald novel and dithered over what sort of dressing to have on their salads. Julie identified that they were probably 'Old Money' based on the English girl's lament that 'It was sooo awful y'know? We knew instantly there was something wrong when we got to the house and there were no staff. OMG, I mean, what were we supposed to do?'
'Let's just have lunch and I'm sure they'll sort out somewhere for us to stay' observed the plumper male who clearly paid the bills and had done his research on Princess Margaret (code for watching Netflix at work, I suspect). Sure enough, as lunch arrived so did an elegant black lady with bleached white hair and expensive clothing who calmly announced that they had been allocated another house with enough staff to take care of everything, including collecting the luggage from the airstrip. I signed with relief and enjoyed my second fruit punch (no alcohol following the Blues night).
There was no concert that night as the musicians had taken their show on the road to St Vincent, to play in front of a much bigger local audience as part of a Basil's Bar project to raise funds for Vincentian school children to complete their education. I wondered if many of those kids had joined the Royal Navy – we had a big recruiting drive in St Vincent about ten years ago. Instead, our friends Steven and Carol who we had met on their Oyster in Canouan, came for a drink onboard. That night we were invaded by a determined squadron of small fruit bats just as we finished dinner. They flew in through the main companionway, did a recce of the entire boat and then departed. They kept this up for about 20 minutes; Julie took refuge in the 'citadel' (the aft heads and bathrooms) whilst I gradually shut down the boat and put the mosquito nets in place. The bats continued to bounce against the nets for about half an hour before departing to find some other target. Never seen that before…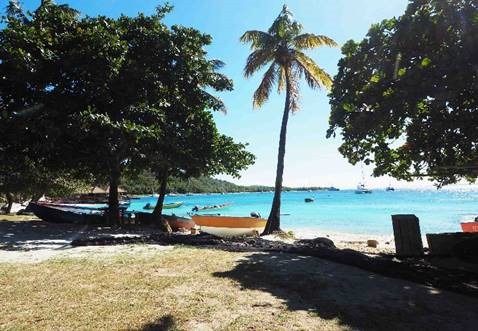 The moorings at Mustique
On Saturday, we jumped in the sea and went snorkelling in Britannia Bay. The variety of reef fish and the coral itself is almost as good as Tobago Cays – but being sheltered by the island I guess it lacks the automatic refresh from the wide expanse of open ocean that you find at Horseshoe Reef. We enjoyed a walk along the beach down to the SW corner of the island, were it was clearly private. The sandy bit is not particularly wide, but the shady palms and mangroves provide a fine picnic area just behind the beach. There were a few Manchineel trees too, with signs warning you not to touch the leaves or fruit (looks like a small apple) and not to stand under them in rain. Apparently they can make you quite sick – is this the tree from the Garden of Eden? After all, many islanders across the Grenadines and Grenada told us they are living in paradise! I think they might be right.
Princess Julie on the beach at Mustique
That night, we went back for more Blues. Same artists, different running order and, in the main, different music. Interestingly, they seemed to have matured since the St Vincent 'gig' – more instances where they sat in on each other's sets and it was particularly nice to see them supporting the tiny Frenchwoman, who is an accomplished guitarist but a bundle of nerves and lacking that essential chemistry with her audience. Julie is a big fan of Kool and the Gang, so a highlight was a good chat with the 'main man'. The coolest dude there was the bass player, Byron, with dreadlocks down to his backside, who just stood and played bass all night with the biggest smile on his face I've ever seen, occasionally laughing at some little musical trick of one of the others and 'just havin' the best time, man' as he told us afterwards. We had the best time too: it was truly 'ossum'.
The house band with Rick Estrin, Ian Siegal and Joe Louis Walker. Blues perfection?
Not quite so 'ossum' was the swell though, which got up in the night and kept us awake despite the percentage of rum in the bloodstream. So instead of staying for the Sunday show (heralded as the highlight of the Festival) we sailed on Sunday morning for Bequia and the calm anchorage off Port Elizabeth.
Britannia Bay from the hill
---