17 June - mountaineering

Escapade of Rame
Richard & Julie Farrington
Wed 21 Jun 2017 09:35
The weather forecast for Friday onwards was good, so having picked up some 'boat business cards' to exchange with other yachties (apparently it's a modern equivalent of collecting cigarette cards) and got the 'all clear' from the Spanish medics, we set off south east into Los Picos de Europa.  This is a mountain range in Asturias, Cantabria and Leon that sailors returning home from their voyages saw from well offshore – a sign that they were nearly home.
We swapped the security of the splendid motorway system for some winding, narrow, exposed single track roads with rocky walls on one side and sheer drops on the other quite quickly.  The cloud stayed firmly in place, so the driver was not distracted by the glorious views shrouded in 50 yards of visibility until around midday, when the heat of the sun evaporated everything away and the most magnificent vistas appeared.
Note the cloud evaporating…
I love broom: really hardy with soft, gentle green stems and a brash yellow flower
As a sailor, I've spent all my life at sea level (apart from a fantastic interlude in the mountains of northern Pakistan) so I'm always impressed by big hills.  These may not compare with the Pyrenees or the Alps (I've only seen them from an airplane) but they are spectacular nonetheless.  Vegetation – natural pasture, some forestry but plenty of scrub and wildflowers - extends pretty high, but there are vast areas of bare limestone and granite stretching into the skies on all sides.  Quite a lot of water too, which has eroded the limestone into magnificent deep gorges.  Man has striven to connect the tiny communities that have lived here for centuries with some really impressive feats of engineering.  Not just the roads, but footpaths complete with tunnels and walkways running for miles, clinging to the sides of sheer cliffs. 
Our progress was steady but slowed by the irresistible urge to stop at every 'mirador', get out of the car, drink in the views and try to capture them on camera.
Our guide was the trusty 'Back roads of Spain' and it was up to par.  Through it, we booked a night in a small pension in the village of Posada de Valdeon for the princely sum of €38 for a double room.  Dinner there was another of those 'daily menu' adventures.  We were instructed to report at 9pm, which we did.  Lentil or chef's soup was on offer, so we chose lentils in the hope of finding some vegetables.  The chef's soup duly arrived: stock from the main course (pork spare rib stew) filled out with vermicelli.  The waitress left the cooking pot on the table and returned to give us second helpings, before appearing with the pork.  Actually, it wasn't bad.  I think it had probably been cooking since 9am, but there were traces of salad to accompany it.  Other guests who chose the tuna option got a rather pallid-looking omelette.  Duff? I think you can only get crème caramel here.  But for €11 including half a bottle of house wine (no choice – the 'water' turned out to be an undrinkably sweet lemonade) it was impossible to complain and we have not suffered. 
Our overnight stop
We did a good long walk on the Saturday morning from the village of Cain, along the path of the River Cares as it knifed its way down through another gravity-defying gorge.  There was a small hydro-electric installation at the top and the 'overflow' canal from it ran alongside us as we made our way gently down the gorge.  It looked like a rather flat 'cresta run', except that it would dive into the rockface rather than accelerate around a tight bend, so whilst the footpath edged around the outside, the 'canal' sliced through the mountain and rejoined us a few yards further on.  Extraordinary engineering.  The best bit, from my perspective, was that the 6 mile walk was largely flat – the river dropped away beneath us so that by the time we decided to retrace our steps, it was about 1000 feet below us.  Spectacular scenery in all directions, with little micro-climates and mini 'Gardens of Eden' clinging impossibly to the rock face.  Plenty of other walkers, as this is a very well-known hiking spot, but all of them were Spanish and friendly.  I'm unclear whether to greet people with 'Hola', 'Buenos Dias', or just 'Buenos' (which seems a little too 'hip' for a middle aged Brit with sunburnt knees).  But they all exchanged greetings – so unlike the visitors in the Morbihan.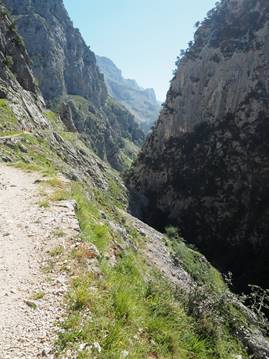 We returned to the car and drove on to the town of Potes, the main centre of the walking tourism industry in the area.  It's medieval and has some lovely buildings, but rather too may begonias in pots and an overwhelming sense of twee-ness that was absent from the villages we had passed through enroute.  There, the majority of people seemed to be residents, but in Potes, the balance favoured the tourist and the weekend cottage owners.  Lunch was adequate (it was 4pm by now), but when we turned our attention to finding a place to stay the night, our luck ran out.  Everywhere within range was full, regardless of price.  We were due to return the hire car in Gijon that night, but had a plan to extend it for 24 hours and stay in the mountains.  But the car hire place was shut too and the only person we could speak to was in Delhi – helpful as he tried to be, there was a whiff of uncertainty creeping in. 
So we stuck to the original plan and returned to Gijon.  Enroute, Julie devised a shortlist of half a dozen rather promising restaurants to sample.  They were also fully booked, so with some friction beginning to emerge, we stormed into a slick looking Italian joint on the seafront and demanded a table.  We waited all of two minutes and then enjoyed a really good dinner based around black rice and seafood.  The wine was reassuringly more expensive than the water, but there you go!
---