27 July - a week in New York

Escapade of Rame
Richard & Julie Farrington
Wed 1 Aug 2018 16:18
40:57.14N 073:04.4W
Our week in New York was crammed with memorable events.
We braved 100oF heat to walk along the Highline on the west side of Manhattan. It used to be a railway line suspended above the streets of New York bringing goods in and out of the bustling metropolis. But as the truck took over, the trains went into decline and for a while it was derelict until some enterprising locals managed to stop it being dismantled and have turned it into a park that winds its way between the skyscrapers blissfully above the bustle of the streets below. Despite the heatwave, it was a good time of year to see it, with the plants thriving and providing some essential shade here and there.
The Highline, New York City
Actually it was far too hot for this middle-aged Englishman, so we took refuge in a cinema in the Chelsea district, where we watched 'Three Identical Strangers', a very well made documentary about triplets who grew up in New York in the 1960s. What starts out as a celebration darkens as the movie runs and we had plenty to talk about afterwards on the issues raised, notably the debate on 'nature or nurture'. Recommended, 'don't miss'.
We had some great meals with friends from the Navy, Durham and Morgan Stanley. We had lunch one day at Milos, a well-known Greek seafood restaurant north of Times Square. The evening menu requires a small mortgage, but they deliberately produce an affordable lunchtime version to entice clients through the door. It was glorious and I'd like to have lunch there every day. Five stars? One evening we ate at Gene's Restaurant in Greenwich Village down on 11th Street. It's one of those reassuringly old-fashioned Italian places where the waiters wear red coats and you keep expecting to see a Mafia boss sat in an alcove counting his money or waiting for an unwelcome visitor. Proper Italian Comfort Food - Four stars?
Times Square. Who's paying the electricity bill?
Our younger daughter Lizzie arrived on the Tuesday for a couple of weeks with us. We kicked off the party by taking in a Mexican restaurant called Tulcingo in Hell's Kitchen on the corner of 10th Avenue and 47th, fairly near Anna's flat. This is a great part of town, quite close to Times Square, full of independent restaurants and bars, local shops and the homes of ordinary New Yorkers. It's bustling, slightly edgy, quite trendy, a bit tatty and littered with small lapdogs and their slightly over-attentive owners. We liked the Mexican: not that either of us has been to that country, but it felt authentic, unpretentious and good value in a city where prices are on the high side.
We stayed in town that night and on Wednesday morning Julie and I queued at the Barrymore Theatre for tickets to see The Band's Visit, a musical about an Egyptian Police Band who get lost on a trip in Israel and spend the night in a village in the middle of the desert. Then we went down to Ground Zero to visit the 9/11 Memorial and Museum. When we were last in New York a few years ago, the memorial was in its early construction phase and the museum was in a converted shop. Now there is a new World Trade Centre (which will eventually include several major buildings), an eye-catching Westfield shopping mall that looks like the bleached skeleton of some vast dinosaur, the Memorial itself which occupies the floor plans of the Twin Towers and a Museum integrated into and underneath it.
The new World Trade Centre
The Memorial is suitably sombre, impressive, glorious and moving in the way that sites like the cemeteries at Omaha Beach, Bayeux, or the Vietnam memorial in Washington are. It consists of two vast, black, rectangular waterfall features with the names of the victims inscribed all around the edge. The names are grouped according to where the individuals worked and, on their birthdays, a white rose appears alongside their name. The people who died at the Pentagon, onboard Flight 93, and in the 1993 bombing are also remembered here. It was busy, but not crowded. We did not have to queue long to get into the Museum, which takes you below ground to the foundations of the Twin Towers.
Part of the 9/11 Memorial – a huge hole where once there was life…
After a while I realised that the huge blocks in the middle of the museum were the walls of the Memorial above us, somehow connecting us to the people who died there. The early dominating feature is the retaining wall that was built to keep the Hudson River out of the foundations. Some of the massive steel frames of the original buildings are there, along with an increasingly intimate collection of debris, bits of building, vehicles and personal effects from survivors and those who died. The story of that fateful day is told chronologically with a mix of text, artefacts and harrowing tape recordings. I couldn't listen to some of them…
This is indeed an extraordinary place, really well conceived and executed. It tells the story without emotion, yet manages to inspire emotion in the process. Most people reading this blog will remember that day, where they were, what they were doing. It's recreated here in some detail and each detail is fascinating, if exhausting. I remember being almost addicted to events as they unfolded and the Museum is very good at bringing all those feelings back. To do it justice, I think you need to spend a full day there, but I doubt that I could do it in a single day – it's too overwhelming. I stayed half a day and need to go back. We talked about it at length later: it is a magnificent, moving memorial to the nearly 3000 people murdered that day; equally it is a magnificent statement of defiance and triumph of good over evil.
One story amongst many that sticks with me is about some firefighters who were 'walking wounded' and turned up at one of the nearby hospitals, where they were attended to by the medical staff who apologised that they were focused on preparing for the expected influx of serious mass casualties. 'There won't be anyone else coming' was the remark. I don't think there has been another event since Nagasaki where so many people died in one event.
Westfield World Trade Centre – defiance as architecture?
That afternoon I returned to the boat to charge the batteries whilst Julie and Lizzie conducted some gentle retail therapy. We arranged to meet for supper in the food hall at Anna's apartment before going to the theatre. I got ashore at Port Washington just after 5pm, aiming to catch the 5:23pm train into Penn Station. At the dockside, I met a Belgian yachtsman who was tying up his boat and using the free pump-out facilities. We got talking and I couldn't get away; despite the best efforts of the Uber driver, I arrived at the railway station just as the train pulled out. No problem, I thought; there's another one in 20 minutes and I can still get something to eat before the theatre. Except that there wasn't another train for an hour…
Mildly panicking, I resorted to Uber again. The new driver, Gagne, was from Guadeloupe and he rose to the challenge of getting me to the theatre on time! It was rush hour and we found ourselves chasing trains across Long Island, weaving in and out of the traffic and down narrow backstreets as we fell back on Plan B, C and then D. I had to 'fess up' to the girls, who immediately tracked me on their phones and offered routeing advice – which fortunately chimed with Gagne's local knowledge.
Fortunately, the evening performance of The Band's Visit started 5 minutes late and I only missed the first 10 minutes. It's a cleverly staged adaptation of the film of the same name: a gentle, funny romance about how music brings people together in all kinds of ways. A very positive message which fitted surprisingly well with the impact of the 9/11 visit we had made earlier in the day. Another 'Don't Miss'.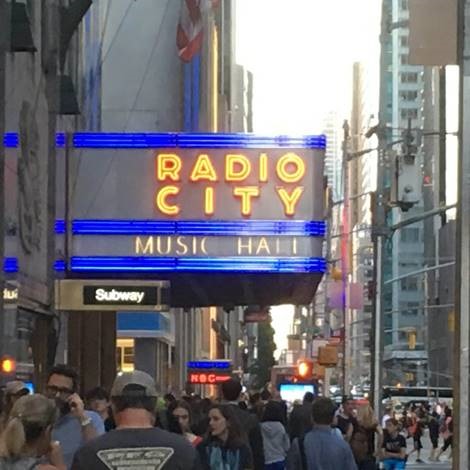 Radio City – the famous music venue
Thursday night was designated 'steak night' and we made a night of it by climbing the Rockefeller Centre to enjoy cocktails and the impeccable views from the 65th floor before descending to street level and returning to the Manhattan branch of Ruth's Chris, an upmarket steakhouse chain, just round the corner from Radio City. We had celebrated Lizzie's 16th birthday here on our last visit. This time, the food was as memorable as it should be and we had a cracking night, but I think they've done something to the décor – it didn't seem as intimate or 'special' despite a huge wine cellar display. I think somebody might have complained that it looked too dark and 'clublike' but the lighter ambiance seemed to be punctuated by the large red 'exit' signs. A great evening, but I'm not sure they are keeping the standards as high as they should…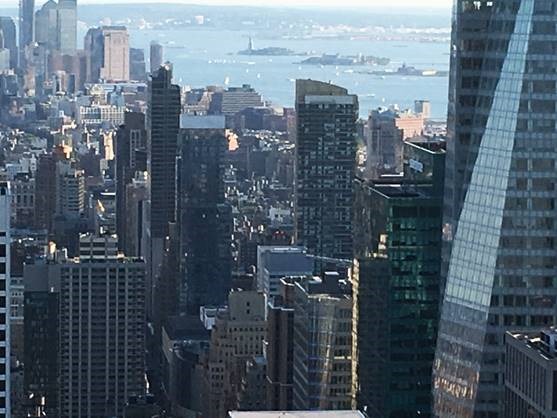 Looking from the Rockefeller Centre towards the Statue of Liberty
Exhausted, we spent Friday 'just relaxing' on the boat. The weekend brought visitors: my good friend Carey and her menfolk came sailing on Saturday and we initiated young Teddy into helming a big boat in strong winds out on Long Island Sound. We thought that the weather might preclude any repeat on Sunday, but infact the much-vaunted overnight storms did not amount to much and we had a fine afternoon on the Sound with Anna's friends Sam and Rich.
On Monday 23 July, Julie, Lizzie and I sailed out of Manhasset Bay eastwards along the north shore of Long Island to Port Jefferson.
---