26 June - The Boss returns, Colonial treasures and the Corrotoman

Escapade of Rame
Richard & Julie Farrington
Mon 9 Jul 2018 02:07
37:41;93N 076:27.78W
I returned from Annapolis early on Friday in order to take advantage of the Enterprise lift scheme which delivered me back to the boat without a hitch. I went back out to anchor for a couple of days as I had decided to remain at Fishing Bay/Deltaville until Julie's planned return on Tuesday 26th. The surrounding area is very attractive and we had time available to see more of this part of Chesapeake Bay before pushing north towards New York by mid-July.
Escapade alongside at Fishing Bay, awaiting Michael the diver
Whilst waiting for Julie I decided to try to find a diver to clean the hull. It's a big job on your own with just a snorkel and I have not acquired a 'hookah' set or any scuba qualifications. Nobody local would even answer the phone, so eventually I contacted the chap in Little Creek who had almost helped me the previous week. It turned out that he was available on Sunday morning, so I was back alongside by 0900 as he showed up. Michael is a serving US Navy Petty Officer with a passion for diving and yachting. I liked him and he worked hard for six hours without a break, before charging me $120, including his four hour round trip in his truck. I told him he was mad and gave him quite a lot more – he aims to leave the Service in the next four or five years and dive on yachts to fund a travelling lifestyle in a boat he's restoring. What a great dream – but he needs to be a bit more commercially savvy if this is going to work. We had a good discussion over a late lunch about my own experiences establishing myself as a yacht surveyor and I hope he found some of that useful.
That evening, as the heavens opened for the daily thunderstorm, Bill and Lydia Strickland collected Reg and Nicky Barker and myself and took us off to an oyster restaurant on the nearby Rappahannock River. By the time we arrived, the sun was pushing through the black clouds and the rain held off as we sat by the waters edge in the idyllic surroundings of Merroirs Tasting Rooms in Locklie's Creek. The food was extremely good and reasonably priced – the Stricklands provided some excellent wines as this part of the US at any rate seems to have a positive approach to that old Aussie favourite, BYO! Merroirs is one of those great American Dream stories – brothers who bought up some run-down premises and old oyster beds and built them up into a highly successful enterprise through hard work, good management and more than a dollop of enthusiasm, science and vision. Apparently, they have close links with restaurants in Washington DC and Richmond.
The diners view at Merroirs
I picked up another hire car from Enterprise on Tuesday lunchtime and drove to meet Julie, who had flown into New York the previous evening and caught a train down to Richmond, just a couple of hours drive from Fishing Bay. She had been away for a month and we were delighted to be reunited – especially with her Mum firmly on the road to recovery. We went to Merroirs for supper on the way back to the boat and spent the following day having a look at Jamestown and Williamsburg whilst we still had the car.
Swamp surrounds the first British Colonial settlement in Virginia at Jamestown
Jamestown was where the first British settlers in Virginia landed to establish a colony in 1607. It's a small island on the James River, surrounded by swamp and dense forest, but with fertile land not far away. The 104 colonists (all men at first) had an unimaginably harsh existence in the early years, fending off disease and malnutrition as much as local Indian tribes. This is the land of Captain John Smith and Pocahontas, but it's also where Colonial America under the British flag started, so it has a very special place in American history. Tobacco farming, taxation, representation, slavery, Red Indians and the opportunity for immigrants to build a fresh life; these were key components in the founding of this nation and the stories are well captured in the small museum on the island. There's not much left of the original settlement, but it has been carefully exposed by archaeologists and the surrounding forest, swamp and river frontage gives you a very good feel for how challenging life there must have been.
Pocahontas
There's a reconstructed 'historic' area of Jamestown nearby which is supposed to be 'fun for all the family' but we opted to head back towards Deltaville and stopped instead at Colonial Williamsburg, where Anna and I had spent a memorable afternoon just a week or so earlier. The features in the historic area were all closed, but we had a chance to walk around the site and get a bit of a feel for how the colony had evolved over the next couple of centuries from the Jamestown adventure until the Revolutionary War. Heavy rain and the lateness of the hour did not encourage us to stay for too long, but it was interesting to see nonetheless.
The glorious countryside around Jamestown
The following day we returned the hire car and sailed from Deltaville, heading north to the eastern Branch of the Corrotoman River, a tributary of the mighty Rappahannock. No wind again, but no flies this time either and we had a very straightforward passage to find the Strickland's wonderful waterside home. They have a deep-water dock on one side of a narrow peninsula and a smaller dock on the opposite side. Their 46' Cambria yacht 'Dragon Run' sits on the big dock, with a shallow draft powerboat on the other and a fine house and garden in between. Idyllic (which, by the way, is far better than 'ossumm'!). The deep-water dock had room for Escapade too; our plan was to give them dinner onboard as a way of saying 'thank you' for their terrific support and hospitality whilst I was on my own at Fishing Bay. Inevitably the evening entertainment strayed into their house and back to the boat and the following morning Lydia took us to the nearby Historic Christ Church site at Weems, which gave us a further insight into the evolution of Colonial life in Virginia.
Sunset on the Corrotoman River
This is the story of the Robert 'King' Carter dynasty, who built a small empire based around tobacco between here and the Blue Ridge Mountains, employing hundreds of people, many of them slaves. Starting just a few years after the first colonists landed at Jamestown, they were certainly remarkable people who were involved in every aspect of Colonial life. They were at the forefront of the abolition of slavery in the US and three of Robert Carter's descendants signed the Declaration of Independence, two became Presidents, eight became Governors of Virginia… the list is impressive. The church reminded us very much of the Royal Naval Hospital at Haslar.
Historic Christ Church, Weems, Virginia
We could have stayed on the Stricklands' dock indefinitely, but that lunchtime we sailed for Reedville, Virginia.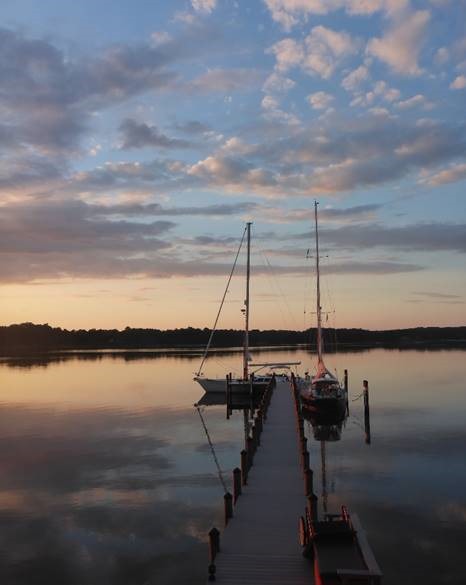 Escapade and Dragon Run sharing a quiet moment on the Corrotoman
---