15 Nov - Pushing south and watching the weather

Escapade of Rame
Richard & Julie Farrington
Fri 16 Nov 2018 04:50
34:43.4N 76:40W
Heading south on 7 November, we found some wind about halfway between Reedville and Hampton Roads and with the help of some favourable tidal stream were off Fort Monroe about half an hour before sunset. You know you are getting close to the world's largest Naval Base at Norfolk, Virginia when you start getting overflown by a broad exhibition of carrier-borne aircraft all headed for the Air Station there. After all, Wednesday evening is very nearly the weekend… oh, sorry, that's the RAF view of the week ('never fly on a Wednesday, it ruins both weekends!').
We were not sure whether there would be much room to anchor in the Hampton River and with darkness falling we opted to slip around Old Point Comfort and into a marine cul-de-sac between the Hampton Roads Bridge/Tunnel and Fort Monroe, which guards the north side of this magnificent harbour. There's a slightly shabby marina here which used to be run by the US Army, but is now in a funny commercial limbo since the Army withdrew from the Fort a few years back (reminds me of Gosport!). Some commercial fishing boats run from the top of the creek and we found a good, sheltered anchorage in 6m of water with plenty of swinging room and good shore access at the marina. The staff there let us use their dinghy dock and laundry and park a hire car there without a murmur. The old married quarters are all rented out and the site is just about ticking over: I wonder if a big developer will come in and rejuvenate the place?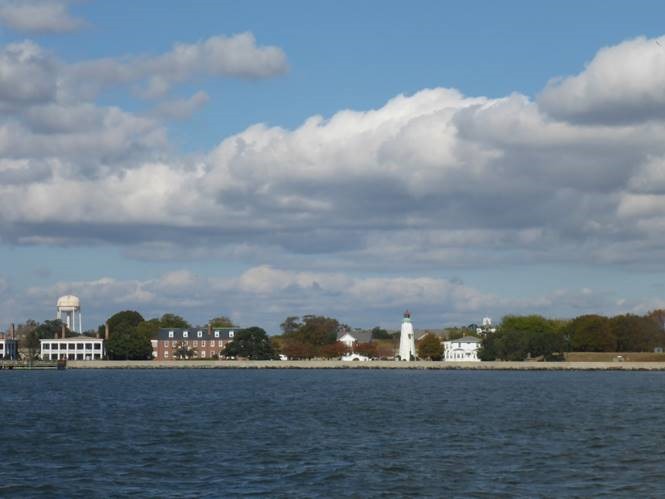 Fort Monroe, Hampton Roads
The following day we hired a car and went across the harbour to Little Creek to collect a package sent to us from Annapolis. A new fiddle block for our preventer, but it turned out to be far too big and will need to be returned. We took the opportunity to eat crabcakes at Bubba's down at Lynnhaven and then did some serious provisioning for the passage to the British Virgin Islands. Our friends Tom and Katie Guy live nearby so we dropped in to catch up with them and they took our meat to freeze it down overnight. We got back to the boat around 7pm, unloaded the grub, had something to eat and then set off ashore again to go to the cinema. We watched Bohemian Rhapsody. The actor playing Freddie Mercury was outstanding and must be in the running for an Oscar; I thought the rest of the band were also well portrayed, the music's great and whilst the critics have given it slightly mixed reviews I though it did exactly what it set out to do. Recommended.
The weather for our passage south has been focusing our minds. There are several 'components' to this:
a. The distance from Norfolk to the BVIs is around 1300 miles on a southeasterly heading. We plan on making 150 miles a day, but may well be unable to travel in a straight line – the wind goes round in a circle off the coast of the US about every three days!
b. Cape Hatteras, some 100 miles south of Hampton Roads is a very significant headland on the east coast of the US where weather systems from the Arctic and the Gulf of Mexico converge. Nasty storms can result.
c. The Gulf Stream flows up from the Florida coast in a north easterly direction off Cape Hatteras, roughly 100 miles offshore. It's around 75-100 miles wide in places here. Winds blowing against this strong current can whip up some rough seas.
d. Once you are through the Gulf Stream, you need to head east and then south to try to pick up the Trade Winds that will take you into the Northern Caribbean. We could end up a couple of hundred miles east of Bermuda before we find reliable winds to take us south. That means almost a week at sea heading east into the Atlantic.
e. At this time of the year, weather systems roll through the region every two to four days. Some are stronger than others. Generally, once you are east of the Gulf Stream, the weather is more settled.
A couple of rallies set off from this part of USA at the beginning of the week commencing 5 November ahead of some unpleasant weather off the coast, but since then the wind has either been in the wrong direction (gentlemen don't sail to windward!) or rather strong. Some boats diverted to Bermuda, others found themselves motoring more than planned and we ended up slightly relieved that I did not complete the work on the VHF radio until it was too late to join them. Then we thought there was a suitable window opening on Friday 9th, but it looked too narrow with some particularly nasty stuff due to arrive three or four days into the passage, so rather than set off for the Caribbean, we decided to take advantage of a couple of days of northerly winds to get south of Cape Hatteras, then wait for another weather window.
MV Al Riffa overtakes Escapade in the entrance to the Chesapeake
We sailed on Saturday morning 10th November. For once, the anchor chain was not thick with Chesapeake mud, the sun was out and the wind was where the forecast said it would be – northerly and around 20 knots. We were overtaken by a large container ship at the Chesapeake Bay Bridge/tunnel and enjoyed a slick, professional VHF conversation with the pilot as we shared the narrow gap briefly – the first live test of our new VHF. We had a couple of reefs in the mainsail and genoa and we flew south, helped by a favourable current. We reached Cape Hatteras at sunset on Saturday evening and arrived off Cape Lookout on Sunday lunchtime. The seas were quite rough but not dangerous and we enjoyed boat speeds around 8-10 knots for most of the passage. There were a few other yachts doing the same thing and we were only overtaken by an 80 foot racing yacht, so we were quite pleased with ourselves.
Outer Banks fishing boats at Harker's Island, North Carolina
Life was not entirely straightforward though, as the generator packed up on Saturday evening. I was certain that it was a fuel starvation problem and almost got it going again once I replaced the fuel filters. But it was getting dark, I was due on watch, we were headed for the Diamond Shoals off Cape Hatteras and I decided that it was more important to keep the boat safe than dismantle the fuel system in rough weather.
Seashells on the seashore at Cape Hatteras. Note how the wind has blown the sand around them even since the last high tide.
We arrived off Cape Lookout at the western end of the 'Outer Banks' around Sunday lunchtime and got into Beaufort at teatime. It's quite shallow here and we nosed around for a while, looking for somewhere suitable to anchor. Unfortunately, the best spots were already taken so we found a 'slip' at Homer Smith's Marina in Town Creek. I had another go at bleeding the fuel system on the generator and had it running for about ten minutes before it shut itself down again.
Pelican poledancer at Beaufort
In the morning we went in search of a diesel engineer. The nearest Onan dealer was 45 minutes drive away, charging $100 for travelling plus $2 per mile and then $130 per hour labour. I could see more than one trip here… fortunately the team at Homer Smith have a fish wholesale business too and know every mechanic worth his salt for a hundred miles around. They contacted Shaun from A1 Marine who said he would turn up at 4pm and he did. We spent a couple of hours trying to find a blockage in the fuel system before identifying the fuel lift pump as the culprit. Shaun returned on time on Tuesday morning with a new pump and the defect is now cleared.
This chap lives on the boat next to us. 6'4, built like a brick ****house, polite as you like. A pussycat, really…
Beaufort, North Carolina reminds us a bit of Mindelo in Cape Verde. That needs qualifying rapidly! It's a really nice, small American seaside town with a strong maritime tradition. There are probably 75 'transient' yachts here, making their way south for the winter and there is a 'base camp' atmosphere that we last saw in Mindelo as we prepared for our Atlantic crossing a year ago. Whilst the majority of boats are headed for Florida and will stay in the Inter Coastal Waterway, there are a sizeable group of offshore yachts making for the Caribbean. We've fallen in with a group of eight or nine, mostly Americans but including an Anglo-Australian couple on another Oyster. We meet in a bar called the Backstreet Pub and the unofficial rally that has formed is now known as the 'Backstreet Buccaneers'. We've established a radio net amongst the boats over HF and plan to chat each day on passage to exchange weather and sailing information. We even have a logo and a baseball cap!
Andrew and Carolyn Bellamy emigrated from England to Australia some time ago and a couple of years ago took delivery of a fine Oyster 475 'Askari' fresh out the moulds. They've been cruising the North Atlantic and Caribbean since then, and know our friends Paul and Babs Watkins in Lyra Magna and Neil and Ley Langford, whose fine Crystal Blues was lost off the New Jersey coast a few weeks ago. Small world…
Yesterday, Julie and I hired a car for the day and spent about 12 hours in it. We wanted to see something of the Outer Banks and headed east from Beaufort towards Harker's Island, planning to take a ferry out to Shackleford Banks and Cape Lookout where wild horses roam amongst the dunes. Unfortunately the strong winds kept the ferries in harbour, so we decided to drive the long way around and headed north, then east to Hatteras Island and the Cape. We arrived not long before sunset: enough time to walk on the glorious empty beaches, watch the birds on the saltpans – many of them migratory species overnighting in some rich fishing grounds - photograph the iconic lighthouse and enjoy the wild, windswept scenery. We had a last American 'steakhouse feed' near Kitty Hawk and drove home in the dark.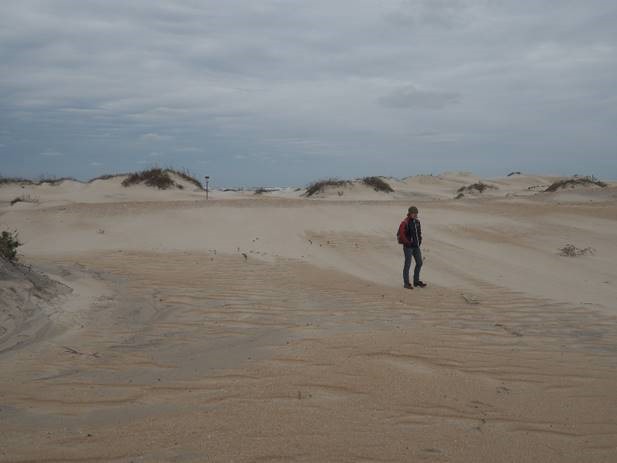 On the beach near Cape Hatteras
The weather has been a bit erratic. We had a tornado warning at 4am on Monday morning. The temperature varies between 10o and 20oC in the course of a few hours. Heavy rain, glorious sunshine, gales and light airs follow each other in rapid succession. We've had it all this week, so it's been good having a secure alongside berth rather than worrying about dragging the anchor or stressing the rig out at sea. The forecast for the next few days is rather better…

A typical weather chart for the SE United States coast out to Bermuda. Our current position is marked by the red circle. This forecast shows north westerly winds of around 15 knots by early afternoon, Friday 16 November to take us offshore and through the Gulf Stream. Shabby weather to the north east!
So today we cleared Customs and we now have 48 hours to leave US territorial waters. We took on fuel (including 50 litres in jerrycans in case of an emergency) did some last-minute shopping, bought some fish and 'shrimp' from Homer and did some admin. We plan to sail tomorrow, Friday 16th November for Tortola in the British Virgin Islands.
For the next few days we will update our position daily on this blog site, but won't post any photos or longer articles as we will be communicating via the Iridium satellite network.
---