10 December - A Transatlantic Two-handed Escapade

Escapade of Rame
Richard & Julie Farrington
Tue 19 Dec 2017 21:27
12:00N 061:44.5W
Speeding west…
After some last-minute admin stuff on Saturday 25 November, we sailed from the anchorage at Mindelo, Cape Verde, bound for a little bay on the south side of Sao Vicente to spend the night. The forecast was for light airs and we did not expect the wind to kick in before Sunday lunchtime, but we were keen to break the shackles of Mindelo and put ourselves in a good place to start the crossing. After a couple of hours with a gentle north easterly, we were making a respectable four knots under genoa alone and overtaking a floating greenhouse with all its sails up. They called us on the radio; they were a French family with four adults and a couple of small children bound for Martinique. Sunset was an hour away and we made our first change to the plan: bin the overnight anchorage and just get going – after all, any ground to the west would be in our favour later. We set the mainsail, altered course to the west and set about cooking the first piece of tuna for dinner.
Some of the inhabitants of Mindelo were more Bohemian. This chap is a (mad) French artist…
By morning, we had moved only 40 miles to the west, but Cape Verde had disappeared into the haze and we hoisted the spinnaker as a long, low swell pushed in from the starboard quarter. The sun was out, the breeze light but consistent… time to work out why the watermaker output had dropped by 50%. I flushed the system through with some cleaning chemicals, changed the primary filter (fighting to get a decent seal on completion) topped up the oil on the high-pressure pump and flashed it up. No pressure on the gauge which seemed to be broken and the motor sounded as though it was labouring. Thirty two degrees centigrade in the saloon, so I was making more sweat than the machine was making water by some margin. Air lock? Debris blocking something? Re-read the manual, dismantle it all and start again. An hour later, flashed it up and within a few seconds it shut itself down and the generator decided to shed its load in protest. Water rationing imposed – washing up in salt water, 'Submariners showers' every three days whether you need one or not.
The boat rolls whatever you do. Each bottle gets its own sock to reduce noise!
Sailing shorthanded (most other yachts making the same trip as us had four or six crew onboard) requires a conservative mindset: we need to conserve our energy and equipment as best we can. An autopilot failure would be a significant problem: we have a complete spare set onboard but things are never that simple and the prospect of hand steering the boat for more than a couple of days with just two of us would be a very daunting one. The boat has 2000 amps of battery capacity, which sounds like a lot but we would be in trouble if we could not maintain a decent reserve level, so clean diesel to run the generator (or the engine in extremis) is vital. Interestingly, the Oyster has only one diesel tank and one water tank – so we need plenty of filters and the ability to pump both diesel and water by hand if necessary. Fitting that into a regime of 'four hours on, four off', alongside sail trim (not a big issue when going in a straight line for 14 days with a steady easterly wind), cooking, sleeping and abluting (sweat, saltwater and suncream create a sticky second skin) makes the waking hours pass quite quickly.
We established a routine pretty quickly: spinnaker up and generator on around 0800 as Julie goes off watch; she sleeps 'til around 1100 and then we are both up and about until 2100 when I get my head down for a few hours before keeping the 'middle watch'. The generator runs for 2 to 3 hours depending on the load in the previous 24 hours and spinnaker comes down half an hour before sunset, to be replaced by a poled-out genoa. That requires some reconfiguring of the spinnaker pole and running rigging which gets us both on the foredeck in lifejackets, but the spinnaker comes in a splendid sleeve/sock arrangement which allows one person to douse it very quickly when we need to. We carry the spinnaker without any difficulty in winds up to 23 knots - above that, the sail and boat could cope, but the man might struggle, particularly in hoisting and dropping the sail. We don't need any pulled muscles or broken bones on this trip…
Chafe reduction measures – the spinnaker sheet invariably rubs here. IN the event, we got off very lightly.
A set of upper deck rounds follows, checking for chafe in the running rigging, loose shackles, cracks where there were none yesterday – and clearing the suicidal flying fish off the side decks where they throw themselves as the sun comes up.
Lunchtime see my old sextant come out and Julie either does the maths or wields the 'star spanner' – or both. We enjoy the rigmarole of astronavigation, thankful that we don't have to rely on it (we have three independent GPS systems onboard) but relishing the beautiful logic of how the whole thing works and marvelling at Mr Harrison and his clocks and the computation of Longitude in the 18th century that gave the British mastery of the seas…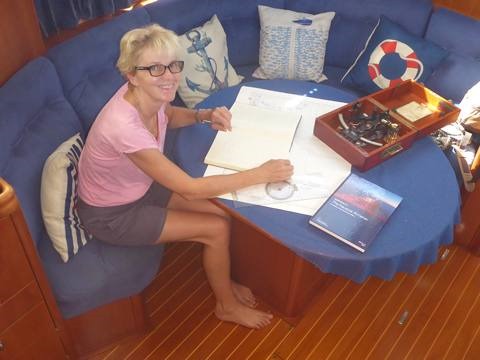 Sextant, Nautical Almanac, parallel ruler, logbook and a dedicated Navigator…
…wielding the star spanner!
You go for days on end without seeing another vessel. There is the odd merchant ship crossing from South America to North Africa, usually carrying minerals of some kind and every day or so we see another yacht on the horizon. With our AIS system, we can usually see their name, work out what sort of boat it is (and whether we should be going faster than them or not) and on a couple of occasions we speak to them on the radio. Once, around dawn, one came within a couple of miles and Julie got quite excited as we could see that we knew them from Lanzarote and Cape Verde – mutual friends of David and Evelyn Jones, FLYING is a fine Grand Soleil 45 that they bought at the beginning of this summer to make this trip with their ten year old son and and a fourth chap along for the crossing. The boat has had its fair share of problems – sails that didn't fit properly, a burnt out generator which they fixed in Mindelo and now a broke autopilot just two days into a two week passage to Barbados. FLYING is much lighter than Escapade, so they were bouncing around in the Atlantic swell and pretty tired, but we saw that they made Barbados safely within about 24 hours of our arrival in Grenada. We focused even more on conserving equipment – fortunately the rig is well balanced, so the loads on the autopilot are relatively small, even in a big following sea.
FLYING passing astern at dawn on 4 December
Apart from the flying fish and fewer dolphins than we had seen nearer mainland Africa, our most constant companions are the Great Shearwaters and their smaller cousins, the Storm Petrels. The graceful shearwaters seem curious about the yacht, often flying from dead ahead and flaring up before hitting the headsail, then bearing off upwind and low over the sea looking for the flying fish who break cover as we approach (and like all WAFUs (Naval aviators) like to take off into wind).
A Great Shearwater on a bombing run
This fool decided to take up residence at the masthead. Bird Brain.
On 29 November, after four days fighting the watermaker, I conceded defeat and decided not to fiddle with it any further for fear of causing further damage. I had made some ground with telephone advice from Jim at Sailfish and even had it running for an hour, but a lack of spares and onboard expertise prevented further progress.
Of more concern was the wind, which was weakening. We were well aware that the ARC boats who had sailed from the Canaries the week before had encountered very light winds and Julie did some careful analysis of some meteorological data we downloaded from the satellite. The light air was to the north of us, but also ahead of us if we maintained our present course, westwards along latitude 15oN. There was more wind, and importantly more consistency, further south. We needed to make ground to the south anyway (Grenada lies at 12oN) so at sunset when we dropped the spinnaker, we started the engine and motored southwest until midnight. At 14oN we turned back to the west and in a steady 15 knots of breeze, set a course for Grenada again.
Water rationing – back to the good old days in 'Too Risky!'
Saturday 2 December marked the halfway point – 2330 that evening we had sailed 1085 miles with another 1085 to run! We celebrated the day with a coffee cake, some steak that we had bought in La Gomera, a 'raspberry pie' and a couple of episodes of the classic HBO series 'Band of Brothers'. There was no shipping within 100 miles and the boat was sailing herself quite happily. I even allowed showers!
A perfect evening sky
The second week passed surprisingly quickly. We had no chafe problems and no significant defects apart from a spate of locker hinges and latches breaking. Part of the self-tailing mechanism on one of the main winches crumbled away, probably due to UV fatigue. I cobbled together a repair and ordered a new one to arrive in Grenada. Of more significance, the main traveller which helps control the mainsail, was starting to disintegrate. It was one of the few original pieces of rigging and deck hardware that I had not changed, and I wondered if I might regret saving the money. I rigged extra lashings on it in case it gave way and inspected it every 6 hours. [It is still in service but a spare is coming out from the Rig Shop for New Year.]
Under full sail
Julie's wind forecast turned out to be correct. We enjoyed steady easterly winds all week, sitting between 15 and 20 knots most of the time with the odd gust to 25 knots. By Wednesday, the prospect of arriving at Grenada on Saturday afternoon rather than Sunday morning looked increasingly realistic and we were torn between pushing on a bit harder and risking breaking something (or ourselves) for the sake of another night at sea. We decided to play it safe and let the wind do the work – which it did. We worked out that we needed to cover 26.2 miles directly towards Grenada in every four hour watch to get there before sunset on Saturday. Anna booked a berth for us at Port Louis Marina in St Georges Harbour; we had a fallback plan on the east coast if we were late. Each watch finished with a careful recalculation of the distance to run – every watch exceeded the 26.2 mile target and we grew increasingly confident. Water restrictions were relaxed in full, only for the wind to drop on Friday lunchtime. We hoisted the spinnaker and watched the miles continue to count down. That evening we were overtaken by the German racing yacht OUTSIDER, completing in the RORC Transatlantic Race from Lanzarote to Grenada. They left at the same time as us, travelled 1000 miles further, but with a full crew and an average speed of 10 knots only beat us in by 14 hours!
We hand steered for the sheer pleasure of it and to give the autopilot a rest.
On Saturday morning, sunrise came with some huge rain clouds and some interesting squalls. We had been expecting them for days, but they only really showed themselves in the last 48 hours. The standard procedure was to furl away the genoa and hand steer under mainsail alone. The wind would get up to around 30 knots for a few minutes and then subside. On the first one, Julie saw it coming on radar and visually, called me and told me what she planned to do. I stayed in my rack. She furled the sail and had her foul weather trousers on anyway, but as the rain poured down she retreated into the cabin and held a cushion up to shelter us a bit from the inevitable sluicing. Who was steering, I asked? A couple of hours later and it was my turn. I found my North Atlantic foul weather gear a bit hot, so pulled on a pair of swimming trunks instead and got a washdown whilst steering downwind at 10 knots with just the mainsail up and some mountainous seas rushing underneath us. Shearwaters massed in huge numbers nearby to feed off the fish that came to the surface to investigate the noise. Black clouds, blue sky, rainbows, horizontal rain, swooping birds and trying not to fall off the edges of a wave – exhilarating stuff! Five minutes later, the skies cleared and order was restored.
An angry morning sky
At 1130, we spotted land, shrouded in cloud and mist – memories of Gijon six months before. By 1400 we were rounding the south west corner of Grenada, the water had gone from 5000 metres deep to 5 metres deep, changed colour to a turquoise azure blue and we were enjoying the lush green tropical landscape of Grenada – yachts anchored in the bays, brightly coloured houses clinging to the hillsides – a kaleidoscopic paradise after two weeks of 'the lonely sea and the sky' (with apologies to the great Sir Alec Rose). We rounded Point Salines and headed north west for the first time in months and were greeted by a heavy rain squall, but as it cleared the glorious spectacle of St Georges Harbour unfolded. Superyachts, small container ships, a couple of 'tall ships', a rash of floating greenhouses and an eclectic collection of cruising yachts spread out ahead. The chaps at Port Louis Marina answered our call on VHF and were expecting us. We laughed at the buoyage, which is 'back to front' from the rest of the world and is unique to North America and the Caribbean and before we knew it we were in the Lagoon – a wonderful, tropical, lush, calm volcanic crater with a very smart marina right in the middle. An efficient team handled our lines as we (unexpectedly) 'Med moored' alongside a 55 foot American flagged yacht. Dan and Lori were very friendly and asked where we'd come from. 'Cape Verde', replied Julie. 'No, I meant today, where have you come from?'. 'Cape Verde' replied Julie. Apparently we looked as though we'd just popped around the corner.
St Georges Harbour, Grenada
Carrier aviation – Caribbean style!
---