14 Aug - Pushing north with North

Escapade of Rame
Richard & Julie Farrington
Wed 22 Aug 2018 02:33
43:50.25N 066:07.5W
Trinity Church, Newport RI
We had planned to depart Newport Rhode Island on Monday 6 August, heading north. But one of the reasons for calling into the home of North American sailing in the first place was to collect a shiny new mainsail.
Most cruising sails are made from dacron and start to stretch the first time you use them. Whilst ESCAPADE's are tough and undamaged, after 20000 miles the mainsail has the aerodynamics of a bag of potatoes, particularly going upwind when you want something that looks like an aeroplane wing. Ours looks like an aeroplane wing alright, just with the flaps down for landing. Until now, the racing community have monopolised the laminate sail market and that's all fine if you use the thing for regattas and look after it carefully, but not ideal for long distance cruising in hot, dusty climates where the glues tend to melt after a while.
North Sails are the biggest sailmakers in the world and their technology has been cutting-edge for years. Recently they have developed their top-end racing sails for the cruising market and the result is the 3DI Nordac sail: a single piece, multi-layered, highly durable sail with exceptional non-stretch properties. It has taken the market by storm; as a result the price has come down, but the waiting time for manufacture has gone up! We took the plunge and ordered a new North 3DI in Martinique in March, knowing that we would collect it in North America in July. For the last six weeks, the delivery forecast was 23 July at Rhode Island. So when I went into their North America headquarters on 30 July and asked for it, I was surprised by the blank looks.
The Sales Director took me aside and asked if there was a problem… There followed a fairly unsatisfactory few days where they tried to locate our nice new sail and I got increasingly irritated by the lack of a plan. It was sent to Antigua (where we had measured the boat for the sail and paid the deposit), got lost for a while and eventually sat waiting for a lift at JFK airport in New York. Eventually they sent a man in a van to collect it on 7 August and we fitted it on Wednesday 8th. It's a thing of beauty and the boat seemed to enjoy being propelled by it as we left the Hinckley Boatyard at Portsmouth RI with it later that afternoon and sailed upwind all the way out of Newport harbour, through classes of racing boats out for an evening spin, past the Golden Era mansions, even keeping pace with an old America's Cup 12m racing yacht taking 'grockles' out for a glimpse of magic.
Our brand new North Mainsail helping us north!
We anchored that night at the mouth of the Sakonnet River, off a fine looking sandy beach. Our destination: Yarmouth in Nova Scotia. Originally we had intended to go straight to Maine, which the American cruising community reveres as the best on the east coast of the US. But our Travel Insurance (specifically mine) only runs for 90 days at a time in USA, so we would need to depart the country for a day or two in order to 'reset' it. Julie's was less of a problem because she has been back in Europe more recently, but mine would run out in mid-August. We thought we might hire a car from somewhere in Maine and drive into Quebec, but a blinding flash of inspiration from the Navigator showed that we could very easily reach the southern end of Nova Scotia from Cape Cod, spend a few days exploring that part of Canada and kill several birds with the one stone. Moreover, the weather forecast was as benign as it was going to get!
Sunrise in the Gulf of Maine
So on Thursday morning, rather than rowing ashore to explore the beach, we headed north east out of the river entrance and headed for the Cape Cod Canal, leaving Cuttyhunk, Martha's Vineyard and Nantucket to starboard and a visit later in September. The sun came out, we had a south westerly breeze and so the spinnaker was hoisted for the first time since the north coast of Cuba. We had a lovely sail, watching the coastline gradually converge on either bow and listening to a queue of vessels and aircraft wanting to talk to the US Coastguard cutter EAGLE, one of the most iconic square-rigged vessels in the world, who was in our vicinity. She is used to train young sailors and officers and wave the 'stars and stripes' offshore around the world. I reflected on the Royal Navy's recent flirtation with the concept – there was an opportunity to have our own in 2016, but they decided that they could not afford the running costs.
The Cape Cod Canal is quite similar to the Cheasapeake and Delaware Canal that we transited a few weeks ago; we rode a favourable tide through at 11 knots over the ground, saw virtually no other traffic and popped out into Cape Cod Bay at teatime. Here the sea was absolutely flat and we made good progress to start with until the wind dropped at sunset. With a brief sailing interlude during the Middle Watch, we motored for much of the night. In the morning we were joined by a small flying landlubber (a sparrow?) who was clearly exhausted enough from his night flying sortie to risk landing aboard. We hoisted the spinnaker for the rest of the morning and Dickie Bird made himself increasingly at home, all the while keeping a weather eye on a flock of patrolling shearwaters who probably regarded him as a curious snack.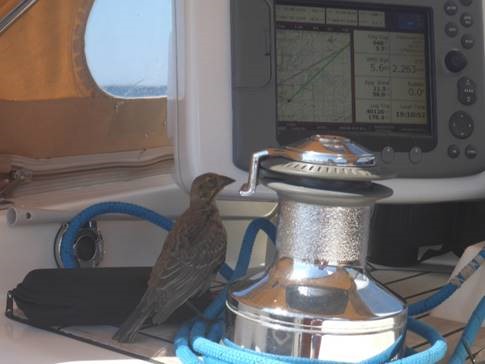 Dickie the Navigator
By early afternoon the wind had dropped again and with a distant threat of thunderstorms we were invaded by a swarm of small black flies. I managed to despatch quite a few and fed Dickie, who much preferred them to Julie's All Bran. By evening, he had taken a turn at navigating and even steering, but when the wind got up again just after dark and we broke out the genoa, he got startled and flew off into the night. We were still about 100 miles offshore at that point, so I doubt that he made it to safety… at least he might have evaded the shearwaters' radars.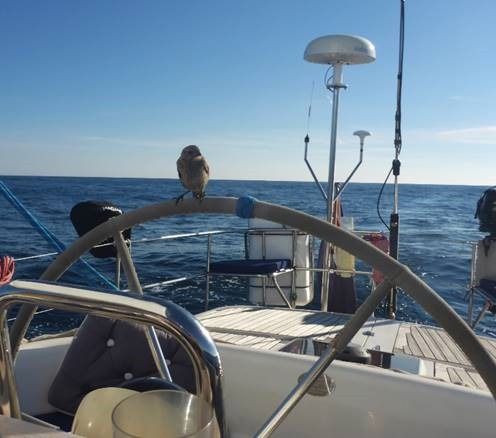 Dickie the helmsman
We reached the Canadian coastline soon after dawn on Saturday morning. After fighting a strong tide for a while, we eventually caught the first of the flood into the port of Yarmouth.
Clearing Customs here is quite easy: its all done on the phone. We arranged to stay one night on a berth in the tiny marina whilst we sorted ourselves out. Yarmouth is a fishing town – and a rich one at that. There's a ferry that runs to Portland, Maine each day, but the economy of the town revolves around lobsters, herring and boatbuilding. Recreational boating is virtually non-existent, perhaps because of the variable weather, or more likely because the lobstermen prefer to spend their money on really big trucks. Tourists are a bit of a novelty, despite the largest and smartest Visitors Centre you've ever seen. We had a really good lunch in a slightly nondescript-looking restaurant where the prices seemed far more reasonable than we have seen in the US recently.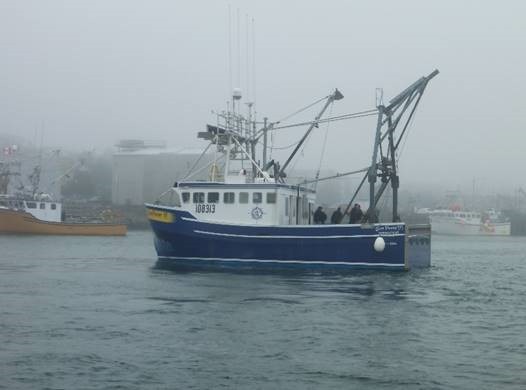 A brand new Nova Scotian lobster boat, worth £750K and capable of hauling 300 pots per day
There was a music festival on right by the boat, so we investigated. The audience was surprisingly old, very overweight and the music was 'pedestrian country and western' and not really our thing. That evening we tried a different venue; 'ChunkaFunk' were a reasonable cover band playing middle of the road pop classics, but they shared the stage with a cringeworthy comedy act based on one of those TV improvisation shows which work well with the likes of Paul Merton or Hugh Dennis… but fall absolutely flat with some ungifted amateurs. Here, the slightly younger audience was also seriously overweight, particularly the women, and heavily tattooed.
South eastern Nova Scotia on a glorious August day
On Monday we picked up a hire car from the local Enterprise outlet and set off on a three-day road trip to explore Nova Scotia. The weather was perfect – mid 20s, light winds and few clouds. We headed for the south eastern shore around Mahone Bay and the city of Halifax, about 160 miles from Yarmouth. Inland, certainly in this area, the landscape is fairly flat and dominated by coniferous forests, punctuated by freshwater lakes. You don't get to see much from the road, which is straight and pretty empty, but once we turned off onto the 'Lighthouse Route' near Bridgewater (home of Michelin tyres North America) things improved dramatically. The road winds along the foreshore, through gently rolling hills with a mix of forestry and dairy farming, but it's clear that the focus is on the sea. The community is Anglo-French stock and most people seem to be involved in fishing in some form or another. It's very picturesque: reminiscent of western Scotland or the south west or Ireland, but much flatter, easier land. Deep inlets and a rash of small offshore islands provide great shelter and a beautiful backdrop. The area is known as Acadia and they fly a defaced French tricolour or decorate their homes with a star-shaped symbol. We didn't hear French spoken, but the locals have a distinctive accent which is part nasal, part guttural, part antique, slightly deliberate. Apparently there is a university here where you can be dismissed for speaking English and schoolkids today are expected to be more or less bilingual, but the only signs we saw of this were the official roadsigns. Everyone we came across seemed to use English as their first language.
An Acadian seascape. Not sure how the boat got there!
We stopped for lunch at Lunenburg. It's a UNESCO site and the buildings have been carefully preserved – the same clapperboard construction you see all over the Eastern seaboard but here in the form of large warehouses and clearly built as warehouses or factories of some sort, related to fishing and maritime trade. Lunenburg was originally built by the British as part of a strategy to control the Catholic Acadians and the local Indian tribes and the British invited German Protestants to settle here. Today, it's a popular tourist town with some good restaurants and we enjoyed a first class scallop-based lunch in an open air bar overlooking the busy harbour. Again, the prices were reasonable and the food was very good. Interestingly, there was more recreational boating here, but nothing on the scale that we had seen right along the coast of the US.
That afternoon we visited a distillery in the town, continuing our North Atlantic survey of alcohol-producing facilities (Scottish distilleries in 2016, the Douro and Jerez regions of the Iberian peninsula, rum distilleries in Cape Verde and Grenada…). The Ironworks occupies an old blacksmiths forge and specialises in hand-distilled spirits on a pretty small scale, mainly molasses-based rums but most amusingly a pear vodka with a pear growing inside the bottle! I wish I'd taken a photo of one and at £100 per bottle it stayed on the shelf! They don't export outside Canada, probably because they cannot produce sufficient quantities and each barrel tastes every so slightly different – so the 'mass market' would struggle with it, I fear. They were lovely people though, making something of real quality with real passion and a good dose of humour. Uplifting…
We pushed on along the shore to Chester, which has a reputation as a vibrant sailing destination. Another picturesque harbour with more sailing boats than we have seen in the rest of Canada so far, a couple of ferries serving the nearby islands and slightly fewer commercial fishing boats than elsewhere. Think Salcombe rather than Plymouth…
Tranquil Chester, Nova Scotia
We reached Halifax around 7pm for my first AirBnB experience. Once we worked out how to get into the flat (follow the instructions on the website, duh!) we found that we had an immaculate, beautifully presented one bedroom flat with a full kitchen within walking distance of central Halifax. We walked into town and explored the lively waterfront before topping up our scallop lunch with some Korean bbq. It wasn't as good as the place we had visited in New York with Anna and Matt, but there were no after-effects!
On Thursday we went in search of a doctor's prescription for me – the US one would not work in Canada but the drugs are about 1/5 of the American price. We found a walk-in clinic and everything went quite smoothly, so we set off to the Maritime Museum to learn about the Halifax Explosion of December 1917 in which 2000 people were killed and more than 9000 injured. I wonder how many readers of this Blog outside Canada have heard of this extraordinary event, the largest man-made explosion before the development of nuclear weapons? Read all about it in our next edition!
---