21 December: Grenadan Spice - Part 1

Escapade of Rame
Richard & Julie Farrington
Wed 27 Dec 2017 18:35
12:29.4N 061:29.6W
The Carenage, St Georges Harbour, Grenada
The marina at St Georges is quintessentially Caribbean- American. In a beautiful setting, Camper and Nicholsons (of Gosport fame) have laid the place out thoughtfully and it is immaculate. The dominant feature is the superyacht facility – there were half a dozen there at any one time, waiting for their owner or charterer to pitch up – but the staff seemed quite focused on the ordinary boat owners. There is a Sunsail/Moorings operating base here as well as a couple of other charter companies, so there is a regular flow of fresh faces at the bar, alongside the seasoned liveaboards, who are mostly Americans with faraway gazes, ponytails, bandannas and no shoes.
The view from the cockpit at Port Louis Marina, Grenada
[Actually my sailing shoes are really hot in this climate, but I hate getting my toes stubbed, so I may have to invest in a pair of those luminous 'Crocs' despite Lizzie's advice that they are NOT a fashion item.]
Who's hiding my boat?
On our first night in, we wandered ashore for something to eat via the bar in the Marina. They have a swimming pool there in the shadow of the superyachts, so it's a great place to 'chill'. The restaurant which we found on TripAdvisor was underwhelming, but we enjoyed sitting by the water watching the harbour at night and walking back to the boat was as unthreatening as any port I've been in – the Grenadians are a friendly, cheerful and relaxed nation. Sunday was 'clean ship' day, including a swim at the pool and on Monday we set off to 'store ship', find a chap to help with the watermaker and visit a chandlery to replenish the few things that had broken. There are quite a few marine engineering businesses on the island, but this is a peak time of the year as people return to their boats after the hurricane season and set off to spend Christmas off a desert island somewhere. Eventually we found someone who would come to look at the watermaker a week later.
The fish market, St George's, Grenada
The chandlery quest involved a bus trip. What an experience! Every minute, a 'Number One' bus passes the entrance to the marina. It's a Toyota van with about 12 seats, one belonging to the 'conductor' whose job is to hail potential customers helped by the driver and his horn. For about a quid, they will take you to your doorstep – assuming it's not in completely the wrong direction – accompanied by loud reggae music and some Formula 1 driving on bald tyres. If you dare open your eyes, the scenery is glorious – you can generally see the sea through the coconut palms, the small houses are ramshackle, brightly painted affairs with chickens and small children scattered about and a balance of bustle and Rastafarian 'chill' which is hard to pin down but quite intoxicating. Everyone is friendly, but not pushy. Nobody seems to have much money, but they don't appear to resent the tourists, who after all provide the economy with its lifeline.
The chandlery, despite a huge catalogue and a network of stores throughout the Caribbean, had only limited stock. We ordered a couple of things that should turn up in early January, but we will have to plan ahead to get the remainder of items in Martinique or St Maarten in February. Fortunately, none of it will stop us sailing – Lizzie brought some bits with her and Anna's boyfriend Matt is bringing some more from the UK at New Year. It makes you appreciate the quality of service and support that we take for granted in the Solent.
On Wednesday we left the marina and went out to anchor off Grand Anse Bay, just outside St Georges Harbour. The marina is so well sheltered that it is airless for much of the time, whereas if you sit at anchor, you can generally get a breeze blowing through the boat below decks. It's also free and a good distance from that nice little bar! Lizzie arrived on Wednesday night – we last saw her for a few days in Gibraltar in September – so the Christmas holiday mood set in. We found an excellent beach bar for lunch on Grand Anse beach and did some shopping in preparation for Anna's arrival from New York on Saturday.
Umbrellas Beach Bar, Grand Anse, Grenada
On Friday we moved a couple of miles up the west coast to a well-known snorkelling spot boasting an aquatic 'sculpture park'. Underwater and underwhelming, nonetheless we enjoyed seeing some reef fish and mucking about in the water. Friday night at anchor was a rolling affair – the wind and swell must have shifted a bit, so on Saturday morning we moved back into Port Louis Marina for a guaranteed peaceful night's sleep. It also gave us easier access to BB's restaurant which was booked to mark the reunification of this branch of the family for the first time since La Coruna in early July.
Post snorkelling laundry
BBs serves traditional Caribbean food – well. They are a Grenadian family with strong British links – the chap who looked after us had visited the Mary Rose in Pompey dockyard on a school trip! We had a cracking evening and on Sunday set off for a secluded anchorage on the south coast of Grenada at Hog Island.
Clark's Court Bay anchorage, Grenada
It was a couple of hours under sail, our first upwind sailing for months and we threaded our way between the reefs into a perfectly sheltered bay. We anchored off Roger's Beach Bar, a rough and tumble shack in the mangroves and Anna swam ashore. Pretty idyllic, but judging by the number of boats moored or anchored round about, we were not the first people to realise this. The heavens opened as we enjoyed a beer at Roger's bar and we all got thoroughly drenched – it wiped out the multinational blues band who were drinking and smoking themselves into a haze. We returned onboard for a barbecue. The weather has changed subtly since we arrived: the wind now blows a steady 15 – 20 knots throughout the day with bright sunshine, but there may be a couple of heavy showers that last about two minutes before normal order is restored. Overnight (it is dark from around 1830 to 0630) the frequency of showers increases slightly and the wind speed also rises to 18 – 22 knots. So far, the pattern has stuck.
Roger's Beach Bar, Hog Island, Grenada. A theme is emerging…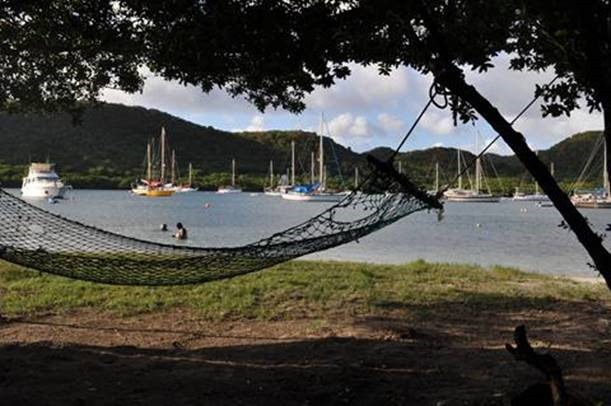 Looking out from Roger's.
Taking exercise at Roger's
On Monday, Stuart the South African watermaker man, turned up on time. He noticed that there was too much oil in the high pressure pump, identified a couple of components that might need replacing and promised to return on Tuesday. His diagnosis, with the exception of the oil, tied in with Jim's from Sailfish Marine so I was optimistic. We went ashore to visit the Clarks Court Rum Distillery, had lunch at True Blue Marina and returned onboard to suck the oil out of the pump.
The distillery was more sophisticated than the one on Cape Verde, but lacked the infrastructure or marketing investment we had seen in Scotland in 2016. Despite that, the tour (of the old facilities, not the current plant) was quite interesting and the tasting session a roaring success. We came away with some delicious 'chocolate rum' – a thicker, chocolatier version of Baileys that I think would sell really well in UK and some spiced liqueur rum for Christmas. Only I liked the sipping rums and nobody dared try the 90% proof white rum…
Pretending to know about rum
That evening we got the oil out of the watermaker pump and flashed it up to see what happened. Lo and behold, the thing produced fresh water. I kicked myself hard – I had not understood how to measure the oil level several weeks before when the watermaker went on the blink and had innocently topped it up so far that it was tripping out before reaching the right operating pressure. The seawater round about was a bit murky though, so we shut it down and waited for Stuart's return the following day.
On Tuesday the girls ventured into town to relocate the Grand Anse Beach Bar whilst Julie did some 'Christmas admin'. In the evening, Julie and I ditched gash and cleared some emails at the lovely Whisper Cove Marina in Clarkes Court Bay and we gave the barbecue another run.
On Wednesday we set off early to sail up the west side to Grenada to the island of Carriacou. In the lee of the island, we motored, but near the north west corner the wind veered enough that we could make a reasonably course to the east of north towards Carriacou. There is a consistent west-running current through the Windward Islands and the pilotage advice is to beware being set too far west. I guess it's written by mariners unfamiliar with the tidal challenges of the English Channel!
Going to windward in the Caribbean
We needed a couple of reefs in the sails to cope with the gusty conditions and enjoyed the fine scenery – I can't remember sailing to windward in the Solent in my swimming trunks! We arrived in Tyrrel Bay, Carriacou at tea time and anchored in beautiful, clear water. Ashore, the atmosphere was chilled and relaxed, with a few rum shops and some stalls selling fruit and veg. We found a beach bar called the Lazy Turtle, run by a Jersey financier who had escaped the rat race, probably because his service was SO SLOW, but the pina coladas were excellent and the views splendid, so nobody minded.
Tyrrel Bay, Carriacou
On Thursday we motored a couple of miles north to Hilsborough Bay and Sandy Island, which is a well-known snorkelling spot. We picked up a buoy there and went ashore to the island. It was the quintessential Caribbean desert island – long sandy beach, a few mangroves and palm trees, a pile of coral on the seaward side. And a couple of rather good reefs at either end where we swam in water warmer than your bath, saw loads of reef fish and felt as though we were, at long last, in the Caribbean we had come all this way to find. We lunched on a couple of spiny lobsters we had bought from Buddha the Boatboy and felt that life was pretty good.
Sandy Island, Carriacou
---