24-26 May at Iles de Glenan

Escapade of Rame
Richard & Julie Farrington
Fri 26 May 2017 19:03
47:43.6N 3:59.7W
We left Port la Foret at lunchtime, having forayed (sic) ashore for bread and embarked 100 litres of diesel.  No discounts for heating in France – just the pump price of €1.40 a litre.
Low water at La Foret-Fouesnant
Light airs gradually filled in as we made the 10 mile passage to the Iles de Glenan and we had a lovely sail into a gentle south easterly.  As we approached the islands, we met the Glenans Sailing School fleet enjoying a spinnaker run down the north side of their archipelago.
Once inside the main reef, we anchored just to the north of the visitors moorings north east of Ile St Nicholas and started to adjust to the heat.  Up went the new bimini – the first time we have ever used it to keep the sun rather than the rain off- nice job Mr TecSew, thank you!
Around 2300, just as a chap thought about turning in, the wind sprang up from the North East and settled at about 14 knots.  No big issue as the reef was exposed by the low tide and provided enough of a breakwater; but as the tide rose, so did the wind and we ended up at 0300 in anchor watches as the wind reached 20 knots and the tidal stream started to push one or two boats quite close.  By 0600 things had eased down and Julie took the sensible decision to turn in!  We ignored the urge to get up at the usual time…
But when we did, we found another glorious day and ventured ashore to explore.  The photographs speak for themselves.  A classic saltwater sand dune flora and fauna, shallow waters, Napoleonic fortifications, viviers, watersports everywhere and an endless stream of visitors arriving by vedette, RIB, yacht and jetski to enjoy the ice-white sandy beaches and every shade of blue and green you can imagine. 
Escapade is towards the right of the picture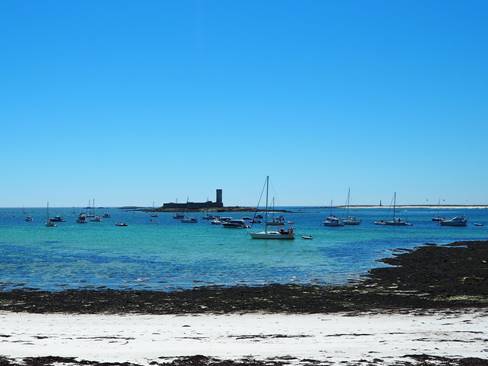 Glenans sailing school HQ at Ile Cigogne
Sunset in our anchorage… midweek in May!
We plan to visit Lorient next, to inspect Admiral Doenitz's famous submarine pens…
---