23 July - Island paradise and Vigo Delight

Escapade of Rame
Richard & Julie Farrington
Wed 26 Jul 2017 22:59
42:12.14N  008:54.25W
Well, the Seafood festival in Raxo didn't start until Friday, but we trawled through Tripadvisor and were well looked after at the Meson Restaurante Lameirina.  It's a family-run place, doing fish (what else?).  We've found it hard to find that middle ground between 'haute cuisine' (such as the Mortgage funded Parador in Santiago de Compostela) and the ubiquitous 'parrilladas' serving 'raciones' such as Padron peppers, chipirones and octopus for a few shekels.  This particular establishment is at the top end of the 'parrillada' school.
The days here fall into two basic models: early cloud giving way to bright sunshine in mid afternoon but not much wind; or sunny from the outset with increasing wind strengths as the day wears on.  In both models, the wind often dies away to nothing at night, allowing the mozzies out to play.
Friday was a cloud then sun day and we set off for the Islas Cies, about fifteen miles south west of Raxo under power.  Given the vast quantities of fish that you see in the water around the boat for much of the time, Anna was keen to try to catch some lunch, so we set the mackerel line astern.  One of the cushions we bought in Belle Isle some weeks ago depicts a sea full of fish, with a fisherman sat in his boat dangling a line into a narrow column, devoid of marine life.  That proved to be our lot and I have resolved to invest in some local 'lures' to see if we can do any better…
Is this an apocryphal cushion?
However, the sun came out and by the time we dropped anchor off the narrow isthmus between Illa de Faro and Monte Agudo, it was roasting.  The islands are known as the 'Atlantic Islands of Galicia' and are a nature reserve where access is controlled.  You have to have a permit to navigate and another permit to anchor; you acquire these online and Julie had done all the necessary admin in advance.  The first boat we saw was some sort of security craft, so I was bracing myself for an inspection and more form-filling, when he stuck up a diving flag and turned into the guardboat for a couple of commercial diving fishermen going after razor clams – not a great hit in UK but a delicacy here.  We haven't tried them yet, but they look more satisfying than the infamous Percebes, so I will give them a go and report.
Alice's itinerant, undamaged mug at Islas Cies.  Her excellent coffee is available at www.edgecumbes.co.uk (we've run out…)
Swimming proved to be icy cold, so whilst Anna and Julie dared each other, I used my weak heart as an excuse not to shrink any body parts and instead watched the steady flow of day trippers flooding ashore and private yachts from a dozen nationalities arriving from the nearby Ria de Vigo.  The Spanish have little concept of personal space in this respect and often anchor very close by.  Today's culprits were a 30 foot Bavaria with four twenty-somethings and a couple of older people, rather keen on topless bathing and community singing.  I had to frown into my teacup because I did not want to be caught staring…  Fortunately most of them decamped ashore to frolic and they had left their fenders out from their marina berth anyway, so some semblance of peace returned and the boats mostly with their bows into what little wind there was.  The problem is that a 25 tonne Oyster tends to yaw around its anchor at a very different rate from a 7 tonne 'plastic fantastic', but the closest they came to hitting us was about 15 feet – plenty of room for some other muppet to drive between us for a closer look at the merchandise.
In the afternoon, we went ashore to explore.  It is a beautiful place.  Pine and eucalyptus give a heavenly scent and welcome shade; the views are breathtaking and the Spanish have done a marvellous job keeping the visitors contained within some well-disguised camp sites, excellent walking tracks and the beach.  The white sand is quite soft and good for scrubbing dead skin off, the water is crystal clear and there is absolutely no litter.  We walked up to the lighthouse on the highest point of the island, and it was worth the effort.  Closer to sea level, there are octopus swimming in the lagoon between the two islands and although the café specialised in school dinners, we managed to buy some decent bread in the tiny supermarket to support our evening barbecue onboard.  Our neighbours left for the fleshpots of Vigo around 2100 and we enjoyed a delightfully quiet evening.
The lighthouse at Ila de Faro, Islas Cies
On Saturday morning (a cloud and sun day) Julie managed to get a permit to stay for a second day so we moved to the beach at San Martino, where the tourist boats don't land and you can enjoy a more peaceful stay.  Before moving, I went inshore to photograph the empty beaches and Anna went ashore for a run.  As we returned to Escapade, the outboard stopped.  Smoke or steam escaped from the cowling and it was pretty clear that we now have an overheating problem.  After a cup of tea, I attempted further fault diagnosis.  Fortunately, the thing has not seized, and whilst it will start and run at idle, no cooling water appears to be moving through it.  I suspect the impellor or perhaps the water pump itself.  No spares onboard (note to self…) so once again we are off in search of a Mariner agent…
The beach to ourselves…
The anchorage at San Martino looks positively Caribbean!
Still, the anchorage at San Martino is very beautiful and it was much easier to land in the swell breaking on the beach without worrying about swamping the outboard.  At lunchtime, the girls swam ashore, reporting that the water close to the beach was much warmer than the stuff closer to the boat.  I was almost persuaded…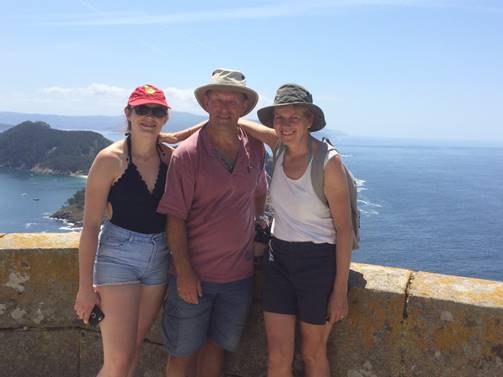 'To the Lighthouse', they cried (with apologies to V Woolf)
Mid-afternoon, we decided to relocate into the Ria de Vigo and visited the port of Cangas to enjoy dinner ashore with Anna – we probably won't see her again until Grenada at Christmas.  By now, there was a lovely breeze from the north, so we hoisted the spinnaker and roared across the 12 miles or so to Cangas, which is pretty much opposite the city of Vigo.  It's a standard mix of fishing and tourism place, with a regular ferry service across to Vigo and out to the islands, so we anchored along the beach to keep out of the ferry wash as much as possible.  That entailed a long row ashore with a broken oar but we had a good walk around town before settling on a promising looking restaurant a street back from the seafront.  It turned out to be an inspired choice: the 'raciones' starters were subtly but significantly tastier than some others we have had and the 'lobster rice' was better than the one that Julie and I sampled at the Parador in Ribadeo – as well as significantly cheaper.  Happiness all round!
Sunday, we 'chilled' as best we could on another 'sun and wind' day.  We were all awoken by a slight bumping noise which was just different enough from the normal 'ferry wash'.  Nothing obvious, until Anna went swimming and found a small rock a few yards from the boat.  Although we had allowed 1.5m of water under the keel at low tide, we had not allowed for this isolated rock.  A quick dive revealed that it had not even scratched the paintwork, but we weighed anchor and moved a bit further offshore just to be sure!
After lunch we moved across the Ria to Vigo to land Anna at the airport.  We moored at the Real Club Nautico de Vigo, right in the centre of town.  It looks like a promising run ashore: despite a seafront dominated by the commercial port and dozens of fish processing plants, the old town is just a street back and it looks lovely.  Loads of interesting eateries…  but it is not particularly convenient either for the pulpit repair (now scheduled for Wednesday) or the outboard motor agent (tomorrow's mission).  So once Anna had departed, we shifted west a mile or so to another marina right next to the repair yard in the suburb of Bouzas.  They were only willing to let us stay on a pontoon where we would almost certainly go aground at low tide, so we moved again, this time to a relatively modern marina built (according to the pilot book) for superyachts.  I was nervous about the price, but at least there were plenty of empty berths!  Amazingly, we weren't allowed in any of them in case the owners returned and were placed on the pariah's pontoon (actually the main superyacht berth) on a lee shore as far away from the 'facilities' as possible.  With 20 knots of wind holding us on and a pontoon so high we were in danger of disappearing under it, I was not particularly happy.  The electricity supplies were designed for superyachts too: unfortunately Escapade does not need 440V 60 Hz, but the ever helpful Marineros eventually came up with a solution – a hidden socket under the duck boards.  Wired up incorrectly…  Fortunately, a French yacht arrived half an hour later and the Marinero had to source an extension cable for him – which miraculously corrected the polarity and we retired to the Marina bar to celebrate.  There we were engaged in one of those classic 'liveaboard' conversations by a Dutchman of reduced means living in Australia with a broken boat and a broken arm and his slightly unwilling Spanish crewman, who were trying to persuade a rather plain Norwegian lady who professed to be frightened of everything that she should join them to help sail the boat to Melbourne.  I sensed it was going nowhere and later we saw his advertisement for 'crew wanted', first posted at the bar in April…
---