20 Oct: 'Down the Kasbah'

Escapade of Rame
Richard & Julie Farrington
Sun 29 Oct 2017 13:20
---
34: 01.7N 006:49.3W
Looking across from the marina to the Medina and Kasbah at Rabat
Friday 20 October was 'Rabat Day' for the Escapaders. The tram system is modern, stylish and cheap, filled with cosmopolitan Moroccans who would fit in on the Paris Metro or the New York subway. I wondered about the young lady absorbed in her smartphone with its 'Winnie the Pooh' case and how far her world was from the Hundred Acre Wood. When I was very small we lived next door to Christopher Robin's actual house in Sussex and I was at school with his son. Her place in life provided a fascinating contrast with the rough and tumble of Salé's bustling souk.
Outside the Central Station in Rabat, you could be in any smart Mediterranean city centre…
But I bet you couldn't buy any of this in Nice!
We had lunch in a well-known Tagine restaurant in the New Town. In England we have fish on Fridays; in Morocco they have couscous. At the next table were a group of seven well-educated ladies who, it turned out, were avid campaigners for Women's Rights in Morocco. The Minister for Women even came over and said hello. They told us it was a 'Reunion', which I took in the British sense, but in fact it was their first meeting so when I asked what they felt was their greatest achievement, they replied that they were planning it there and then! They observed that women were emancipated here, the King is a moderniser and a force for good and we gained the impression that they were buoyant and confident campaigners, not desperate revolutionaries!
In the Rabat Medina
We explored the Rabat medina, which was drier than Salé, larger and more affluent and with a few more Europeans, but we were not hassled by the traders. We ended up in the Kasbah, the old Moorish fort at the harbour entrance. This is a mainly residential area, several hundred years old, and quite beautiful. Everything is either whitewashed or a vibrant, royal blue. Set off by gaudy pot plants and the cobbled streets, every corner offers another picture from a tourist brochure. Except that people actually live here, behind fantastically decorated wood and iron doors, in shady courtyards with Islamic water gardens and archways. Down at the end, there was a fine square with great views over the harbour below: plenty of surfers enjoying some easy-looking waves, fishermen setting out from Salé across the water, the souls in the graveyard keeping watch and the vast Atlantic beyond. If there had been a café there, I would have stayed all afternoon. But there wasn't!
Down the Kasbah…
…even the tiles are blue!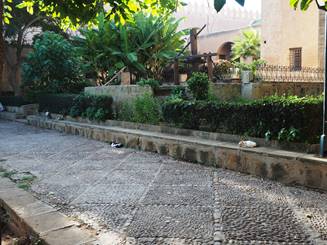 Cool cats are everywhere in Morocco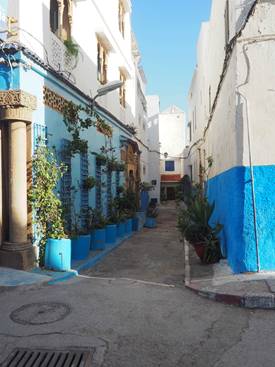 What's down here?
So we wandered back along the riverbank to the ferry. This is a chap in a rowing boat, who takes you across the 100 yards or so to the Salé side for the princely sum of 20 pence. The marina area is a modern complex, with a pontoon for the Royal Family motorboats (only lightly used, by the look of them), a parade of restaurants and cafes selling somebody's idea of what sophisticated Europeans want (but mostly empty), some smart looking apartments (with no lights on at night) and enough car parking for a football stadium. The design and construction is French, the money local, the ambition clear, but where are the people? Five hundred yards away, sitting on the ground selling a few bunches of mint for 10p…
Ferry across the Bou Regreg… with the Tour Hassan behind
---