30 Sept - Gibraltar work package

Escapade of Rame
Richard & Julie Farrington
Fri 6 Oct 2017 14:24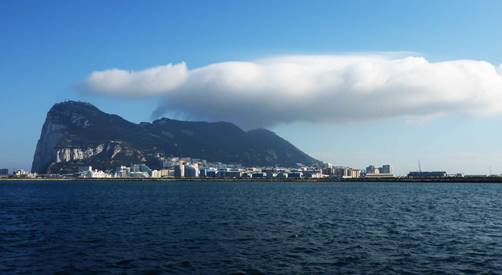 Classic Levanter wind: warm moist air from the Mediterranean hits immovable Brit, rises fast and goes grey…
We returned from Seville to Gibraltar on Friday 22 September to focus on boat maintenance. Escapade has sailed a fair distance this year – far more than most yachts in a decade – and we wanted to make sure everything was ready for the transatlantic phase and the Caribbean. My friend Dave at Vasi Marine had organised a new water pump for the generator which was waiting for us and I was very pleased with myself for fitting it and running the thing up without any leaks. I'd serviced it last month (when I found the leak) so, brimming with confidence, I moved on to the main engine. No problems there, although the replacement cooling pipe was not ready – in the end I made four trips to the company at the south end of the dockyard before walking away with the part on the second Friday of our stay. Nothing happens in a hurry here…
Mast inspection. May also be the phone swimming test…
As we returned from Seville and before we crossed the border, we conducted a short recce of the La Linea boatyard where Escapade was due to lift out on the Monday morning. Despite making the arrangements a month before, a series of emails asking about scaffolding, hotel accommodation and bicycles, we were not 'booked in'. Fortunately Julie was on hand to cushion my frustration and avert an international incident and by the time we left the office, we were booked in for Monday at 1130 instead of the original 0900. Then, on Sunday night, they told us that we could lift at 0900 after all. We got up early on Monday morning and, despite some remaining scepticism on my part, lifted on time, were scrubbed off and sitting in a cradle by 1030. The team at Alcadeisa were really friendly and very professional. Morale soared, not least because we found no damage or defects underneath. A Dutch chap working on a yacht next to us came over and we exchanged pleasantries. He expressed serious doubts about my ambition to relaunch the boat at 1700 the following day. 'You are in Spain, you know'. I replied that I had figured that out, but since we were doing the work ourselves, at least we'd only have ourselves to blame if things overran!
Escapade and crew ashore at Alcadeisa Marina, La Linea
After lunch, Bob and Sylvia Sanguinetti turned up with our transport – our very own 'dockyard jalopy' bicycle - and the antifouling I'd ordered from the chandlers in Gibraltar (Sheppards) a couple of hours earlier. We finished work the first night at 2000 as the boatyard shut and the sun set. Our hotel was just a couple of hundred yards from the boat and whilst rated '4 star', bore little resemblance to our magnificent residence in Seville the previous week. More like a cheap 'Premier Inn', but clean and efficient for all that. We sampled tapas from a couple of different hostelries and slept well.
Tuesday went well. It turned into a mad rush just before lunch when the yard foreman wandered over to tell us that we were going back in the water at 1500, not 1700. They had rescheduled their crane maintenance to reduce any risk that we would not go back in the water that day. The antifouling was going on more thickly than I had expected, so Julie cycled back across the border to get more paint – returning right on time as I ran out of the initial batch. I ended up using about 30% more paint than I had used in England at the start of the year. The warm wind meant that it was drying on the brush even as you applied it… but we were happy! Even happier when we lifted back in at 1500 on the dot. We went to anchor off La Linea to sort ourselves out before returning alongside at Marina Bay in Gibraltar, exhausted.
At anchor with some GREAT COFFEE off La Linea
On Wednesday evening, morale increased further with the arrival of our daughter Lizzie from London for a few days. She is on great form with a promotion at work about to kick in and we hired a car to collect her from Malaga (the cost of the motorway tolls equalled the cost of the car). Thursday saw feminine traits dominating as the girls disappeared for various beauty treatments, retail research on Main Street and lunch. I changed the engine oil.
Crew rig…
On Thursday evening, we had visitors. His Excellency the Governor of Gibraltar, Lieutenant General Ed Davis is an old friend of mine from Battlestaff days; we had not met his lovely wife Lorraine before. Commander British Forces Gibraltar, Commodore Mike Walliker is another old friend. I've been lucky enough to know a whole succession of CBFs, but Mike and I were on Commanding Officers Designate Courses together back in the day – ironically he spent a significant proportion of his command stuck alongside in Gibraltar with some difficult defect, so clearly the Appointers have a sense of humour! His wife, Charlotte certainly does – as an ex-WRNS officer who I knew at Dartmouth and Rosyth it was good to catch up on several decades of gossip! Their daughter Lucy joined us having shown the locals a thing or two about netball. And so did our good friends Bob and Sylvia, whose bike saved the day with the antifouling, whose daughters were at school with Anna and Lizzie and who we have enjoyed sailing and socialising with for years. Their daughter Christina was also on the Rock before heading off travelling, so Lizzie has enjoyed spending some time with her over the last few days. As you might imagine, the Marina staff were quite amused that we knew the hierarchy quite so well – fortunately I'd been paying the bills!
I liberated the engine cooling pipe from the dockyard on Friday, finally clearing that defect and in the process completing the planned work package on time. Unfortunately, my 'pre-sea checks' for the trip to the Canaries included our Iridium satellite phone system for the first time for a year… and it failed to spring into life. The team at Mailasail are trying hard though and have despatched a replacement controller unit to arrive on Tuesday 3 October. Whilst it's a delay, that doesn't matter too much as we are already delayed waiting for a new SIM card for Julie's phone – it failed its annual swimming test so (not for the first time) we are waiting for the comms to sort themselves out before executing the plan. Story of my life!
On Friday afternoon, Bob and Sylvia gave us a very personal and memorable tour of Gibraltar. He is Gibraltarian, but ran away to join the Navy after school and has returned in the last few years to run the port here. It was fascinating to see the place, its history and its relationship with Spain and North Africa through expert eyes and we saw parts of the place that had carefully eluded me in three decades of classic sailors' runs ashore!
Bob, Julie, Sylvia and Lizzie
As you can see, the liveaboard life has extracted a heavy toll on the Farringtons…
The highlight of Saturday was the annual rugby match between Gibraltar and the Royal Marines. Although hardly qualified for such a privilege, we found ourselves enjoying VIP status. As a result, we caught up with our old mate Bill Dunham – a pillar of Navy Rugby for decades and a fine friend – and my old POMA from the NOTTINGHAM, Darren Hemmings who is now serving out here as a Warrant Officer. Brilliant. The stuff of legends. We had 'sundowners' at the Rock Hotel, looking out over the bay. I much prefer it to the rather brash 'Sunborn' cruise ship which pretends to be the best hotel in Gib: The Rock IS Gibraltar in many ways and the Colonial/Spanish elegance of the place could be bottled and exported. It's the 'Raffles' of the Iberian peninsula. We found an excellent Italian trattoria in the Chatham Counterguard on our way back to the boat… what a great day!
Doc Hemmings and I comparing haircuts! Brothers in Arms!
The teams at the start. It finished 21-21; a diplomatic triumph!
---