6 Sep - Isles of Maine, Part 2: Swan's Island

Escapade of Rame
Richard & Julie Farrington
Thu 13 Sep 2018 22:38
44:21.65N 068:19.65W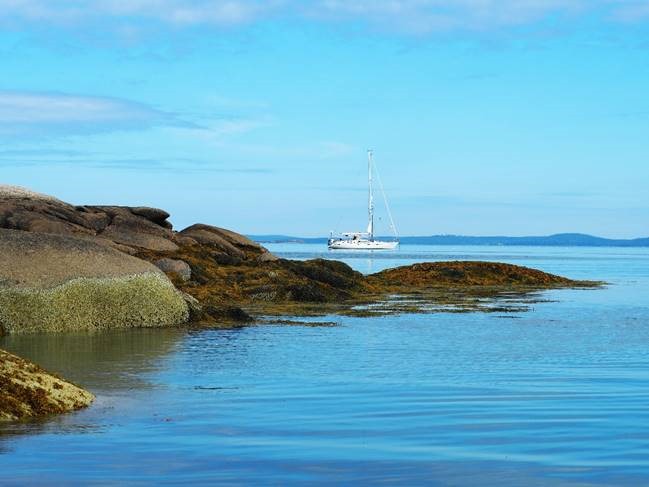 At anchor, Mackerel Cove, Swan's Island
Escapade left Pulpit Harbour on Tuesday 4 September and headed clockwise around the top of North Haven Island before bearing away to the south east for the Deer Island Thorofare, a narrow channel a couple of miles long threading between the islands in Penobscot Bay. With a pleasant northerly breeze the boat flew along and we enjoyed one of the best sails of recent weeks: classic Maine scenery, fast sailing, lobster pots to avoid and some interesting navigation to keep us alert.
Its difficult to capture the sheer density of lobster pot markers, but this is 'normal' in these waters
We did manage to snag a pot just to the west of the thoroughfare. Many of the sets of 'traps' have a marker buoy and a picking-up buoy joined together with several metres of weighted line between them which sinks below a boat passing overhead. Good seamanship dictates that you avoid both, just in case, but I had become slightly blasé over the previous hour and passed between several without incident. As the bows carved their way between these two, I sensed that the line was too short and cursed; sure enough, our speed dropped from 8 knots to 2 knots and we could see that we were dragging a set of pots along. We furled the sails and a few moments later, as the boat swung broadside to the wind, the offending buoy popped out behind the rudder and we were free. I was grateful for a folding propeller – actually the blades on our MaxProp feather rather than fold – as a fixed prop would probably be trailing and therefore turning (the 'underwater winch'), making life a bit more difficult in this situation.
Stonington, Deer Island, Maine
We reset the sails and headed in towards the fishing village of Stonington, Maine (there are several places called Stonington in the USA). The Pilot Book says it's the lobster capital of Maine based on the sheer weight of lobster exported and aside from the heavy concentration of pots, there is an impressive fleet of lobster boats operating here. The town itself looks very pretty, but we didn't stop. Instead, we continued east to Swan's Island where we nosed into Mackerel Cove to find an anchorage recommended by our friend Dave aboard Snowhawk in Newport.
Mackerel Cove sunset
This ranks as one of the most beautiful anchorages of the trip so far. There are a couple of moorings in the south west corner of the bay, but as we approached them, we grounded briefly – the depth went from 7m to 2.5m in a few feet and I was going quite slowly, so had time to put the engine astern before we hit what felt like a hard rock. Not a big jolt, but enough to send me off to find my wetsuit once we were safely anchored. The water here is noticeably colder than around Cape Cod and quite murky. Fortunately, the sun was out though and there was plenty of light to confirm that we had done no more than scrape the paint (my beautiful new green antifouling!) off the bottom of the keel over an area the size of my hand. This is the first grounding since leaving Portsmouth in May last year – so some wiseboys will probably observe that we haven't been trying hard enough!
My response is that when the boat is your home and you are a long way from assistance, you have to allow a wider margin of error. Unfortunately, our hydrographer colleagues cannot get everywhere so the particular rock we hit was not marked on the chart (which showed 4.5m at low water) and given the proximity of mooring buoys, I'm not sure that I would have done anything differently on another occasion. When we went on a recce in the rubber boat at low water, we saw a number of isolated granite boulders lying exposed in the muddy bay. We found one of their cousins. Bad luck, but luckily no damage done.
Mackerel Cove morning – Escapade to the right of the picture
Whilst out and about in the rubber boat we met some locals who told us that we could use their dock to tie up the dinghy and explore the island, so the following day we set off in our walking boots for a good hike. The photographs say it all.
Dinghy dock and lookout, Mackerel Cove
---