27 Feb - First impressions of Dominica

Escapade of Rame
Richard & Julie Farrington
Thu 8 Mar 2018 21:53
15:34.6N 061:27.6W
Shortly after we were secured off the beach at Portsmouth, Dominica a boat boy named Bonto showed up. 'Welcome to our island and thank you for coming' were his opening words. A nice change from our experiences in Martinique. The moorings were all new, there were no wrecks in our vicinity and whilst his boat had survived the hurricanes, he had lost his home and absolutely everything in it. He seemed stoic rather than frustrated and made no attempt to sell us things we didn't want. We agreed that he would collect us first thing in the morning and take us to clear Customs and Immigration.
Next door to Fort Shirley, the new hotel gets a new roof and windows
That formality was probably the easiest so far in the Caribbean. We shared Bonto's boat with an American named Mike Rutstein from Salem, Massachusetts and agreed that we would go with him and his wife Melissa on a tour of some key landmarks, organised by one of Bonto's colleagues.
An hour later, we were in a Toyota van piloted by a chap called Alick. He had also lost his home in the hurricane. His family were mostly off the island – apparently some 20,000 people left in the immediate aftermath of Maria; so far, only 3,000 have returned. His sons were well-qualified professionals living and working in the US, but other members of his family were in Antigua or Guadeloupe, staying with relatives, trying to earn money to send home. He was quite content with the Government's handling of the catastrophe and was looking forward to building a new country. His new house was taking shape but he was not yet living in it. Like his old one, it would be built of wood. A concrete structure might well have survived…
Not necessarily! One of many symbols of destruction: a classic Bailey bridge has been built alongside it.
We passed a large storage facility with wooden house frames piled high, provided by a Samaritans charity from the US in conjunction with USAID. There is an American university in Portsmouth, Dominica run along the same lines as the teaching hospital we saw in Grenada. All the students left after the hurricane though and have not yet returned. The buildings looked to be in good shape. Alick told us that the buildings with insurance have all been repaired; everyone else is still waiting. The raw materials we saw could not be distributed because the people taking the decisions on where they should go were not currently in Dominica. In the meantime, in the endless cycle of high humidity, sunshine and heavy rain, the plywood was disintegrating and the wood starting to rot.
House, what house? Contrast Man's failure with Nature's determined recovery just behind.
In heavy rain, we drove out of town and up into the hills. Everywhere, the electricity and telephone lines were down, often lying across the road. In several places we saw men at work clearing the mud and rubble from the roads with diggers. They were Government employees according to Alick. I saw nobody repairing the electricity lines in the countryside and only one Digicel (telecommunications network) van in Portsmouth. Apparently nobody outside Portsmouth and Roseau has mains electricity – they all rely on portable generators. They do have fresh water though – the many rivers soon cleaned themselves and provided sufficient drinking water for the population so that at least major disease was averted.
This may be the one chap in Dominica repairing the overhead cables in downtown Portsmouth.
Apparently, the leaves were stripped from all the vegetation. The banana crop was destroyed, so were all the coconut and breadfruit crops. It was amazing to see Nature clawing her way back into contention on such a massive scale. The majority of the trees that are still standing have new foliage already and the first banana crop should be harvested from September. Coconuts will take longer as will many other staple foods. For now, they rely on the root crops they grow on a subsistence scale and imported food. Nobody appeared to be starving and most of the homes showed signs of clear up and repair: this is not an island of lazy people waiting for aid – there was a real sense of determination to get up and get on with it.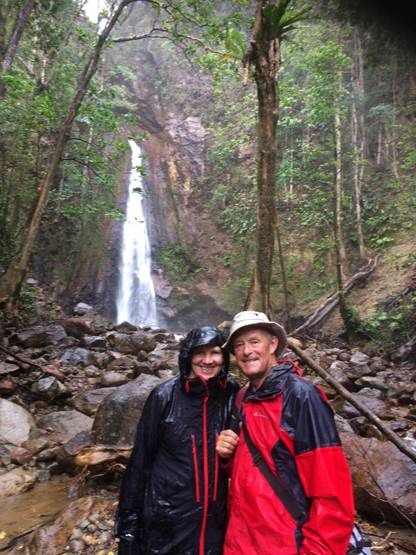 Modelling our lightweight foul weather gear at Syndicate Falls
We struggled through the rain and mud to Syndicate Falls, which on any other day would probably have been quite spectacular. Alick took us to see where the main trails ran – they are all blocked and until they are cleared, tourists are unlikely to return in any numbers. We saw an area on the north east coast where the indigenous Caribs have relocated; they used to live in the swamps behind Portsmouth but their livelihood was destroyed. They too, looked determined to make the best of things, but when I asked Alick what they did to make a living, he couldn't really answer. The hurricane hit the south east side of the island the hardest and we did not go there, so I cannot describe it. What we did see was a very mountainous landscape which looked as if it had been fought over by massive armies with heavy artillery. Broken trees, some still standing but with the top half removed; others lying flat; many trying to cling to life as the undergrowth burst forth around and through them, the smaller plants perhaps unaccustomed to such good access to sunlight. The root systems of these forests have a vital role to play in gripping the soil, which looks extremely fertile. The real challenge for any farmer though, is how to cultivate anything on the side of a ravine – let alone one where that blunt lawnmover has rolled over everything. There were not as many birds as you might expect: apparently they all flew away before the hurricanes hit. We saw one pair of parrots in the distance and some herons down in the mangroves. Most animals survived, with the exception of a good proportion of snakes which were drowned in the deluge.
It was sobering, to say the least.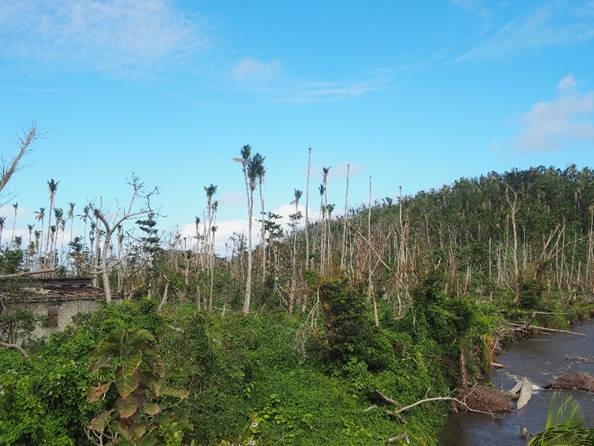 Stripped palm trees fighting back. The bare ones will probably die. Note the absent flat roof to the left.
That evening, we had an impromptu rum-tasting with the Rutsteins. They own a 70-foot schooner up in Salem, which Mike built and which they use to run educational tours and day trips. He was a lecturer, writer and publisher in the maritime world before building 'Fame of Salem' – a replica of a privateer that fought in the War of 1812. They also have a 40' Beneteau (ex-Moorings charter boat) which they keep in the Caribbean. We enjoyed their company and it was a good excuse to deplete some of the rather too sweet stocks of 'grogue' we bought in Cape Verde. We compared anecdotes on the origins of the word 'Grog' and plumped for the story about Admiral Vernon, who used to wear a cloak made from 'grogram' velvet who was notorious for getting the Navy's rum ration watered down whilst serving in the West Indies in an attempt to reduce the aftereffects! Any more exotic explanations?
---