18 May at L'Aberwrac'h

Escapade of Rame
Richard & Julie Farrington
Thu 18 May 2017 21:11
48:35.9N 4:33.65W
Au revoir les Rosbifs! Nous voilas en France!
Most of Wednesday was spent waiting for the Devon weather. Admin on Continental finance dominated things, as we have only recently realised that our various debit and credit cards will prove pretty costly to run overseas for the next few months. Never crossed my mind… not to worry, we have almost fifty Euros in various yellow coin-shaped tokens that will keep us in 'vin ordinaire' until a shiny new credit card arrives! Mid afternoon we ventured into Brixham Marina and stepped ashore to raid a bank or two, pick up some last minute victuals and stretch our legs. Never seen so many fish and chip shops in one town; probably one for each short, tattooed bloke in wellies using piles of fivers as a cushion to see over the wheel of his brand new 4WD…
We sailed from Brixham yesterday evening once the rain stopped, the sun came out and the wind veered into the north west. 120 miles in 18 hours didn't break any records, but the wind was fairly light and we had to work hard to maintain 5 knots over the ground at times. Still, there were helicopters, minesweepers, container ships, a glorious night sky and some spectacular phosphorescence to keep us amused.
Landfall mid-morning and alongside at L'Aberwrac'h just after lunch. Relaxing afternoon doing not very much, apart from a fine walk along the foreshore of the aptly named Baie des Anges, now mostly occupied by oyster beds. Tomorrow we are contemplating lunch at the Petit Pot de Buerre restaurant (see photo) or pushing south (it's quite chilly); we will pass between Ushant and the mainland (the Chenal du Four) headed somewhere south of Brest – just how far we get depends on the wind and some half decent navigation!
This rock and a rather good local restaurant share the same name…
The French do see the value of trying to drown their kids early.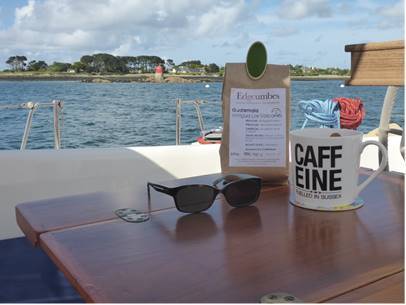 Alice's mug still in one piece. Check out her wondrous coffee emporium near Arundel (www.edgecumbes.co.uk).
---