27 April - the passing of time, old friends and the coast of Puerto Rico

Escapade of Rame
Richard & Julie Farrington
Sat 28 Apr 2018 02:18
17:58N 067:02.4W
Firstly, some sad news. Our friend David Williams, the Kiwi firefighter who owned a lovely Dufour 'Te Rere' and who we spent time with in Portugal and the Cape Verdes, died recently of spinal cancer. He had bought the boat in Plymouth and had many adventures by the time we met last year. A very experienced yachtsman, he achieved a lifelong ambition to cross the Atlantic in December and sailed her to the Caribbean, despite feeling unwell for much of the time. He went home to NZ after Christmas and, as I understand it, ebbed away from there. He was good company, a fine sailor and a decent bloke. He was in his mid-sixties and seemed as fit as a fiddle. Our hearts go out to his family. A reminder of why we are having this adventure now…
My only decent photo of the late David Williams, taken on a memorable day trip to Sintra,Portugal.
We had a straightforward run down from Puerto del Rey to Salinas, a small town hidden in the mangroves on Puerto Rico's south coast. It was just west of a large aluminium smelting plant and looked quite promising, but was well guarded by a sandbank at the entrance so we anchored outside for the night and in the morning, pushed on westwards towards Puerto Rico's second city, Ponce, where we anchored off the smart Yacht and Fishing Club just inside the harbour on Tuesday afternoon. The other businesses along the waterfront seemed dead, probably as a result of the hurricane.
Salinas – as close as we could get! Note the fine backdrop
We ventured ashore before the shops shut, landing at the adjacent local fishermen's club where we got a very warm welcome from some chaps mending their boat. They told us that the government had done very little to help them and everything that had been achieved in recovering from Maria was the result of self-help. I suppose that when the government is bankrupt, that's not so surprising. The damage did not seem nearly as bad as we have seen elsewhere on our travels though. The taxi that took us into town was on its last legs – no doubt thanks to the extensive pothole network along the roads. The town centre was rather quiet. Some of the architecture was reminiscent of San Juan, but on a smaller scale and there was a pervasive aura of poverty and unemployment. This might be part of the USA, but it's Third World. The former fire station is a local landmark – quite unlike anything else – but not enough to justify a visit to the city.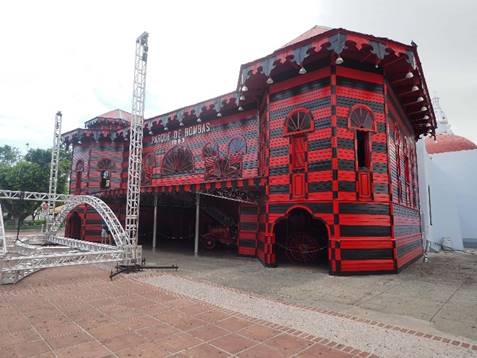 The iconic fire station at Ponce, Puerto Rico. Regrettably, the rest of the town does not live up to this!
We found a quite decent shopping mall where we purchased a SIM Card to allow local phone calls throughout the US; again, the people were really friendly and prices significantly less than we have endured over the last few months in the Caribbean.
On Wednesday morning, whilst Julie visited the hairdresser, I raced round the local Pueblo supermarket – one of the best food stops for months. We met at the Customs offices on the misnamed 'Playa de Ponce' (there is no beach) where we cleared out of Puerto Rico without any hassle. We returned to the yacht past the 'Port of the Americas' – an attempt to put Puerto Rico back on the world trading map which it fell off a few years after Sir Francis Drake caused havoc with the Armada. It's a major duty-free development, designed to attract container shipping in large volumes and create a mini-Dubai Port clone in the Central Caribbean. Two problems were evident to me: there were NO containers and NO ships…
The port of Ponce – it's all there, apart from ships, containers and any meaningful commercial activity!
So we parted company with the friendly fishermen and had a glorious spinnaker run along the south coast of Puerto Rico to the Caleta Parguera. We saw very few other vessels enroute (50 miles). The island looks beautiful, with fine mountain ranges running down to a coastal strip dominated by mangroves and a rash of protective reefs. Very few beaches though, not much in the way of towns, several concentrations of heavy industry such as an aluminium smelter, a petrochemical plant and a couple of power stations – and a steady sprawl of light industry. Closer inshore you could see the odd beach house hidden among the mangroves, but this does not feel like a nation looking to the sea for its prosperity or pleasure…
La Parguera – a town on stilts
..Until we reached La Parguera, which is quite beautiful. We threaded our way through the reefs and mangrove islands until we decided that the water was shallow enough and the shelter from the easterly wind good enough. We were about a quarter of a mile from a small marina focused on sports fishing boats, surrounded by mangroves, frigate birds, pelicans, tropicbirds and not much else. No other cruising boats, no foreigners. Utter peace. In the middle distance, a huge airship was tethered – it belongs to the Department of Home Security and is used to monitor marine traffic in this part of the Caribbean as part of the war on drugs. Not much use at ground level though – perhaps its broken, or the victim of budget cuts?
Big Brother is not watching today, he's hiding over here… Reminds me of an old Woody Allen film!
On Thursday we went exploring in the dinghy. Our Clearance papers from Ponce gave us 24 hours to depart Puerto Rico, so we could not legally go ashore after midday. We found a mini-paradise inside the protective mangroves: you could push on for miles in quite shallow, utterly peaceful waters with only the odd sign saying 'look out for manatees' to remind you that civilisation was not far away. Near the town, the waterfront was peppered with small homes on stilts above the water, the majority with a boat attached and most in good repair. Again, the people were friendly, though Julie's Spanish was more use than mine.
Manatee hunting in the mangroves of Puerto Rico
We liked it so much we decided to stay another day. We were keen to see a manatee (we failed) and wanted to explore this wonderful archipelago further. That evening, we set off on a proper expedition in the rubber boat – likejackets, VHF, GPS, torches, the works, to the 'Bahia Fosforesente', a well-known local tourist spot. We were the only people there. The phosphorescence was okay, but not as good as that wondrous night in the Bay of Biscay when we were escorted by dolphins who literally glowed in the dark. Nonetheless it was a good little expedition and a fine excuse to taste a dram of precious Laphroig on our return!
We have used the time here to clean the hull, getting down to the bottom of the keel for the first time since Gibraltar and removing the majority of weed and barnacles. So the boat should go a bit faster!
A colony of frigate birds roosting a few yards from our anchorage at La Parguera
Not a bad thing, as we have been examining our programme for the next few weeks. We need to be north of Cape Hatteras and reach the Virginia Beach area by the beginning of June, visiting Havana, Key West and Charleston (at least) along the way. Allowing for bad weather and some serious distances (it's almost a thousand miles to Havana from here and much the same from there to Cape Hatteras) we need to get moving.
So tomorrow morning we are setting sail for Havana. We will cross the Mona Passage tomorrow and then sail down the north coasts of the Dominican Republic, Haiti and Cuba. It should take about a week.
Having started this diary on a sad note, I'm pleased to end on a happier one: today is the 60th Birthday of my very good friend, Nick Lambert, who has been a fine oppo of mine since we first met in 1982. Happy Birthday, Old Man! Time to slow down? I doubt it…!
---