16 May at Brixham (now with photos)

Escapade of Rame
Richard & Julie Farrington
Thu 18 May 2017 21:00
50:24:16N 003:31:32W
Sailed from Yarmouth at 0645 to catch the last of the tide down through the Needles Channel. The wind had confounded the forecast and we had gusts of 28 knots on the nose (instead of 15 knots on the beam) but Julie's hunch that this was simply funnelling around the Island proved correct and the wind shifted into the south west as we cleared the channel.

As the wind and tide were now against us, we short tacked close under Durlston Head, Anvil Point and then St Albans Head. There, I saw a white ensign flying at the Coastwatch station – courtesy of our great friend Robin Swaine (HMS GAVINTON days!). Robin was up there, but I could not see him – mind you, we were quite focused on staying off the rocks! He sent us these photos!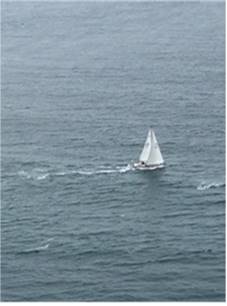 Then across Weymouth Bay and another close-in passage around Portland Bill (in the rain) to stay out of the last of the foul tide.
We picked up a useful back eddy down the east side of the Bill and were soon headed out across Lyme Bay towards Devonia, encountering HMS IRON DUKE enroute.
The wind was a bit erratic but gradually backed into the SSW, enabling us to make Torbay easily enough. We dropped anchor in Fishcombe Bay, just west of Brixham for dinner – and it's so lovely here we decided to stay the night. We have a fine Dutch brigantine as an escort and plan to explore Brixham tomorrow whilst we wait for the wind to swing round to the NW for an overnight Channel crossing.
---