9 Sep - Isles of Maine Part 3 - Mount Desert Island

Escapade of Rame
Richard & Julie Farrington
Thu 13 Sep 2018 22:40
44:21.65N 068:19.6W
Des Res on Mount Desert Island
On Thursday we slid further east to Mount Desert Island and picked up a buoy off the small town of Southwest Harbor. This is the spiritual home of Hinckley Yachts and we were surrounded by dark blue classic motor boats and sailing yachts of every size. Ashore, the laundry was free and the nice people at Hinckleys had some mail for us. When we ventured into town though, we found the world's most expensive grocery store (supermarket) – Sawyers Market. We hastily reprioritised the shopping list as this is Maine's equivalent of Fortnum & Mason, as far as I could see. We weren't going to starve and there were a couple of alternatives elsewhere on the island if we could get to them.
A jet-powered Hinckley motorboat, unusually with a pulpit; classic Hinckley 'sailboats' behind
The following morning we headed north up Somes Sound, feted as America's only fjord. Given the remarkable flatness of the eastern seaboard from Key West to here, it's easy to get excited by some hills that rise to 1500 feet. And the scenery is lovely: the granite is quite pink, the fir trees are bursting with colour at the moment and there are a huge number of deciduous trees in the mix which are just starting to shed their leaves as the autumn temperatures drop and the long dry summer exacts its toll. So the colours are great and will become spectacular in the next few weeks. But as a fjord, it reminds me more of Falmouth harbour – albeit narrower and with larger houses on the shoreline (we are back to Gatsby-style holiday 'cottages' for the rich and famous here – inter alia, Susan Sarandon lives just down the road). At the same time, there's a hint of the Mediterranean and New South Wales in the landscape, so you can see why people come from all over the world.
The top end of Somes Sound, Mount Desert Island
We anchored right at the top of Somes Sound, in a pool off the landing at Somesville. Picture perfect and well sheltered with no isolated unmarked rocks (at least, none that we've found so far). We've had a visit from some dolphins and a seal who thinks he's a dolphin – body surfing in the wake of the rubber boat!
The view from my bedroom window in Somes Sound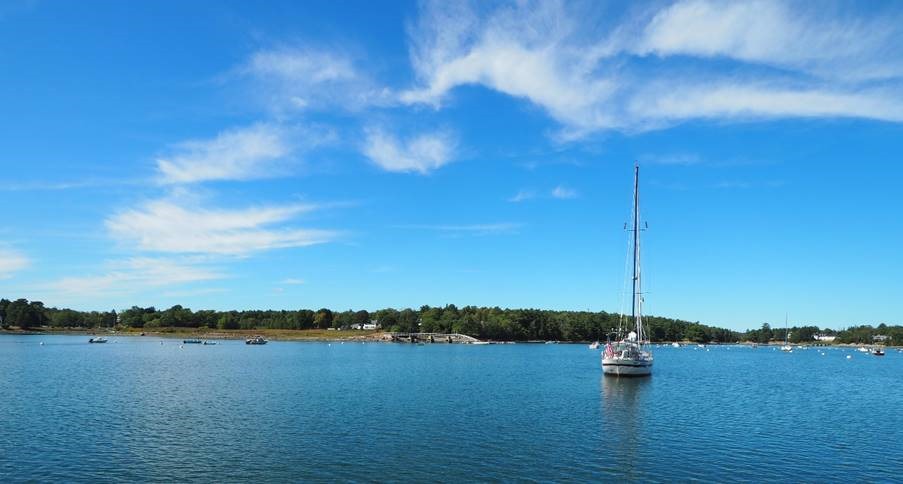 The view from the galley in Somes Sound
Mount Desert Island is the home of the Acadia National Park and most of the island is given over to hiking trails, freshwater lakes and unspoilt natural beauty. The buses are all free as part of an initiative to reduce traffic and make a statement about climate change to those folks in DC. We were anchored a few hundred yards from a couple of bus routes taking us to the main town of Bar Harbor, so we went for a look.
Well, it's not called Bar Harbor for nothing!
Bar Harbor is a popular cruise ship destination at this time of year. Apparently the punters come ashore for a lobster roll, an ice cream and a t-shirt. Some even go for a walk. We joined quite a few of them at low tide at Bar Harbor, where you can cross the sand bar to a small island promising 'dramatic' views of the harbour. It was a lovely walk (even strewn with overweight tourists) but I was struck by the number of people photographing seagulls doing normal seagull things, or barnacles growing on rocks. A reminder that a huge number of people live a very long way from the sea and what we take for granted, many others see as exotic.
Lobster boats in Bar Harbor
---