10 Nov - Further Canary Island excursions V2

Escapade of Rame
Richard & Julie Farrington
Fri 10 Nov 2017 23:47
We celebrated the skipper's birthday by hiring a car and escaping from Santa Cruz for the day. Not that it's a rubbish town; it's a bit like Southampton, I suppose. Everything revolves around the port but it's not that easy to access the waterfront on foot due to a multi-lane highway and a series of construction ventures that look to have fallen on hard times. A shame really, because wandering round the streets it appears to be a typical mid-sized Spanish town, with cobbled streets, shady squares with cafes tumbling onto the streets and a fair mix of high street names thrown in.
Out of town, the road climbs and climbs towards Mount Teide, the highest mountain in Spain. I had not realised before this trip that Spain is one of the most mountainous countries on Earth. Having driven in Asturias and Andalucia on some pretty windy precipices, we thought we were ready for the roads here and things started off easily enough. The influx of tourists to the Canaries has brought with it huge infrastructure investment, particularly in the road network. We quickly rose above the sprawl of Santa Cruz and the scenery gave way to extensive pine forests with occasional glimpses down over the coastal strip. The temperature dropped and so did the visibility and we entered a belt of low cloud at about 1000m which did not clear until around 1500m when we burst out onto the top of the world – so it seemed. The volcanic origins of the islands are plain to see, but the terrain is very varied. Tenerife is much older than Lanzarote with higher rainfall and what soil there is, is more fertile: scrub, cactus, terraced hillsides, more trees than we had seen for a while. Mount Teide beckons from whichever direction you approach and as we got nearer, so the landscape became harsher. Being significantly older in geological terms, it did not have quite the 'born yesterday' feel of the volcanic park in Lanzarote, but it is a fascinating mix of Sahara, Oman, the Hindu Kush and the moon all squeezed into a fairly small area.
Upper Tenerife
The majority species seemed to be tourists, mostly Germans, certainly at height, in the middle-aged uniform of walking gear, daysacks and poles. We were in shorts and t-shirts and when we got out of the car, we saw that the Germans were more appropriately dressed. Still, it was important not to look cold, so we pretended that it wasn't and walked more quickly. In the sunshine above the clouds, it soon warmed up and as the hikers shed their layers, so we congratulated ourselves on being so well prepared. The scenery is magnificent and one thing that the Spanish do particularly well is provide 'miradors' and laybys where you can really take it all in. It was busier than you might imagine for November, but then this is a 12 month tourist destination par excellence. We stopped for lunch at the Parador next to the funicular which takes ordinary people to the summit; sheer numbers of people meant that it was more like the cafe at Glencoe than a classic representation of Canarian hospitality and cuisine, but it filled a hole and we had a big itinerary planned.
Tenerife is a good place to see the stars!
The ground varied enormously, from the 'slag' of twisted rock we had seen in Lanzarote, to sand, to the most surprising thing of all – acres of rocks the size of large bricks all lying loosely on top of each other. Exactly where they had fallen millions of years before when they were blasted into the air in some cataclysmic eruption. It was like walking on a pile of coal. All lined up in waves like the beach at Bondi, except black and without the surfies.
Our trusty hire car in a sea of lava – Mount Teide top right
We descended towards sea level at a place called Las Gigantes on the west coast. Here, towering volcanic cliffs emerged from the sea and provide a spectacular backdrop for the seaside resort. We descended through the fir trees, the cacti, then the vine terraces, then the banana plantations. It was like a massive 'layer cake'. At the bottom, we found the beached whales. Sorry, the English tourists. Waddling about looking a bit lost, craving a decent pint of warm beer and wondering how they were going to climb back up to their hotels. We enjoyed a full-fat ice cream and then plunged back into the mountains, finding the narrowest and steepest roads with the fastest drivers as we headed for the isolated village of Masca, clinging to the side of a cliff. Fantastic, despite the appearance of rain – you really sense the power of the weather here in these islands.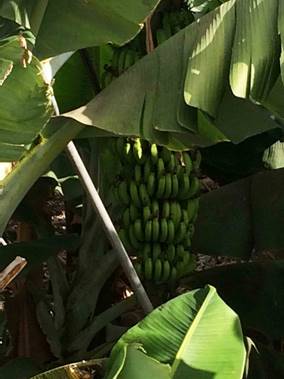 Bananas!
Masca – an unbelievable setting
As dusk fell, we were in Garachico, back at sea level, looking at some 'world famous' lava rockpools. We had brought our swimming gear, but the sea was rough, it was getting dark, the black sand was not inviting and whilst the pools were beautiful in the evening light, the rain was cold! Time to head back to Santa Cruz for dinner, we thought. The local traffic had other ideas and we found ourselves in the most almighty traffic jam. I managed to make a U-turn and we used every navigational sensor we had to find our way back over the top of the island and along the south and east coast back to Santa Cruz. The east coast boasts a splendid motorway, but apart from that seems to be one continuous built-up area, with tourist hotels backed up against retail parks, the odd airport and oil refinery. Not great…
Garachico at dusk
Dinner, on the other hand, was superb. Julie had found it on TripAdvisor and we had a very memorable meal. I have a particular fondness for sweetbreads which don't often appear on British menus. We Brits are a bit fussy about offal generally and many people think sweetbreads are some form of genitalia. Well, they aren't! They are glands from the throat or pancreas and at their best are sweet and creamy. The Spanish waiter got quite excited when I ordered them and offered me some lamb's brains to try too. It seemed churlish to let him down, but I have to report that the brains were rather vacuous and tasteless… The sweetbreads on the other hand were delicious and topped off an excellent Birthday adventure!
We sailed on Tuesday towards La Gomera, another Canary Island to the west of Tenerife. It's about seventy miles from Santa Cruz and we wanted to spend a bit of time enroute looking for whales – the area south west of Tenerife is well known for them. The sail south was fast: the wind accelerates around the islands here and we had winds of 35 knots from astern as we hurtled south at ten knots with three reefs in the main and genoa. We decided to stop half way at a place called Los Abrigos where there is quite a pleasant marina in a golf and leisure complex. We arrived at dusk and after an uneventful night set off fairly early the next morning.
In bright sunshine and no wind, we motored around the south west corner of Tenerife and with a couple of hours of leaving port, encountered a pod of some 15 – 20 Pilot Whales calmly making their way north. We fell in with them and stayed with them for about twenty minutes: they appeared entirely unphased by our presence. The closest ones were about 30 yards away. Majestic, serene animals, they could have been a million miles from their beached, tattooed counterparts sunning themselves on the shoreline.
Peter the Pilot Whale comes to inspect Escapade
An hour later, we were in 25 knots of wind again, reefed down and racing towards La Gomera. The island was shrouded in thick haze and we did not make landfall until we were six miles off. As we approached the harbour we noticed that the control line for the genoa roller reefing gear was chafing badly against the drum so we furled the sail away before it parted (we had a similar problem off Rabat – it seems to occur when sailing off the wind and I will need to adjust the 'lead' of the line when we replace it).
San Sebastian is the capital of La Gomera and has a well-respected marina where we had a berth booked. Ashore, we found a small town selection of shops and cafes, with a much more laid back approach to tourism than we have seen elsewhere in the Canaries. The marina is full of boats getting themselves ready to cross the Atlantic, some via the Cape Verde islands. There are surprisingly few facilities for yachtsmen and we will have to return to Tenerife to replace the furling line (I used my spare last time…).
We spent Thursday doing chores, cleaning ship and chasing down a really irritating defect in the galley lights. Eventually, having exhausted my grasp of O Level physics several hours before, Julie spotted the likely culprit (a loose cable on the negative busbar for those who are too curious) and full illumination has been restored! By way of respite, we took ourselves off to lunch at the local Parador, thanks in part to a generous birthday bequest from my sister-in-law Susan. It is a beautiful, tranquil place with fine views, lovely gardens and a good chef. Certainly one to return to in time…
Today, we made our last 'road trip' on quasi-European soil for some months to come. La Gomera is another spectacular volcanic island, but much greener than Tenerife or Lanzarote. It is shaped a bit like a lemon squeezer, with a high plateau in the middle surrounded by deep ravines that run down to the coast. These are lined with terracing and dotted with picturesque villages. Unlike the Pueblos Blancos of Andalucia, they delight in painting their homes in bright colours and the effect is most pleasing. The cliffs vary hugely in colour, as do the myriad of cacti and the fir trees. The terraces are either violently green, or a rather sombre grey/brown where they have fallen into disuse. So many of the islands inhabitants have emigrated in the last 150 years that only a small, ageing population now remains. We sensed that around 60% of the terraces we saw were not being cultivated. The island is a hikers paradise; apart from an excellent road system, the authorities have also invested heavily in footpaths, signs and 'miradors', so whilst the walking is physically demanding, it's probably quite hard to get lost. Fear not if you do: there's probably a chap in lederhosen with some carbon fibre walking poles and a pile of peppermints just a hop, skip and a jump away. German seems to be the second language here…
Looking down through the mist on the town of Agulo in northern La Gomera
Imada – a typical, tourist-free mountain village in central La Gomera
Some of the terraces were made by Mother Nature…
Tomorrow we sail for Cape Verde. We will return to Tenerife briefly to pick up a new furling line before turning south. The passage should take about six days if the winds are kind to us. We will update our position on this blog each day via satellite – with luck – but the next 'essay' will not appear until we arrive in Mindelo.
---