8 Dec - Back to the British Virgin Islands

Escapade of Rame
Richard & Julie Farrington
Sun 9 Dec 2018 16:27
18:27.7N 64:31.6W
The 1385-mile passage from Beaufort in North Carolina to the British Virgin Islands took nine days and was the second-longest ocean crossing that Julie and I have undertaken on this deployment. It was significantly different from our longer Transatlantic voyage almost a year ago: Cape Verde to Grenada was pretty much downwind all the way; tactical decisions involved pushing south to find more reliable Tradewinds, but otherwise it was fairly straightforward.
Dedicated fishermen at Beaufort, North Carolina
This trip required us to judge a suitable gap in the drumbeat of weather systems working their way across the continental US or up the Florida coast; we had to work out a good place to cross the Gulf Stream; decide whether we wanted to use Bermuda as a port of refuge or a planned stopover; work out how far east we should push in order to find more favourable winds and at what point (given the weather forecasts, distances and fuel consumption) we should use the engine. The daily HF weather forecast from a professional meteorologist named Chris Parker was required listening. His predictions were pretty accurate: the Gulf Stream turned out to be a doddle (no worse than crossing the English Channel, but with significantly more sea room!) and his doubts about the arrival of any reliable tradewinds were borne out.
Escapade about to disappear into a dawn squall – photo from 'Askari'
For the first couple of days the winds were pretty much behind us and we flew the spinnaker and enjoyed some good sailing. Once we crossed the Gulf Stream, the air temperature improved dramatically and we broke out our shorts and sandals for the first time since August. But by the afternoon of the second day the wind was dropping and in a choppy sea we could only keep up a decent speed by increasing the relative wind and turning more to the east. That suited us strategically as we had a plan to head south east for six or seven days before turning south into the BVIs. Each evening there was another HF radio schedule, this one with the 'Backstreet Buccaneers' – that hardy group of boats that met in the Backstreet Pub in Beaufort and decided to form our very own 'not a Rally'. I think everyone sailed from Beaufort on the Friday morning and I'm pleased to report that Escapade showed good speed through the water, so that by Saturday evening we were the most south easterly boat and just managing to keep ahead of a group of three other larger yachts.
The evening radio 'sched' with the 'Backstreet Buccaneers' group of yachts
Overnight on Saturday the wind strengthened and we reefed down as we gradually found ourselves close-hauled. We were grateful for the efficiency of our new North mainsail and adapted ourselves to living at an angle again. We tacked periodically to stay within a reasonable distance of the rhumb line course to Chris Parker's possible Tradewinds and settled into the passage. Sunshine, the odd 'goffa' over the deck to keep us cool and a regular check on the other boats – after all, this wasn't a rally, so it must be a race!
Evening meal under way in the galley. Nice pinny!
On Sunday morning the generator failed. I could make it run, but only for a few minutes at a time. At first I thought it must be a continuation of the fuel starvation problems we had had on the way down to Beaufort, but after some inconclusive fiddling I got it going. The following morning, it played up again and this time I decided that it was a faulty exhaust temperature sensor. With that disconnected, the thing ran beautifully for an hour until I caught a whiff of hot plastic and Julie (who was off watch and in bed) shouted 'fire!'. We shut it down, waited a few seconds and then opened the door to the generator room. The 'sound box' was already off the generator as I had been trying to find something wrong with it for a couple of hours, so the machinery was open to the air. There was quite a lot of acrid smoke, but no flames. After some smoke clearance operations and a couple of hours to let things cool down, I went in for another look. The fan belt was shredded and the alternator would not turn. No wiring was visibly damaged and there was no obvious heat damage. The crankshaft, coolant pump, raw water pump and fuel systems all seemed in good shape. I managed to free up the alternator, fitted a new fan belt and ran the thing up. After a few seconds, more smoke poured from the alternator and I shut it down again. It looked highly likely that we would have no generator until we could get some outside assistance – and a new alternator!
This was not a disaster, by any means. It meant that we could not run our watermaker, but we had a full tank and the passage to the BVIs would take no more than two weeks from where we were, even if we had to sail quite slowly. We could run the engine to charge the batteries – and if the wind died, we would want to use it anyway. The only consideration was fuel consumption – the engine uses almost three times as much as the generator and we knew that we had around 72 hours' worth of fuel for the engine (plus a bit in reserve).
That's roughly 500 miles of range: so at that time we could motor to Bermuda or back to Beaufort, or keep sailing for another three to four days to bring the BVIs within engine range. The weather forecast was good, we had plenty of food and water, so why change the plan? We kept going towards the BVIs. We imposed a gentle form of water rationing and only ran the engine when the battery capacity got low enough to make it work hard.
Oooh, that's a big one! Note the spare fuel cans (not needed).
Otherwise, morale was high. The weather was kind, even if the wind direction wasn't ideal. We caught fish so easily we had to stop – the same lure that has caught everything since we arrived in the Caribbean seems to be undimmed. The most beautiful (and tastiest) was a good-sized Mahi Mahi: they lurk underneath the large patches of floating Sargasso weed that you see from time to time and they hunt for smaller fish who come in search of shade. You pay 'top dollar' in a fishmarket for one of these and we almost caught two – the second survived to fight another day, wriggling free as we lifted him out of the water. Good for him! His departure was more than compensated for by some magnificent cheese scones that Julie produced for afternoon tea!
Too beautiful to eat? A Wahoo, complete with my trusty lure.
We enjoyed the daily HF radio chats with the other boats. Some had stayed well to the north and were now worried about another nasty weather system building off Cape Hatteras – in the end it didn't affect them. Others were well to the west and contemplating diverting to the Bahamas if the wind did not swing in their favour. After a week at sea, the closest boats were within visual range, the furthest in the group were 200 miles astern. One boat found a school (pod?) of about a hundred dolphins, but we saw very little in the way of marine life. Unlike the Transatlantic crossing, where we were escorted by shearwaters and storm petrels for much of the way, here we only saw a couple of long-tailed tropicbirds until the morning of our arrival at Virgin Gorda. No turtles, no dolphins, no whales… but plenty of fish in the seas!
Sunrise south of Bermuda
We reached the area where the Tradewinds might kick in on Thursday 23 November, but the wind blew resolutely from the south (precisely the direction we wanted to go in) at just under ten knots. We tacked patiently, making reasonable speeds through the water but only slow progress towards the BVIs. We were torn: we didn't want to push too much further east and definitely didn't want to give up all that 'easting' that we had made. In the end, we tacked every five or six hours, staying within about 20 miles of the 'rhumb line'. When the wind dropped, we furled the genoa, pointed at Tortola and gunned the engine. Every few hours the wind perked up a bit and we sailed again. By lunchtime on Friday 24th, a week out of Beaufort we had about a hundred miles to run as the crow flies and were sailing again. The next 36 hours went quickly enough and we arrived off Anegada as dawn broke on Sunday 25th. We dropped anchor in Gorda Sound at the north end of Virgin Gorda in time for breakfast. We had 60% fuel remaining and 50% water; we were the third boat in, but the only one to sail for more than 80% of the passage.
Later that day, our friend Jeff from the Backstreet Buccaneers arrived in Gorda Sound and he came across in his dinghy for a chat. He had abandoned the ARC Caribbean 1500 Rally earlier in the month due to bad weather and had had to rustle together a scratch crew to make this passage. His story was not a particularly happy one: whilst they reached the BVIs safely, things had not gelled onboard and he was quite upset by the way things had turned out. Fortunately only pride was dented, but it was an interesting reminder of the risks of bringing unknown people onto your boat (home) for an extended period with no means of escape. I think he felt better after a couple of beers…
We were last in the BVIs in early April when the aftermath of Hurricane Irma was very much in evidence. Now, seven months later, the vegetation has healed well, most of the tarpaulin roofs have been replaced with something more permanent, a good proportion of the sunken boats have been removed, much of the debris has been cleaned up and reconstruction is proceeding everywhere. The debris has been removed from the Bitter End resort but no rebuilding work has started. Across the islands, progress is a mixed bag: not everywhere is open, not every house is reoccupied and whilst many of the people we spoke to were frustrated by the slow progress, they were optimistic that things would only improve.
Progress? The cruise ships return to Tortola. That's Queen Mary 2 on the left.
The yacht charter businesses are up and running, though some are making better progress than others. Whilst we've been here, we saw two 'low loader' ships arrive bringing replacement boats (almost all catamarans) for The Moorings; interestingly, the smaller scale 'Conch Charters' used to run about 50 yachts, but they are still trying to rebuild their shore support area and are currently only running about 25 boats. They had to let go many of their staff, rebuild the premises, repair the jetties, repair or replace the yachts… there's plenty of work here for engineers, yacht surveyors, plumbers, carpenters, plasterers and electricians if you're interested!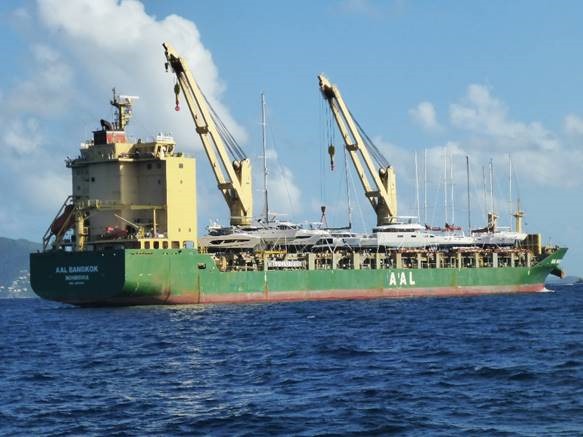 Toy shop!
We cleared customs at Spanish Town on Virgin Gorda on Monday and the following day arrived at Nanny Cay for an overnight stop to take on fuel, water, do the laundry and do some admin. The replacement generator alternator was supposed to be coming from Cummins in North Carolina, but communications were frustrating and the delivery date slid right a day at a time. Caribbean marinas can be airless places and with no suitable shore power available to us to run the air conditioning or charge the batteries, there was little reason to stay there. We sailed across to Norman Island instead and spent a very relaxed few days doing some longer-term maintenance (particularly on the teak deck), snorkelling on a couple of great sites and slowing down to Caribbean time in a lovely anchorage just south of Water Point. The Pirates Bight beach bar had reopened in all its glory a couple of weeks earlier and we enjoyed some quite expensive pina coladas there watching the sunsets.
After the weekend we returned to a rather uncomfortable anchorage at Road Town to try to pin down the alternator which had arrived in Tortola on the Friday. Tracking down the UPS agent took most of a day and on Monday afternoon I finally set eyes on the package. I wasn't allowed to take it away though as the professional parts agents at the Cummins factory had failed to provide any meaningful paperwork with the parcel. I asked eight times of the course of a week for a tracking number and an invoice, but they failed to produce anything useful until closing time on the Tuesday, just as my sense of humour finally evaporated. Later that night I had the new alternator and some new sensors in and the generator running, but it would not run for more than a few minutes. Exasperated, we went to bed.
The following day I spoke to a local engineer who knew more about these things than I did and spent much of the next 24 hours gradually dismantling and reassembling the thing, hoping to find an obvious fault. The most likely weak area was the seawater cooling and after flushing through the pipework, fitting a new impeller in the pump, removing and cleaning half the exhaust, without finding anything particularly abnormal, I eventually got it to run. I just wish I knew why! Since then, its run beautifully and morale was sky high until twenty minutes ago when it started to overheat again. I'll finish writing this whilst everything cools down…
On Wednesday we made the short passage across to Peter Island where we picked up a buoy next to our friends Andrew and Carolyn Bellamy aboard 'Askari'. 'Askari' is a two-year old Oyster 475, so it's very interesting to compare the 'classic' with the 'current'. Suffice to say, I'd happily swap, but all my kits on here… and actually Escapade sailed really well against them. The newer design gives the boat a very spacious feel and some of the improvements are definitely worth having. She's registered in Fremantle, Western Australia; although Andrew is clearly a Yorkshireman, they emigrated to Australia several years ago and built successful second careers out there. Talking with them brought back happy memories of our wonderful two years posting to Sydney back in the early 1990s. We spent a couple of very amusing evenings setting the world to rights – shame I forgot to take notes!
And we had a lovely experience chasing down the UPS agent in Tortola. As we pursued the 'dockyard runaround' going from one set of offices to another, there was a bubbly, middle-aged black lady dancing and laughing in reception in one particular place – she was also trying to retrieve a package. She overheard our conversation and insisted on driving us the mile down the road to the next location. Verlie works for the Government and was on holiday when we met. She knew everyone along the road and we quickly became friends. She has even offered to help out storing some of our spare gear when the girls bring their various friends and boyfriends out for Christmas and the New Year and we need to free up some space onboard. She told us 'My bible says never forget to entertain strangers for unawares you might entertain angels'. I think she probably qualifies!
Heading east at sunrise
---