28 March - an introduction to the British Virgin Islands

Escapade of Rame
Richard & Julie Farrington
Sat 14 Apr 2018 18:19
18:30.5N 064:23.2W
25 March, was designated a 'maintenance day' at anchor in Road Bay, Anguilla and we spent a reasonable amount of it in the crystal clear water underneath the boat removing weed and more of those pesky Grenadan barnacles. Interestingly, where we have knocked them off, they haven't returned, so the initial invaders must have been resident in the soupy waters of Clarke's Court Bay. Each time we scrub the attendant weed off though, a bit more of the erodible antifouling comes with it, so this is a Sisyphean task. The alternatives are: go steadily slower through the water, pay someone else to dive on the boat and buy time to do something more interesting, or lift the boat out of the water somewhere and repaint. We were hoping to delay that task until later in the year… so whilst the water is warm and the sun shines, bottom scrubs will be a regular feature.
In the early evening we went ashore to ditch gash and take a well-earned beer from one of the beach bars that had been pumping out dance music all afternoon. The best of it came from Johnno's, where the live band were in non-stop session and half the population were shaking their considerable booty. The beer was cheap, the music good and the people-watching exemplary. Heading for an early night, we returned via another OCC yacht, Lady Rebel, owned by Ken and Jenny Robertson, for a swift half. They are about a year ahead of us on a similar Caribbean/Eastern USA circuit, though they plan to continue down through Panama and out into the wide old Pacific. They gave us some interesting tips on Haiti and the Dominican Republic and we put them in touch with our friends Steve and Carol Kerswill in Innamorata.
Scotland? No…you can see it! Er... must be the BVIs!
With a passage of about 100 miles to the British Virgin Islands, we wanted to arrive in daylight and enjoy a good daysail, so we set the alarm clock for 0200 on Monday 26 March and slipped away from Anguilla as the moon rose. Sadly there wasn't much wind and we spent most of the night motoring west. This allowed us to get far enough ahead of our planned track to put the spinnaker up late morning. Not before the new fishing lure that I bought in St Maarten went for a swim and within 20 minutes it had hooked a fine five pound tuna. The Officer of the Watch was listening to her Desert Island Discs podcast though, so didn't hear the reel screeching until most of the line had gone out and the fish was halfway back to Anguilla. I got a shake to wind him in and despatch him: a fine looking, athletic fish who produced six meals worth of quite outstanding loin fillets. The lure looks like one of those tasteless traffic-light coloured iced lollies we had as kids and is meant to mimic a stupid squid thrashing about on the surface… I wonder who makes these things?
How long do you want me to hold this pose? He wants to jump off!
We entered Sir Francis Drake Channel at three in the afternoon and enjoyed a fine reach north to the harbour at Spanish Town, Virgin Gorda. We arrived just too late to clear customs, so hoisted our Q Flag, dropped anchor just to the north of the main channel and settled down for the evening.
On Tuesday morning, we went ashore in the dinghy to see what was what. The marina was functioning – more or less, but the buildings round about were badly trashed by Hurricane Irma. The UK had sent elements of 40 Commando, an RFA and our good friend Malters and the JFHQ team to help with the initial response and it was interesting to see what progress had been made in the following six months. The Customs and Immigration Office was quite busy, notably with visitors coming to inspect damaged yachts with a view to buy a bargain. I was a little taken aback when the cashier asked me to step back from the counter 'because your scent is killing me'. Apparently I smelt of cigarettes – odd because I last inhaled deliberately in 1977 and have washed body and clothing since. How to react? The source of the whiff was traced to a couple of shabby middle-aged American trophy hunters looking for a cheap boat, but I got no apology from the gentleman behind his glass screen. 'Welcome to the British Virgin Islands' we thought!
Awaiting a total rebuild – the resort at Spanish Town, Virgin Gorda. No roofs, only one wall…
Walking ashore, it was quite depressing. There were signs of clearing up and rebuilding everywhere, but there seemed to be a shortage of building materials, not to mention vehicle windscreens! We found a good, well-stocked supermarket where we picked up a few essentials, but otherwise very little was open. There was no reason to stay, so we returned to Escapade, weighed anchor and headed north. We nosed into Savannah Bay, but despite the protection of an offshore reef, boats there were rolling quite heavily. So we pushed on to Gorda Sound at the northern end of the island, where we found a superb anchorage in the lee of Colquhoun Reef and Mosquito Island. This boasts a resort being built by Sir Richard Branson and whilst it was clear that they had been hit pretty hard by Irma, it was also clear that a large, well-organised workforce were on site with all the raw materials they required. It will all be beautiful again quite soon… Away to the north east, we could see Necker Island (Sir Richard's famous Caribbean hideaway) clearly. There too, there were scenes of much activity.
At anchor off Mosquito Island, Virgin Gorda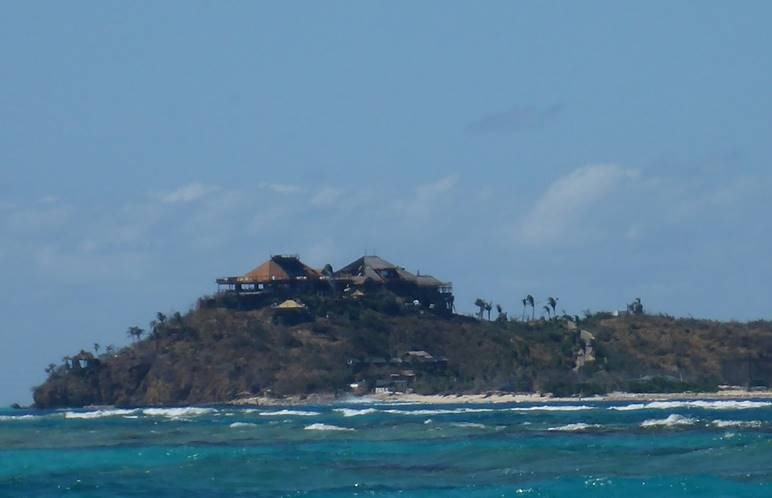 La Maison Branson on Necker – plenty of rebuilding under way!
---