21 June - Flies, Fire Trucks, Optimists, Old Friends and new

Escapade of Rame
Richard & Julie Farrington
Sun 8 Jul 2018 02:31
37:32.4N 076:20.25W
Attractive as Mobjack Bay was, I needed to reach somewhere that would allow me to get to Annapolis for a dinner date with my old buddy Jason Barrett on 21 June. I had decided that sailing there 'à tout vitesse' was now the wrong thing to do as I would miss seeing most of the Chesapeake in the process, so it was a question of finding somewhere with access to decent public transport or car rentals.
I spoke to the local Ocean Cruising Club (OCC) representative, Will Story, who happens to know Annapolis rather well. He lives near the mouth of the Piankatank River in a creek off Milford Haven, Virginia and we arranged to meet at his dock later that afternoon. The passage was fairly straightforward, though the lack of wind (where has it gone since Charleston?) meant another day of motoring. It was HOT too, with the temperature rising into the mid-30oCs. All I needed to do was to keep far enough offshore to avoid the shallows. The Chesapeake has some of the most iconic lighthouses anywhere and by way of introduction, I passed fairly close to Wolf Trap Light on my way north.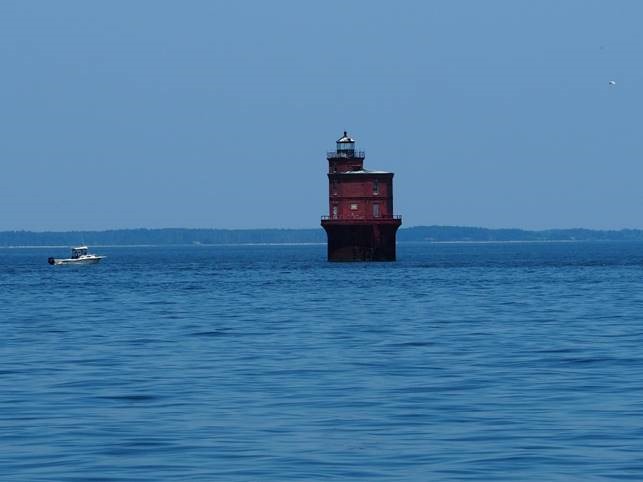 Wolf Trap lighthouse
Presumably it's not the same Wolf Trap that hosted the Steely Dan concert on my IPod – but my architectural appreciation was disrupted by a huge swarm of small, biting black flies who descended onto Escapade and a small group of nearby fishermen. They all started their engines and roared off out to sea at high speed. I deployed the fly swat, shut all the hatches and scuttles and lined up the fly spray. A couple of hours later the skirmish ended in a draw: I gave up some blood, but most of it ended up squashed out of some sleepy little chaps who foolishly opted for a post-prandial nap within range of said swat. Our splendid Dyson Boat Vacuum Cleaner then made quick work of them and I should think that the fish were celebrating when I emptied it overboard later that afternoon.
Traditional Chesapeake fishing boat laying 'traps'
Around tea time, I was rounding the north end of Gwynn Island and talking to Will about anchoring for the night at the bottom of his garden and getting outside a bottle of wine as we hatched a plan for Annapolis. In our way were the lifting bridge over the narrows at the western end of Gwynn Island and some pretty shallow water. I switched off the depth alarm and felt my way in. The friendly bridge operator answered my VHF call immediately and proceeded to open the bridge at once with a friendly 'Ten Four, Buddy'. I winced and drifted past a smart little marina where all the motor boats were lying afloat under a huge roof (to keep the sun and the rain off). The bridge, meanwhile, refused to budge. A queue of cars built up on either side. Some pedestrians came to look at the boat, whilst I 'backed and filled' to the west of the bridge. Will rang me to ask where I was. Julie rang me to talk about her mother. The bridge operator called to say there would be a delay whilst he summoned a Fire Truck to cool down the swollen steel. Thankfully, I dropped anchor, put the kettle on and attended to the various callers.
Gwynn Island Bridge and the fire truck
The good news: Julie's mother was on the mend and we were now at the point where Julie could think about rejoining Escapade. After an hour and a half at anchor and quite a lot of Firemen with big hoses, the bad news was that the bridge was stuck fast for the night. Regrettably Will and I agreed to postpone our drink and I headed north across the river entrance to Fishing Bay, some 2.7 miles to the north west. With a mile to run, I could see a huge bank of thunderstorms approaching from the north east, so despite the stifling heat I shut everything up again (I'd only just got rid of the last of the flying visitors) and braced myself for some serious weather. Within a couple of minutes, the wind went from flat calm to 35 knots, the sky darkened, the heavens opened and the visibility dropped to a quarter of a mile. Grimly, Escapade battled on through some white water and horizontal rain (which washed away the last of the arthropod carcases) and I dropped anchor in six metres of water in the northern part of the bay, watched by some bemused German and American yachtsmen who presumably had seen all this coming and hunkered down well in advance.
Escapade anchored in Fishing Bay, Deltaville
By the time supper was ready, the skies had cleared, order was restored and a fine sunset ensued. I slept well, to be woken around nine the following morning by the sound of excited children mucking about in the water. I peered through the scuttle to see a small boy staring at me from the helm of his Optimist. I stuck my tongue out and pulled a face; he did the same. We laughed. It was the Virginia Sailing Week and there were a hundred and fifty of the little darlings within a mile of the boat. It appears we were being used as a mark, though the skill levels suggested that racing was a distant aspiration at this stage.
Just a few of the hundred or so Optimists at Virginia Sailing Week
I pretended to have been up for hours and as I sat drinking my morning tea in the cockpit, I was hailed by a woman in a kayak. She knew who I was… 'You're a week late' she cried – and I guessed that this was Lydia Strickland, the organiser of the OCC Chesapeake Historical Rally which Julie and I had intended to join before she had departed for Milan a few weeks earlier. It turns out that the Strickland family were heavily involved in the sailing week going on around us; she also told me that Reg and Nicky Barker aboard Blue Velvet of Sark were ashore in the nearby boatyard working on their fine Rustler 42. I knew Reg from my days in the UK Battlestaff – we had overlapped for a couple of weeks and they kept their boat on the RNSA pontoon in Haslar Creek when we owned PhoeniX. We had almost got together in Grenada, but were thwarted on that occasion by really heavy rain. So I pumped up the dinghy and stepped ashore to pay my respects!
Fishing Bay Marina is a bit of a gem. It is collocated with the Chesapeake Boat Works and partnered with Stingray Marina, just a mile or so away on the other side of Deltaville. You need to look at a map of this extraordinary piece of land and water to understand it. It's a wonderful jumble of creeks, woodland and the estuaries of the Piankatank and Rappahannock Rivers. There must be a hundred miles of shoreline encasing a narrow peninsula, and if you stand at the Yacht Club in Fishing Bay you can see water on both side of you. There are fifteen marinas within a mile and a half of each other. The town of Deltaville attempts to straddle the whole area – in reality it's a low density, rural place with a giant West Marine chandlery, a fine hardware store, an even finer seafood/fishing/fishmonger/deli, more sailmakers and canvas workshops than I've ever seen, umpteen churches, a Masonic Lodge (of course) and a collection of glorious Colonial revival homes, many with glorious waterfrontage, all with a degree of privacy.
The Philippi Christian Church in sleepy Deltaville.
The marina welcomes spendthrifts like me who opt to anchor: for just $10 a day per yacht you get to moor your dinghy, borrow bicycles, borrow a car (for half an hour), use the swimming pool, the laundry, the BBQ… The anchorage is safe, the people are exceptionally friendly and the whole thing is pretty picture-perfect.
Reg and Nicky were on good form, despite the heat. Sadly their boat had developed an engine defect that day as they prepared to go back in the water and their cruising plans (heading north, like us) were now on hold as they waited for some specialist support. We swapped notes on the Caribbean and the East Coast of the US and agreed to rendezvous for supper later. I set off on a marina bike to explore Deltaville and reconfigure the catering for a short notice BBQ.
The following day was Annapolis day. I moved Escapade alongside in the marina for the night (to comply with insurance requirements for leaving the boat for more than 8 hours unattended) and then met Bill Strickland who took me to collect the hire car. Despite my half-decent planning, the whole adventure would have collapsed without the Stricklands' help. Enterprise Car Hire in Gloucester, VA offer a service to collect drivers from marinas in the Deltaville area and take them the twenty miles or so to their premises. But they had no cars available for 21 June. Eventually I tracked one down in Williamsburg, another thirty miles further away (in the wrong direction!). There is NO public transport around here and a taxi would cost $150. I could not persuade a taxi company to answer the phone, let alone take me. So, after catching up with Reg and Nicky I texted Lydia Strickland asking if she could recommend a taxi firm. 'Leave it with me' she replied. Ten minutes later, Bill was the solution.
I felt rather guilty, but he quickly reassured me that he was travelling down to Norfolk in order to cross the Chesapeake and attend an event on the 'Eastern Shore' somewhere on the Cape Charles peninsula and Williamsburg was just a few minutes off his track.
We got on jolly well. He is a patron of the Virginia Institute of Marine Science (VIMS) and he was off to one of their campuses for a Board Meeting. VIMS are major players in the whole aquaculture development of the Chesapeake, which is widely regarded as an economic success story. I remembered listening to a National Public Radio magazine programme about rising sea levels in the local area and it turned out that VIMS had contributed to that programme. The gist of it was that sea levels were rising at 6mm per year and there were two key concerns: the protection of the extensive military infrastructure in the Norfolk area and the loss of income from the 8000 homes that would be inundated. The words 'climate' and 'change' were not uttered once in the programme. Given that current Government policy does not consider 'climate change' to be worthy of public funding, the perceived wisdom is that any request for resource will be ignored if that argument is made. Hmmm.
The car hire people were brilliant. They arranged for me to drop the car at Gloucester instead of Williamsburg – meaning that I would get a free ride back to the boat. The journey north was uneventful: wonderful forests, huge fields of maize ripening in the sun, scattered rural communities comprised of well-manicured lawns (apparently 99% of irrigation in the US goes onto lawns… now there's a scary statistic), well-painted clapperboard houses with John Deere sit-on lawnmowers, smart little churches, wreaths on front doors, the odd Confederate flag and plenty of Stars and Stripes. I reached the centre of Annapolis about 20 minutes adrift and was pleased that I'd decided to stay in the same hotel as Jason, one of the Historic Inns of Annapolis. Built in the eighteenth century by wealthy landowners and the capital of Maryland, there's more red brick here than I'd seen on the journey north. It's a city with plenty of history, notably as the temporary capital of a newly independent USA in 1783 and the home of the US Navy's equivalent of Britannia Royal Naval College.
I saw none of that. Instead, I caught up with my mate Jason. We had not seen each other since Battlestaff days and he has now left the US Marine Corps and carved a successful second career in the restaurant business, based in Colorado. In that wonderful way that military folk have, the ten years since our last meeting fell away and we took up exactly where we had left off.. Semper Fi, Mate!
This osprey is a bit behind in nest construction…
---