4 June In the Golfe de Morbihan

Escapade of Rame
Richard & Julie Farrington
Sun 4 Jun 2017 22:02
47:33.777N 002:51.394W
Mor Bihan means 'little sea' in Breton. Tonight will be our third night at anchor at the south eastern tip of the Ile aux Moines, a 2.5 mile long island in the middle of this famous inland archipelago. If you go to the map at the top of this Blog (and you have Google Earth installed on your computer device) I recommend zooming in as far as you can over our present position – you'll probably get a better view of the whole place than we have!
It's a mixture of Chichester harbour, the Falmouth estuary and the softer bits of the Western Isles. A rich blend of nature reserves, mature cedars and pine trees, lush but slightly unkempt gardens, secluded cottages and the odd handsome townhouse: utter peace ashore. Afloat, a steady but not intrusive stream of dayboats and weekenders of every type; no jetskis, a speed limit of 10 knots, a mix of small traditional open boats and larger French Average White Boats interspersed with the odd classic yacht crewed by the Paris set in white culottes and Breton stripes. The Paris set do seem to predominate on the island; elsewhere in Brittany passers-by all proffer a friendly greeting as the Irish or the Cornish do; not here – they look straight through you.
The boat next door – a case of function over form?
Our aim was to see if we could slow down to a 'liveaboard' rhythm of life. I took my watch off (and spent much of the day asking Julie what the time was). We ate lunch at three; dinner at nine… We set about a major maintenance job – renovating areas of the teak deck on the boat. [Techy bit follows] One patch in the cockpit had started to lift due to long-term water penetration, so we cut away the shrunken caulking, prised up the planks enough to clean and dry out underneath before sealing them back down with two different grades of Sikaflex sealant – one an adhesive, the other designed for caulking. Seems to be holding up so far. The good news was that the planks are all epoxied underneath, so there was no rot to deal with. Emboldened by this early success, I got my Fein MultiMaster tool out of its box, fitted the 'teak deck renovation tool' and ran amok. Bloody brilliant piece of kit (great recommendation from my buddy Jess Merchant, even if it did cost a pretty penny): hardly any vibration, beautiful cutting action which removed the old caulking and routed out any crud ready for the shiny black sticky stuff to go back in. Today it's hardened off nicely and some areas will need no further work – others might take a light sanding in a day or so. I feel a second career as a teak deck caulker coming on! [end of techy bit].
Fazza armed with German efficiency digging up British workmanship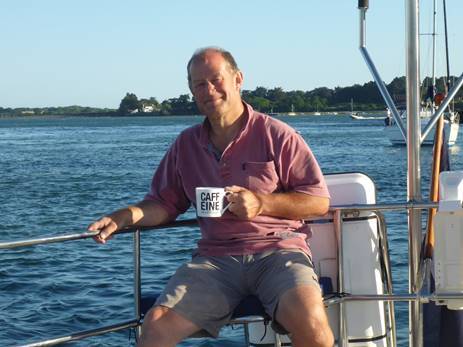 (S)mug on completion – Alice's coffee cup unchipped so far!
We enjoyed a fine evening walk to the other end of the island and back, fuelled halfway by a small patisserie and a seat overlooking the busy little harbour on the NW corner of the island. There we could watch the yachts beating into a stiff Force six with the tide under them and no chop to slow them down – a great sight. Julie's quest for the Ultimate Tarte Citron continues, though…
Evening sunshine in the Golfe de Morbihan
Rule 5 – 'every vessel shall at all times maintain a proper look-out… by all available means…'
Tomorrow morning we will venture across the bay here in the rubber boat and claim the Ile de Brannic for the Crown – assuming the repaired outboard continues to behave and we don't fall foul of the strong tides that sweep past us and threaten to push us back into the wide ocean! Since I threatened it with being traded in for a shiny new 10hp, the outboard has been behaving beautifully – and my back and wallet are equally grateful! The weather is due to deteriorate later on Monday but once that passes through we plan to return to Belle Ile for a couple of days before heading south towards La Rochelle and then making passage to Northern Spain. Ideally we want a North Westerly breeze to blow for a couple of days – if it materialises we will probably follow the sailor's maxim of 'never ignore a favourable wind' and head straight for Gijon.
Back home, Anna's Blenheim Palace Triathlon event was a great success as she completed the course 10 minutes inside her predicted time. Julie 'watched' the whole thing on my laptop – the poor girl was wearing a tracker which we could follow through the wonders of the Interweb… except that the low tide meant that there was the odd delay… prompting a frantic call from below decks – 'she's stopped in the water' (what exactly was I supposed to do?). Well Done Kiddo – and for raising money for a good cause – it's not too late to lend your support at https://www.justgiving.com/fundraising/Anna-Farrington.
Anna running to find her shoes…
Rather less welcome news from London Bridge and Borough Market. Awful. Bit close to home, especially for the girls. I suspect there is a case building for Internment without Trial?
---