16 Feb - St Lucia

Escapade of Rame
Richard & Julie Farrington
Sun 25 Feb 2018 02:34
14:04.45N 060: 57W
St Lucia turned out to be a good place to wait for watermaker parts. Although our first attempt to go by road to the southern end of the island on a Sunday ended in abject failure when we reached the capital, Castries, because there are no buses running down to Soufriere and the Pitons on the Day of Rest. The bus from Rodney Bay was less riotous than its Grenadian equivalent: no reggae music blaring, no 'wingman' taking your dollars and clicking his fingers to stop the bus. Instead, a more formal approach requiring the passenger to call out 'bus driver stop' at full volume – but only at recognised bus stops. No diversions to drop off granny with the kitchen sink under her arm. Altogether more mature and…
Except that Castries reminded me of Djibouti without the French Foreign Legion, especially on a Sunday. There were two cruise ships in the fine harbour and a few hundred elderly Americans and Norwegians (yes) wandering about trying to find something to do. It's desperately poor and run down and every 45 minutes or so God empties a bucket of rainwater on your head in a short, sharp deluge known as a 'shower'. It's the 'dry' season: what must it be like in the 'wet'?
The high street in Castries. Worth missing.
Having accepted that the bus journey further south was impossible, we went for a bimble. Our bus driver warned us to 'look out for dem Tiffs, man. You can't trust 'em'.
'Oh I know all about them', I said. 'They sleep all weekend and anyway they wouldn't want to get their slippers wet in the rain'. I though he was talking about Royal Navy Engineering Artificers.
'No, man, not bloddy tiffs, man, TEEEFS. Dey'll pick ya pockets'.
The Derek Walcott Square looked promising and indeed, it is very pretty. But it was locked on Sundays to keep itinerant yachtsmen and Artificers out, so instead we ventured into the Cathedral, where a service was underway.
I was hoping for some riotous, uplifting singing and chanting. St Mary's Alverstoke is more 'happy clappy', but we enjoyed the calm formality of the service, the remarkable smartness of the churchgoers – who might have been attending a wedding rather than a run-of-the-mill Sunday service – and the disciplined, happy, immaculate children enjoying the rituals of Sunday Mass. It could have been a Home Counties Sunday – except that there were many more people. Outside, the cathedral looks like a typical provincial church in a small English town; inside, every surface was brightly painted with murals depicting religious scenes, local heroes or imitating stained glass. It was beautiful, simple and uplifting.
Nearby, Julie had her first official encounter with the Oldest Profession and we scuttered past their patch towards the bus back to Rodney Bay. Odd to see such overt soliciting within yards of the church and so far from the dockyard gate.
We returned to the boat slightly chastened but recovered the day completely by visiting Pigeon Island in the rubber boat instead. It's a beautiful spot with great views and we had a lovely afternoon, but one of the best things was seeing large groups of St Lucians picnicking in the grounds and on the beach. So far in the Caribbean, we have not seen the islanders 'at leisure' in quite the same way. I guess that St Lucia is more affluent?
Looking north at Pigeon Island. Note how brown the grass is, despite the rain.
On Monday, having been informed that the watermaker parts would now be with us on Tuesday, we tried hiring a car to get down to Soufriere. The company that I booked on line did not appear to be open on a Monday morning and the phone number on their door reached an 'out of order' service', so we tried the bus system again. This time, we spotted a couple of car hire emporia on the main road and an hour later than planned, we had a perfectly serviceable jalopy rented to us by a quintessentially Caribbean matriarch and instead were stuck in a traffic jam in Castries. I think the jam was caused by some elderly Italians from a cruise ship asking for directions from the ladies of the night (who were still on patrol at lunchtime). But ten minutes later, we were south of the metropolis and entering a tropical paradise.
Marigot Bay – picturesque but clogged with tourism
Winding roads, ferns the size of aeroplane wings, sheer cliffs, turquoise seas, the lushest vegetation you could imagine. Bright, burning sunshine one minute; a tropical downpour the next, steam rising from the road in between. Potholes the size of a small coalmine; well-ordered banana plantations, pedestrians on long marches to somewhere, rum shops aplenty. The coastal towns (apart from Marigot Bay which lives off the Dr Doolittle film connection) are pretty much tourist free but brightly painted and full of friendly people waving as you drive by – not all of them wanting to sell you something or catch a lift, either. We stopped for lunch at a hillside hotel with stunning views across the valley to Soufriere, the Pitons and the volcanoes. We were the only clients at first and the food was fine – just a bit slow. After a while a Taiwanese couple in their sixties occupied the adjacent table. They displayed American standards of 'pernicketiness' over the menu, but as we got up to leave, they engaged us in conversation. They were on a cruise ship in Castries (their taxi driver was sitting in the foyer) and had lived in New York for thirty years. They thought that a self-drive option in St Lucia was mad enough; when they learned that we had come from England in a boat smaller than their living room, they just about fainted. I think we would have got on well, but we were on a mission to see as much as possible before nightfall, so left them to puzzle over conch stew.
Our lunchtime view: Soufriere and the Pitons
We arrived at a recommended nature trail in time for another bucketload of rainwater, but once it had passed enjoyed spectacular views of the southern half of St Lucia and saw (inter alia) our first pineapple plant: much smaller than you might imagine.
A pineapple plant. These fine little chaps won't be ready until November.
We looked across at the Pitons and down at Sugar Bay, where the anchorage looks idyllic and there is an expensive hotel. Apparently Vladimir Ashkhenazy has a house there. Soufriere is really pretty. If only we had more time… We drove to the active volcano and gazed into the extraordinary boiling mud pools, wondered if we would ever get the smell of sulphur off our clothes and skin, met the people who live right on top of this glimpse of Hell, and marvelled at the way Nature creates a tropical paradise just yards from the bare, sulphurous pumice.
Sugar Bay. I bet the downdrafts are sporting!
Then we went for a mud bath in the rain. The water runs down the hill at 38OC and apparently it's jolly good for you if you cover yourself in the local mud and then sit in the resulting hot puddle. Our clothes got a bit wet in the rain, but the volcanic water was gloriously warm and after a while I got used to the gritty mud getting into unusual places. Julie wondered whether her swimsuit would ever be the same again. There was an interesting mix of locals, convinced that this stuff held the secret of eternal youth, and tourists with a sense of humour. It was not particularly busy – the cruise ship clientele had left hours ago – and very relaxing: the only thing that made us move was the setting of the sun. I was supposed to feel ten years younger on completion, but I cannot honestly report that I noticed anything except rather muddier water than usual in the shower that evening.
Boiling volcanic mud.
Billed as the world's only 'drive in active volcano', the dead wood (left of centre) was thrown there by Hurricane Ivan.
Rather surprisingly, the watermaker parts turned up on Tuesday and I managed to prise them out of Customs that afternoon. Excitedly, I asked the agent when we might expect the engineer onboard to do the work. After all, I set this whole thing up a month earlier. Ah, that's more difficult. 'First thing on Thursday' was the best answer I could get.
By now, we were alongside in the marina, all ready for the work to be done. We used the time well; Julie had her hair done by a Cuban lady whose husband was a superyacht skipper; we did some long overdue maintenance, entertained the only RNSA member we've met since leaving Gibraltar, Rory Stewart, to dinner and celebrated Valentines Night on the boat – a first.
Rory is a retired submariner engineer, so it was no surprise that our paths had not crossed before, despite joining the Navy at much the same time. He now owns a much loved Tradewinds 35 and regaled us with stories about his boat, his Transatlantic with a largely unknown crew, and dits about his time in the Navy. For those readers who know Rory, I can report that he's alive and well, and (I suspect) just as talkative as he was in the Control Room!
We ended Valentines Night drinking Grenadian chocolate rum with an Australian couple in their thirties on the catamaran parked next to us. Like a number of other people we have met on this adventure, they had bought a boat in the autumn and set out across the Pond with relatively little experience of sailing, let alone knowledge of the boat. They were headed for Brisbane, where they plan to sell their floating greenhouse for a tidy profit and then start a family. Hurrah for Haydn and Beth.
We were ready at 0800 on Thursday, with the watermaker open to the world and the spares laid out. It transpires that 0945 is the St Lucian interpretation of 'first thing'. But my itchiness soon disappeared: Sean Keppel turns out to be a first class engineer who knew exactly what he was doing. We got on well, he worked hard and in no time at all the offending items were being stripped down in his workshop. He returned soon after lunch, hours earlier than I expected. We put the thing back together, flashed it up – and lo and behold, it worked! Better than that – it is far more productive than it ever was before and the water is so pure you could bottle it and sell it to those Evian chaps. 'I'm thrilled' said Sean. So was I.
The same firm were supposed to be coming to look at our intermittent Raymarine chartplotter defect. Sadly, Sean is not the man you need for this. You need Vincent and he does not own a mobile phone so we can only touch base with him when he comes into the office 'first thing'. I had been asked for Vincent for a week and I was pretty certain that we needed a new cable connection, but the chaps in the office knew better without even stepping onboard. So, 'first thing' on Friday, about 1030, I sauntered in and told them that I'd had enough with their faffing about and we left there and then for Martinique. There are at least four Raymarine agents there and it can't be that difficult…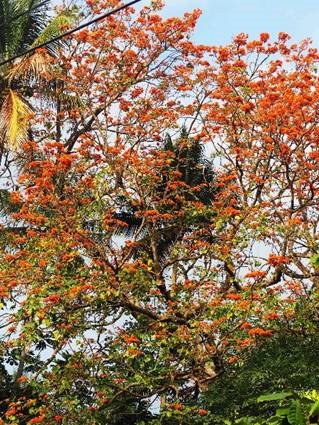 The stunning colours of St Lucia
---