Tahuata: September 8th - 16th 2011

Aquamante
Vries Peter Pons
Thu 8 Sep 2011 09:00
Tahuata, Marquesas, French Polynesia: September 8th – 16th 2011
<![if !vml]>
<![endif]>
Hana Moe Noa
Tahuata, a very small island just around the corner of Hiva Oa. We are still waiting for our package with the spare parts for our two automatic pilots which shall arrive at Hiva Oa but it is much nicer to go to Tahuata and 'wait' there. Tahuata is one of the few islands with sand beaches, most of the beaches are rocky and black.
<![if !vml]>
<![endif]>
Hana Moe Noa Bay, is a bay with no inhabitants. We are welcomed by Baju. In the north corner of the beach is a very nice spot with even a table made by other sailors, in the shade, overlooking the beach and the bay, magnificent. Stefan has prepared a big fire and BBQ. The beach is quit steep to enter, waves can easily break on the dinghy so it can be a bit tricky. Worst thing tough that can happen then is that the dinghy flips over and that besides we are become wet, the outboard will as well.
<![if !vml]>
<![endif]>
<![if !vml]>
<![endif]>So, being prepared we arrive in our bathing suits and carry some clothes in the grab-bag. Since it is almost full moon we have quit a bit of light that  helps a lot since it is already after twilight and the dark sets in very quickly. It was a peculiar evening, because of some Elton John songs on the Ipod we got into Lady Di, was her accident an accident or was it a conspiracy?
For us it was really a long time ago we were at a place like this, San Blas Islands (at the Caribbean side of Panama) was the last time. We immensely enjoy it.
Following day it is already hot early in the morning. Baju has two wake/kite boards, we have the speed with our 15PHP outboard, so time for some fun! For the first time in more than two years, what, in our lives, we are wakeboarding! Stefan is off course the pro, he can even stand up the board!
<![if !vml]>
<![endif]><![if !vml]>
<![endif]><![if !vml]>
<![endif]>
<![if !vml]>
<![endif]><![if !vml]>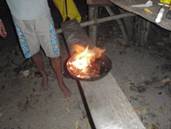 <![endif]>Stefan had promised to do his famous hotdog-in-bread- on –a-stick-BBQ. Henk and Miranda from Mirus had just arrived so off course they were invited as well, another lovely beach fire, a very special BBQ, our own gathered coconuts and great dessert: banana flambé with coco pieces, caramelised sugar and chocolate sauce.
After all this nice food we should do some exercise, we go snorkellng even though we don't know if we will see some nice sea live here. As I am about to say that we don't, a manta ray swims in front of us, black on the top, white at the bottom, making a somersault!
<![if !vml]>
<![endif]>We are close to the edge and so the water is a bit troubled of the waves hitting the rocks but as long the rays don't swim down too much we are able to make some nice pictures.
<![if !vml]>
<![endif]>Only 5 seconds later two huge black manta rays are swimming around us. Their span is about 5 meter, it is a bit frightening because I don't know if they are comfortable or not even though we know they are very curious, I hide a bit behind Vries. It is still truly exceptional. Later in the week we are snorkelling a couple of times but no such luck. Baju, our German friends, see them in a whole shoal, six huge ones together and in clear water, the picture beside was taking then by Stefan.
Vaitahu and Hapatoni
<![if !vml]>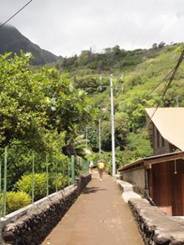 <![endif]>The hike from the village Vaitahu to Hapatoni seems to be spectaculair, so we leave the dinghy in Resolution Bay, a 3mile ride by dinghy from Hana Moe where we're anchored. After scoring a baguette we take of, together with Heike and Stefan.
<![if !vml]>
<![endif]>
<![if !vml]>
<![endif]><![if !vml]>
<![endif]>
<![if !vml]>
<![endif]>
We don't really know how long it will be, some say one hour, others say two. Hapatoni is the art village. The best art pieces in the Marquesas, mostly sculptures, are made here. It is a small community, some 60 inhabitants, all artist. Most of their work ends up in Tahiti for the tourist trade, the rest is sold when the Paul Gaugain (cruiseship) or the Aranui visits, every three weeks. The Aranui is not only a cruise ship, which takes passengers for a two week trip, but also locals travel with the Aranui since the Aranui leaves from the Tuamotus and visit all Marquesian islands. For most islands it's a big event. The whole village is a week busy making all the flower necklaces, practising their local dances and preparing food.
<![if !vml]>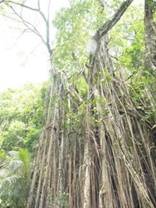 <![endif]>
<![if !vml]>
<![endif]><![if !vml]>
<![endif]>But where were we, our walk. It is really steep and again, green all over, fruits hanging there to be eaten. Stefan snatches a pompelmouse; you never know when it comes handy. We cross a little river with crystal clear water, although we brought something to drink with us cold water is the best. We reckon this walk is not just an hour. While we <![if !vml]>
<![endif]>are almost at the top a car is passing, with some disbelieve they ask if we are walking to Hapatoni, yes we are. You see them wondering, those crazy foreigners. We don't even have to ask, they offer us a lift immediately!
<![if !vml]>
<![endif]>
<![if !vml]>
<![endif]>
<![if !vml]>
<![endif]>It is a bumpy ride in the back of the pick-up truck. The road is sometimes paved, something not. Trees lying across the road. View is spectacular. We drive at least 20 minutes before we arrive in Hapatoni. One of the people in the car goes out, Armand, and shows us around. He just walks straight to an artist's home but all very relaxed. The artist show us different kind of pieces, ear rings, necklaces but also beautifully made harpoons for the spear fishing and wood carvings.All is not for free, but I can't resist and want to buy a pair of ear rings, meanwhile my darling Vries already have bought them including a ride back to Vaitahu with Hernan by speedboat!.
The main road of the village is an ancient road that parallels the shore, partly lined with stone walls on either side. A bit further down this road you will find the shed where most wood carvers work at their new piece. Now, only one is working on a peddle. Just opposite the shed we are attracted by some troms standing. Not as big as the one Vries saw in Fatu Hiva, but still very nice. Shortly thereafter someone shows us more artwork; most of the pieces are wood carvings. One piece, a harpoon, is really beautiful. As mentioned, not for free, but we haven't bought anything during our whole trip so far and this shall be such a nice remembrance of the Marquesas. Vries is the perfect trader as always so we go for it. We only have one little problem and that is we don't have enough cash with us. No problem, we ask if we can give the rest to Armand which is ok. They are happy, we are happy! In all the excitement we forget to take a picture before the harpoon is wrapped. 
<![if !vml]>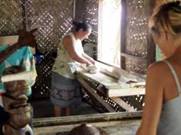 <![endif]>In the meantime Heike and Stefan are sitting under the shed looking at the man carving a peddle.  They shall walk back to gather some fruits, Vries and I going with Armand by his speedboat. Wow, that is something different than our dinghy, the sea is a bit wild but in a boot like that you are not getting wet so quickly. On our way Armand spotted some goats living on the rocks. One brown one the others black, it is difficult to see the black ones because they are hiding in the worn out rock as if it is a cave.
<![if !vml]>
<![endif]>Armand brings us save to Vaitahu, we are going back to Hana Moe Noa by our own dinghy. Vries needs to get back to Vaitahu to give Armand the amount due for the harpoon. Armand invites him to his home and receive lots of nice fruits, including bananas still hanging on their pole.
Hana Moe Noa
Coconut preparing!
Gathering, cutting through the first shell, drink the liquid first, slam it to get the outside off and actually having the coconut, slam it again to break the nutshell of the coconut, taking the coco out, rasp it. Sounds like an easy job but before you know it you are at least busy for couple of hours. Later, we hear the locals do this in almost a minute, except the rasping.
<![if !vml]>
<![endif]><![if !vml]>
<![endif]><![if !vml]>
<![endif]><![if !vml]>
<![endif]>
<![if !vml]>
<![endif]>
<![if !vml]>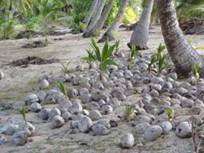 <![endif]>After our coconut session we have a look a bit further down behind the beach to say hello to the local people of whom we already as a gift got loads of bananas and oranges. Every day, early in the morning (06.00) they arrive from the village, two bays down, to maintain the land and the palmtrees. This means they gathering the coconuts, prepare them for the so called copra, coco scrapings. They can do 55 kilo an hour……but they also keep the land neat so that coconuts that <![if !vml]>
<![endif]>have fallen already from the trees can be collected and put them on a piece of land where they just stay. After a while, the coconut creates inside the beginning of a new tree like a kind of seed. This process only starts if the coconut is at rest. Finally new leaves shall come out of the coconut and a new tree shall grow.
<![if !vml]>
<![endif]>
For their own consumption they hunt on wild goats and wild boar as well. They even eat the rays. They say it is very nice. We can not imagine that we shall eat ray, ever. For us the ray is a too beautiful animal to eat. For them it is not different than eating any other animal which we understand completely.
<![if !vml]>
<![endif]>They are the friendliest people we have met so far. They want nothing in return for the lovely fruits, the opposite; they invite all the boats (four in total) anchored in the bay for dinner!
<![if !vml]>
<![endif]>They shall try to have goat and wild boar but to be sure Jean goes Speer fishing. Stefan joins him, unfortunately Vries can not join as a Speer fisher, he has an ear infection again, but he can do his bit. While Jean and Stefan are in the water, shooting the fish, Vries can pick it up quickly from the dinghy. It sounds not that thrilling but Speer fishing is a really serious thing. Best is to be with three people, two down in the water, one in the dinghy. Because, once a fish is shot you immediately have to grab it from the Speer and have it out of the water as fast as possible because of the sharks. Fish blood they smell from miles away and they love it. They are not interested in people or human blood (as everybody thinks) but having a bloody fish in your hand whilst in the water, everybody understands what can happen. The shark is hungry and just wants the fish. For Stefan it is an experience as well, although he is used to Speer fishing, Jean is a real professional and shoots 19 fishes.
Grand finale
So, our friends prepare dinner: goat, wild boar, poisson cru (raw fish marinated in lime and coco), rice, boiled bananas and all nicely put on plates made from palmtree leaves. Everything is delicious.
<![if !vml]>
<![endif]>
They don't eat themselves, which surprises us but later we hear they already had their hot meal for lunch. The sailors take along the drinks: wine and rum. Stefan prepares his banana flambé! Our friends love it, Stefan couldn't be pleased more.
<![if !vml]>
<![endif]>
What a evening! Everybody is chatting around, having a good time. You maybe expect that not so many cruisers visit Tahuata and that is why they have organised this evening but we find out later this is not the case. Many cruisers visit during high season but Jean and the others did this really for us, how remarkable. Especially since we have our own experience visiting the other islands where fruit is not given to you without asking or being invited for a dinner like this.
<![if !vml]>
<![endif]><![if !vml]>
<![endif]><![if !vml]>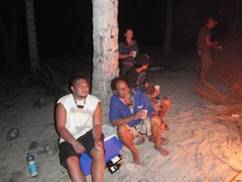 <![endif]>
<![if !vml]>
<![endif]>
<![if !vml]>
<![endif]>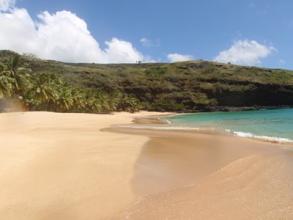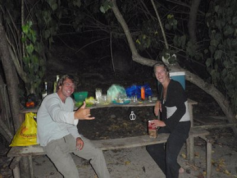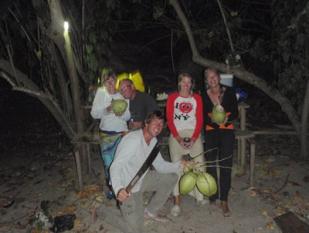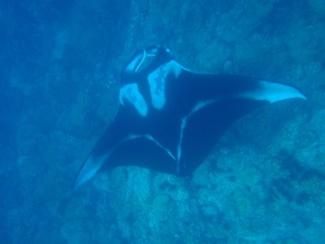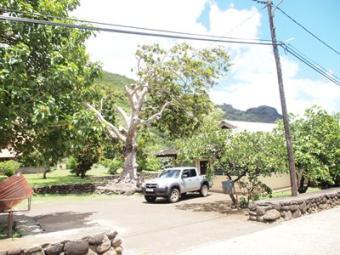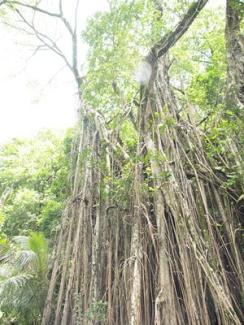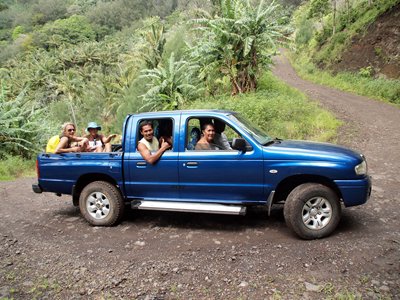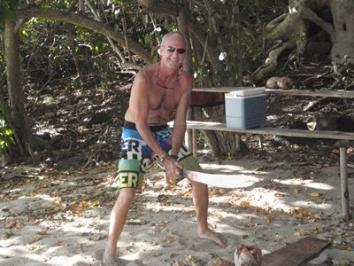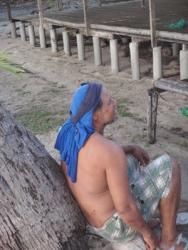 ---