Saba 13 mei - 17 mei 2010

Aquamante
Vries Peter Pons
Wed 12 May 2010 23:00
Saba (17:38.1N 63:15.4W): 13 mei - 17 mei 2010
<![if !vml]>
<![endif]>Eindelijk vertrekken we van uit St. Maarten. Met Hemelvaartsdag, realiseren we ons pas later in de middag. Daph had nog zo gezegd: "Ik heb geen zin om hier langer dan twee à drie weken rond te hangen nadat we in januari al twee weken op St. Maarten hebben doorgebracht." Uiteindelijk na zo'n 10 weken en vele klussen later zetten we een zuidelijke koers in richting Saba, een relaxed halvewindsrak met oostenwind kracht 5. Na een grondige poetsbeurt van het onderwaterschip en de propeller met duikflessen (na 4 weken in de Lagoon lijkt er wel een koraalrif aan te kleven) is Aquamante weer spiegelglad geschoren en snijden we door het water met bijna 9 knopen.
Zo'n half uur na vertrek een sms van Pa Pons, die op marinetraffic.com controleert of we wel doen wat we zeggen dat we doen. De 25 mijlen doen we in zo'n 3 uur. Onderweg verrast een squal (donkere, zeer lokale wolk bij normaal gesproken heldere hemel met veel wind en regen) ons toch nog enigszins, omdat<![if !vml]>
<![endif]> de lucht helemaal niet zo helder was. Ook Saba is in wolken gehuld.
Bij inmiddels 30 knopen wind snel de genua in en het grootzeil strak in het midden, helaas sleurt een genuaschoot een pikhaak overboord. Na een goed gesprek met de bemanning besluit de skipper tot een MOB (Man Over Boord) manoeuvre, iets wat we met z'n tweetjes tot op heden nog niet echt geoefend hebben.
Daph werkt met gezonde tegenzin mee, we lokaliseren met enige moeite de drenkeling, Vries manoeuvreert de boot aan loefzijde ervan, en Daph haalt 'm bij de eerste poging binnen. Pikhaak gered en een uitstekende oefening voor ons, uitgevoerd in zwaar weer, typisch het moment waarop dit soort dingen gebeuren.
We kiss and make up, varen met gereefde zeilen door naar onze ankerplaats bij Ladder Bay en pikken daar één van de 8 moorings op. Een baai is het niet echt, het is meer een enorme steile bergwand aan de westkant van Saba, die je beschut tegen de meest voorkomende oostenwind. Er liggen nog 3 andere bootjes. Het blijkt met windkracht 5 een onrustige ankerplaats te zijn, omdat de wind met vlagen tot 37 knopen (windkracht 8 à 9) om de bergwand heen giert.
De volgende dag besluiten we aan boord te blijven om de boot in beetje in de gaten te houden en te relaxen. Doen toch het onvermijdelijke klusje hier en daar, lunchen, borrelen, dineren, kijken een filmpje en gaan moe naar bed.
Op 15 mei zetten we voet aan wal bij Fort Bay, de haven van Saba, na een ritje van 10 minuten met de dinghy vanaf de boot. Veel meer dan twee kleine breakwaters in een verder open baai is het niet, er staat een elektriciteitscentrale en er zitten twee duikscholen. Het Marine Park Office is nog gesloten, dus het vriendelijke verzoek een formuliertje in te vullen en de centjes bij te <![if !vml]>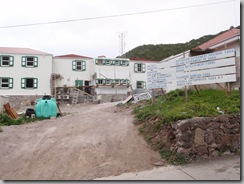 <![endif]>sluiten in de enveloppe, wat we plichtsgetrouw doen.
We willen naar het begin van de hiking trail naar de top van Mount Scenery, met 970m het hoogste punt in het Koninkrijk der Nederlanden. We krijgen meteen een lift van de heer Zegers, wiens zoon naar Nederland is geweest en daar ontdekt heeft dat er veel Ze(e)gers aan de grens met België wonen. Bij the Bottom, de hoofdstad slaat hij rechts af, terwijl wij linksaf door moeten naar Windwardside, de op één na grootste stad na the Bottom op Saba. Er worden hier allerlei overheidsgebouwen bijgebouwd, waarschijnlijk in aanloop naar de verandering van constitutionele status tot gemeente van Nederland.
We lopen met een omweg in 10 minuten door the Bottom heen en krijgen een lift van Marilène, een Française van rond de 35, die hier inmiddels 7 jaar woont. Ze spreekt uitstekend Nederlands, schildert, leest is gescheiden en heeft 4 kinderen, die langzamerhand het ouderlijk huis verlaten. Marilène zet ons zo'n 100m voor Windwardside af, waar de trail begint.
Vries heeft de 1064 treden om naar de top te komen in een vorig leven al enkele malen gedaan, en het komt 'm dan ook vagelijk bekend voor. Na andere Nederlanders met een wel erg laag tempo ingehaald te hebben, komen we op de trail bijna alleen maar Nederlanders tegen. Uitzonderingen zijn twee lokalen, die net twee geiten hebben afgeschoten en al hebben onthoofd en schoongemaakt, dit om gewicht te besparen bij het naar beneden sjouwen. Vandaag staat er geit op het menu in de restaurants van Windwardside. De andere reden is dat de geitenpopulatie op de berg klein gehouden moet worden om de natuurlijke vegetatie te beschermen. Het verhaal bekt in ieder geval goed. Na Benny gevraagd te hebben waar we `s avonds een borrel moeten gaan drinken, vervolgen we onze weg naar de top, maar komen alras Mirjam tegen. We hebben haar ontmoet met haar vriend Henk bij Karakter, een strandtent op St. Maarten tijdens Koninginnedag en een hele middag gezellig met hen zitten praten. <![if !vml]>
<![endif]>
<![if !vml]>
<![endif]>De top ligt volledig in de wolken, eigenlijk maar zelden niet, dus het uitzicht ontbreekt, maar we hebben het stempeltje verdiend.
Op de terugweg komen we eerst het stel weer tegen dat we op de heenweg ingehaald hebben, vooral zij zit er al volledig doorheen. Ze hebben even een rookpauze ingelast om op adem te komen. Daarna kruisen we een ander Nederlands stel met twee kids, maken een kort praatje <![if !vml]>
<![endif]>over geiten en hoe ver het nog is, en lopen door. Later komen zij toevalligerwijs lunchen in de tent, waar wij net hebben gegeten, <![if !vml]>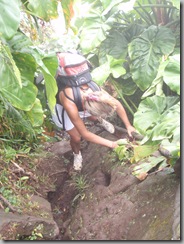 <![endif]>en pas dan herkennen Daph en de man van het stel, Scott, dat zij elkaar kennen uit een ver <![if !vml]>
<![endif]>verleden in Amsterdam. Anoniem de Mount Scenery op is er niet meer bij. Er wordt even stevig bijgepraat met een goed glas wijn, de dag kan niet meer stuk.
Na de uitgelopen lunch gaan we direct richting Swinging Doors, de lokale kroeg zo warm aanbevolen door Benny, de geitendoder. Met Eddy, de kroegbaas, praten we al snel over de nieuwe status van Saba als gemeente van Nederland. De verwachtingen zijn positief, er is alleen de vrees dat er allerlei typisch Nederlandse regeltjes opgelegd gaan worden die absoluut onzinnig zijn in dit stukje van de wereld, voornamelijk omdat de kosten ervan niet in verhouding staan tot de opbrengsten van de lokale middenstand op een eiland met zo'n 1500 inwoners. Langzaam druppelen de stamgasten binnen, de meesten wat later dan <![if !vml]>
<![endif]>normaal omdat er een lokaal huwelijk was, waarvoor het hele eiland was uitgenodigd. We zien Benny, opgepoetst en wel na de jacht, met z'n broer, en we praten uitgebreid met Vernon, die 28 jaar Commissioner (raadslid) is geweest en nu een groot deel van z'n tijd in Florida woont en werkt. De rondjes komen steeds sneller door, en we besluiten er een punt achter te zetten, voordat we zelf ervaren waarom er twee containers Heineken per maand naar het eiland verscheept worden. Overigens verzekert Benny ons, dat die tijd voorbij is: de kampioenen zijn inmiddels op leeftijd, of niet meer, en de jeugd die op het eiland blijft toont zich geen waardig opvolger.
<![if !vml]>
<![endif]>Onze taxichauffeur van Windwardside terug naar Fort Bay is Joannne, een rijzige negerin uit Dominica van middelbare leeftijd. Gekleed in rode jurk met rode pumps voor het huwelijk heeft zij nadien een paar mixdrinks als afzakkertje bij Swinging Doors gehaald en is op afroep beschikbaar. Soepel slalomt ze de "road that couldn't be built" af, vertelt ons haar verhaal en zet ons veilig bij onze dinghy af. Na een rustiger dan verwacht ritje terug in het pikkedonker, hoofdlampje vergeten en geen maan, zijn we weer thuis. Saba is en blijft een uniek eiland met hartelijke, eerlijke mensen, werkelijk lieverds.
De dag erna gaat Vries duiken, dat mag je dus niet missen op Saba, maar hij heeft het daar nog nooit gedaan. Daph heeft even geen zin. Hij wordt opgehaald en weer afgezet aan boord. Hij hoopt dat de Pinnacle op het programma staat, een met prachtige koralen begroeide naald die uit de diepte tot 8m onder het wateroppervlak komt, maar er staat teveel stroming. We doen een kleinere Pinnacle, ook best aardig, en nog een tweede duik, die verder weinig nieuws oplevert.
---