Hiva Oa: Atuona - Hanamenu - Hanaiapa: September 16th - 24th 2011

Aquamante
Vries Peter Pons
Fri 23 Sep 2011 09:00
Hiva Oa, Marquesas, French Polynesia: September 16th – 24th 2011
Atuona
Only reason heading back to Atuona is to collect the package from Simrad for both our automatic pilots. We aren't sure it has arrived but when we call Sandra on the VHF we got the good news and she is bringing it the same afternoon. Straivag is still anchored here so we invite them for drinks and dinner, we had a lovely evening, no cruisers midnight (21.00 hours) though. Next morning we have to go to the village for baguette and fresh vegetables. We are only just in time, saved by a lift from a local woman. We are really surprised because we had the opposite experience when we were at Atuona. Later we heard from Straivag the reason why the locals at Atuona aren't keen offering a lift, long story short, an American guy sued a local after an accident where he had claimed being hurt (story tells he wasn't). So, when we heard this story we understood completely but now this woman offered us a lift! First baguette, chance they already are sold out is high on Saturday morning (on Sunday no baguette is made). We are lucky, the boulangerie has only 6 left which we all buy, sounds a lot but after Atuona we shall go to Hana Menu and Hanaiapa, two villages up north of Hiva Oa where baguettes aren't available. We can store the baguettes in the freezer so we are fine for the coming days. The lady with the veggies has plenty so in half hour we are done and again getting a lift!
Other advantage of being in Atuona is the internet connection we have. The whole afternoon until late and Sunday we spent writing our stories for the weblog (we are really behind), checking our mail, returning mails and making some Skype calls. Monday we take off to Hana Menu.
Hana Menu
<![if !vml]>
<![endif]><![if !vml]>
<![endif]>As it is said in one of our guides, when you arrive at Hanamenu you have left the tropics and travelled in a desert. And indeed, high cliffs, no green at all, the beach has a kind of blackish sand but then behind the beach it's tropics again, everywhere you look you see palm trees. The guide also says no people live here anymore but meanwhile that has changed. A couple of houses are habituated. We go ashore and check it out.
Just behind the beach you find a fresh water pool, a stream continuously gives water, ice cold but oh so nice. We are warned by Stefan and Heike who arrived the day before us and in the meantime have left already, for the so called no-no's, mosquito's you don't see, especially in and near the pool. We dress long sleeved, long pants, the works but off course we want to take a nip in this little pool.
<![if !vml]>
<![endif]>
The water is ice cold but nevertheless, perfect moment for some hair washing which on board consumes relatively a lot of water, although we have two big tanks, we always have to run the generator to make water out of sea water, which consumes diesel, and this is difficult to get in the Marquesas. Even in Atuona, although there is a gas station, they won't sell it to us or sometimes not even to the locals. We asked off course what the story is of this particular station but the locals just say, they (the owners) are crazy….We do hope to fuel up in Nuku Hiva, the biggest island of the Marquesas.
Vries doesn't even dry himself, he immediately puts on his long sleeve shirt and pants, and he was so right! A couple of days after we saw what Stefan and Heike meant, we both were bitten a z-ion times, and even after four days the bites are still their, they are big, red, hard and itch like hell, really different from a mosquito bite we know.
<![if !vml]>
<![endif]>The house almost next to the pool is well maintained again. A huge garden with a fence surrounded.
<![if !vml]>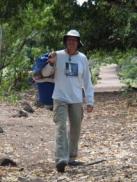 <![endif]><![if !vml]>
<![endif]>There is a path which leads to the inland, on our way we see one man, not really talkative, collecting some fruit. At the end of the path there is again a fence, we clime over it and come into a sort of palm tree wood, cross a river what was used to be a river and find some horses. They are shy, but on the other hand they come towards you as well, as long as you don't reach for them everything is fine.
<![if !vml]>
<![endif]>
Coconuts everywhere, we collect three of them of which we think they are mature enough. First they are green, if you are thirsty, pick these, cut the tip off and drink the liquid, very refreshing. When they become brown the actual process that creates the coco has started. If you shake it you should still here some liquid shaking, this means you can cut it open and find the coconut, cut the nut and you find the coco. If it is already dried out you leave it, a new tree can grow out of this.
<![if !vml]>
<![endif]>We find our way back, crossing even more fences, what is it with these people you wonder, to the beach almost standing on a chicken sitting on her eggs. We just follow a little stream and there she is, Aquamante, home again.
<![if !vml]>
<![endif]>Hanaiapa
Only 8 nm further up east of Hiva Oa you come to the village Hanaiapa, just before entering the bay we see this nice water fall. The desert (Hanamenu) is gone, hello tropics again. While we anchoring somebody is waving from ashore, I reckon it is Stefan from Baju. They probably go for a walk but we don't want to rush and stay aboard. It is a beautiful bay, sand beach, we go snorkelling, check our anchor first, oeps, the chain is around a coral head. This is not what you want off course. We re-anchored after our snorkelling, where we didn't see much except the coral. In the meantime Stefan and Heike return from their walk, which was lovely. Later in the afternoon we go snorkelling again with Stefan and Heike, nearby a huge rock at the beginning of the bay. We have to go there by dinghy and the sea around the rock is rough, Vries pulls the dinghy with a long rope wrapped around his waist while snorkelling. After only 5 minutes the mantarays are all over. Daph is making pictures, one is spectacular, we call it 'hi five ©'.
<![if !vml]>
<![endif]><![if !vml]>
<![endif]>
<![if !vml]>
<![endif]>
Vries had checked out the internet while in Atuona, regarding the ear infection he gets all the time, we already had heard about an alcohol and vinegar mix as a good 'medicine' preventing the so called swimmers ear but, how could it be otherwise, Vries not having a manual on this subject, he wants to do some proper research. Sooner or later you will have some difficulties with your ears if you swim, snorkel or dive a lot. Stefan has it as well. Doctor Pons will take care!
Since we have received the new carbon brushes for the old automatic pilot and new bolts plus plate for the new one and we shall head for Nuku Hiva some 80 nm Vries installs all the new parts. Finally, we have two automatic pilots working again, what a relieve.
Goat hunting? Spearfishing? None?
Baju missed the goat hunting in Tahuata but maybe there was another chance at Hanaiapa. Stefan had met some locals that because of a big party for one of the locals coming Saturday would go for a hunt the following day. At 8.00 in the morning they would meet but no locals. What a deception. Later in the afternoon though, the man from the speedboat that had been drifting the other day and Stefan had saved came by Baju. If they would like to join for some spearfishing. At that time Vries was on board he could off course join as well! I was keeping up the weblog and all of sudden Vries is there, completely excited, we are going spearfishing, now, I need my gear. Within five minutes (for Vries almost unbelievable) we had all the stuff together and Vries was wearing his dive suit. Before I could even say, have fun, they were gone. This was the first time for Vries he could finally try his o so beautiful spear gun. The other time at Tahuata he couldn't join because of his ear infection. I kept my fingers crossed… If you see the gun, it is huge and not easy at all to re'load' ashore, almost impossible in the water where you have to do this. Also, with three guys in the water at the same time you only hoped they are really careful and watch out that nobody is in the line of 'fire'.
After two hours they got back, cold to the bone. Vries hadn't hit more than two rocks, Stefan caught three and the others the rest. You learn by doing it. They had a great time!. Parrot fish was on the menu. After taking out the inside and all the scales they were ready for cooking. We didn't go ashore for a nice fish BBQ because Baju was leaving very early the next morning for Ua Huka so instead, we joined Baju on board for a lovely bite.
We definitely wanted to do the hike at Hanaiapa so we stayed another day. Even though it is not that late it is already hot. We decide to leave the dinghy not on the beach but nearby a little dock where we put a line ashore and a little dinghy anchor stern to. Locals are busy with the cobra, the dried coco, because the Aranui arrives the day after to collect it and deliver it in Tahiti. The cobra is mainly used as a basic for oil and for a lot of skin products, it provides the income for most villages in the Marquesas. A local woman shows us the beginning of the ancient path to the next bay, our walk for today.
<![if !vml]>
<![endif]>
<![if !vml]>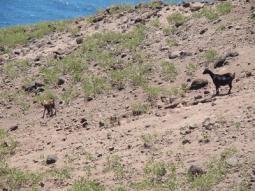 <![endif]><![if !vml]>
<![endif]>The walk is really worth the effort, in total back and forth, some four hours. The landscape differs a lot.
<![if !vml]>
<![endif]>From the mountain we see our goal, even after so many views we have seen, it remains stunning. We heard from Heike and Stefan that only 5 families are living here busy with the cobra. When we arrive nobody is there, probably for the same reason as the locals, the Aranui is picking up the cobra.
<![if !vml]>
<![endif]>What a life! Is what we thought when the camera (with the delayed action shutter) made this picture of us.
Very strange being in a bay completely deserted. It feels like if we are sneaking around in somebody's garden. First to the beach, have a drink, not really much because are bottles are almost empty. Picture this:
<![if !vml]>
<![endif]><![if !vml]>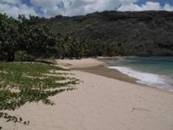 <![endif]><![if !vml]>
<![endif]>
<![if !vml]>
<![endif]><![if !vml]>
<![endif]>
We had reckoned that we were able to get some water for our way back, it is even hotter and at least an hour and a half to go. We do see some hoses but the water is so warm we don't trust it. Instead we look for some fruit trees, food and liquid in one so that should be sufficient. Most of the trees are lime trees, hmmmm, nice for the fish but pure a wee bit too much for us we think. Off course we collect some limes. We walk around and find what we think is an orange tree, it is, but as they call it here, sour oranges, nevertheless, we eat it, we have to do something. And then, just when we want to leave the village we see another orange tree, but how on earth do we get the oranges hanging above us at at least four meters? We try to use our walking sticks. We manage to get one orange and check it out immediately, wow, real sweeter than sweet orange; we need more of these for our walk back. Finally Vries manages to have another two oranges swept out of the tree. We are ready to leave. At about three-ish we arrive at the dock, exhausted but satisfied.
---