St Barts 30 december 2009 - 14 januari 2010

Aquamante
Vries Peter Pons
Wed 30 Dec 2009 00:00
St Barthelemy ofwel St Barts
<![if !vml]>
<![endif]>Veel, heel veel rode lichtjes in de toppen van de masten van deze superyachts (rood licht moet je voeren als de mast langer dan 25 meter is voor het vliegverkeer, zitten wij met 22 meter net onder). We kunnen nog net een plekje vinden. Ondanks de maan moeten we goed oppassen, het regent dat het giet en vele kleinere bootjes hebben geen ankerlicht aan zodat we ze niet goed zien. We liggen goed, rondom een kordon van superyachts kan ons niets gebeuren, dag en nacht is de crew aan boord om alles in de gaten te houden. Wij rollen voldaan om drie uur âs nachts ons bedje in. We zijn weer veilig.
De volgende ochtend schijnt de zon, het lijkt heel normaal maar het weer is al dagen onstuimig, bewolkt, regen, wind. Vries versiert de hele boot, de kuip met slingers en een sliert van vlaggetjes wordt gehesen tot aan de top van de mast.
<![if !vml]>
<![endif]>We doen rustig aan en gaan tegen lunch tijd met de dinghy naar Gustavia, de hoofdstad van St Barts. Vries kent St Barts en weet waar we naar toe moeten voor een verjaardagslunch. We zijn op Frans grondgebied dus dat wordt smullen. Eerst maar een cocktail en vooral ook veel water, want als de zon er eenmaal is is het ook goed warm.
Na de lunch lanterfanten we door St Barts. We botsten op Phil en Christina, Australiërs die we ontmoet hebben tijdens onze kerstlunch aan boord van Pacific Bliss. We spreken af aan het einde van de middag een borrel te drinken in Bar d'Oubli. Christina is een echte zeilster, heeft als captain menig jacht geskipperd. Ook zij zijn de Atlantische Oceaan overgestoken en zijn nu weer op weg naar Australië. Rond december willen ze daar zijn. In maart gaan ze richting Panamakanaal om daar de Pacific op te gaan. Via de Galapagos eilanden, Marquesas en Tahiti naar Australië. We hebben er wel oren naar. Maar niet dit jaar. Bovendien is een dergelijke trip nog iets anders dan de Atlantische Oceaan oversteken, over de Pacific naar Australië zijn drie Atlantische oversteken achter elkaar! 's Avonds heerlijk gegeten, lobster! Wat een traktatie!
Oudejaarsdag
Door Phil en Christina uitgenodigd voor de lunch. Het regent dat het giet, Phil komt met de dinghy nog even langs om te checken of we nog komen, als een verzopen kat ziet ie er uit. Natuurlijk komen we, weer of geen weer. Pas om 17.00 gaan we van boord. We besluiten naar Bar dâOubli te gaan zodat we iedereen in Nederland nog een goed nieuwjaar kunnen wensen via de e-mail. Familie spreken we nog live via Skype, 2010 is in Nederland begonnen!
<![if !vml]>
<![endif]>En hoe gaan wij het jaar afsluiten? We hebben geen idee. Alle restaurants in St Barts hebben 7-gangen diners waar we geen zin in hebben. We gaan aan boord, trekken een fles heerlijke wijn open en hebben heel ouderwets heerlijke hapjes met een Franse baguette, wat wil je nog meer.
We missen de oudejaarsconference niet, voor de lol hebben we de VHF even aangezet, wat zich daar allemaal op afspeelt, het is een soap. De crew van alle superyachts hebben een drukke avond met het ophalen en afzetten van de gasten. Mister Abramovitz heeft ook een feestje georganiseerd, voor zijn 500 meest intieme vrienden werd 50 miljoen uitgegeven, dan krijg je wel U2, kost wat maar dan heb je ook wat!
Rond elf uur verkleden we ons om aan de wal te gaan voor het vuurwerk. Het motregent nog een beetje. Heel wat mensen hebben zich aan de kade verzameld waar overigens deze avond geen boten aangemeerd liggen. Wij dachten dat dat was voor oud en nieuw. Later horen we dat de binnenkomende âswellâ de oorzaak was. Zelfs de superyachts liggen dan zeer oncomfortabel.
00.00 uur
2010 is begonnen!
<![if !vml]>
<![endif]>
Het regent niet meer, het vuurwerk barst los, we tellen onze zegeningen van 2009 en pinken een traantje weg.
<![if !vml]>
<![endif]>Het is nog vroeg, 00.30 uur maar we gaan naar een club die Vries nog weet van vroegere tijden. Nu zit hier de V.I.P. room. We slikken even vanwege de entree, maar doen het gewoon. Het is nog niet vol, dat duurt niet lang, binnen een half uur kan er niemand meer bij.
<![if !vml]>
<![endif]> En wat er dan gebeurd, je weet niet wat je mee maakt. Meiden van minstens 1.80 in de meest hippe jurkjes, de Dom Perignon Grand Dame Rose Magnum is niet aan te slepen, met veel bombarie en vuurwerk wordt de fles voor je neergezet, slecht 3.000 euro dus worden er meteen twee besteld, koopje! We zijn in een andere wereld beland. Totaal onverwacht wordt door Libanese New Yorkers ons zoân glas champagne aangeboden. Ze vinden het maar niks dat wij daar aan onze cocktail staan te sippen. Het was een geweldige avond, om 07.00 zijn we weer aan boord.
Een aantal dagen hebben we nodig om bij te komen. We ontmoeten Joost en Rebecca tijdens nieuwjaarsnacht, zij zijn hier met vakantie. We nodigen ze uit om mee te gaan naar Colombier, een baaitje in het noordwesten van St Barts waar Rockefeller in de jaren 60 een huis heeft laten bouwen, nu eigendom van Donald Trump. Verder niets behalve schildpadden in het water, paradijs! Op weg naar Colombier laveren we tussen al de superyachts. Om een idee te krijgen, hier een 60 voet zeilboot als speeltje hangend op een motorboot.
<![if !vml]>
<![endif]><![if !vml]>
<![endif]>Later krijgen we te horen dat het motorjacht met toebehoren een cadeautje was van Abramovitz aan ? Wie het breed heeft laat het breed hangen is hier wel erg van toepassing! Het was een heerlijke dag, 's avonds zalig gegeten en het afgemaakt in één of andere hippe lounge tent waar hoogstens 5 anderen waren. Voor ons maakte het niets uit, lol hadden we!
<![if !vml]>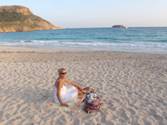 <![endif]><![if !vml]>
<![endif]>Het wordt tijd dat we iets van het eiland gaan zien, dus autootje gehuurd en een paar uur verder zijn we rond het eiland geweest.
<![if !vml]>
<![endif]>Prachtig uitzicht vanaf de heuvels. Aan de zuidkant een stop gemaakt om uit te komen op een leeg strandje, te idyllisch.
We waren bijna rond maar moesten natuurlijk nog wel langs Nikki's Beach. 's Avonds daar heerlijk gegeten.
Het wordt tijd verder te gaan, ons dagtripje naar Colombier smaakte naar meer, het vooruitzicht daar heerlijk een beetje te dobberen met niets om ons heen dan de schildpadden. Vlak voordat we vertrekken zijn we nog aan de wal geweest voor de laatste boodschappen. Bij terugkomst op de boot zien we Pacific Bliss geankerd! Ook zij gaan naar Colombier. Bij aankomst worden we meteen via de VHF opgepiept, of we een borrel komen drinken. Het was weer enorm gezellig! Zij gaan de volgende dag al weer verder richting St Maarten.
---