Tuamotu Islands - Tahanea: December 3rd - 13th 2011

Aquamante
Vries Peter Pons
Wed 14 Dec 2011 02:00
Tuamotu islands – Tahanea – December 3rd – 13th 2011
<![if !vml]>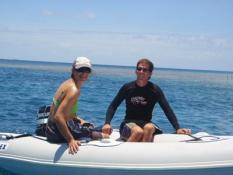 <![endif]>In the afternoon of December 3rd we left Fakarava S together with Chris and Jessica of S/Y Namasté for the atol of Tahanea, highly recommended by our friends of Pacific Bliss. The tricky Fakarava South Pass with a maximum depth of 3.8m was no problem, as we went through at slack tide, but the squalls, variable to no wind and bumpy sea made the 50nm passage less relaxed than we had anticipated. The Tahanea Middle Pass was a piece of cake, our Tuamotu Guestimator (Excel spreadsheet of a German guy, which predicts quite accurately the current and tides of the passes of many atolls, a must have on board) was about right. Tahanea is a deserted uninhabited island.
Upon arrival S/Y Renata is anchored in the same area we anchored as well. We haven't met them before but coincidentally they know our friends from Santa Paz and Baju as well. They leave the following day but before they do they pop by with home made bread. We invite them, Oren and Tania, for a drink.
Ashore there is a kind of shack where a family camps. Since you have the feeling you are anchoring in their back garden we pay them a visit. The family, a young couple, three kids and the grandparents stay there for the holiday season. They come from Faaa, an atoll not far from Tahanea. In front of the shack they have two motorboats, quite big, for <![if !vml]>
<![endif]>fishing but also to catch so called sea cucumbers. The Chinese love them! You can just pick them up from the sandy and coral bottom in very shallow waters. You dry them in the sun, after cutting them in two you tie them at the end so that they keep their long shape and won't curl up.
After a couple of days near dusk one of the girls is shouting from ashore, we don't know if anything is wrong so before Daph knows it, Vries takes the dinghy and goes ashore, however without taking the portable VHF and a light. I contact Namasté and ask Chris to check it out. Nothing wrong at all, they only wanted to give us a gift, coconut crabs, three huge ones. It was only a week ago we saw a coconut crab for the first time of our lives and now we can actually taste them. We were stunned. You cook them as if it is lobster, live in boiling water. We cooked them immediately so that Daph could prepare and cut them for storage in the fridge. It was quite a job to get all the meat out from the legs but with several boat tools the job was done. Daph made pasta with coconut crab, coconut crab salad for lunch and Thai curry with coconut crab. We thanked the family by bringing them something they cannot make themselves herand would be a treat for the three kids, a chocolate chip cake. But it is impossible to hand a gift to the Polynesians without getting something back, so after giving them the cake we got a lovely basket in return which the grandmother had made. Later that week the whole family came by in their motorboat, very early in the morning, to bring us two bags full of freshly caught langoustines, another treat. Half of it we gave to Chris and Jess.
<![if !vml]>
<![endif]><![if !vml]>
<![endif]><![if !vml]>
<![endif]>Together with Chris and Jess we went for several drift dives in the various passes Tahanea has. But before Daph joins diving they go to a coral head in the lagoon which is perfect for Daph to do her 'first' dive after her "not so good" dive at Kicker Rock in the Galapagos. Chris and Jess are really experienced divers, so Daph is in the end completely comfortable. So, finally she is up to make a drift dive in the pass as well. It is beautiful, all the coral is alive and the colors are amazing.
<![if !vml]>
<![endif]>Vries went spear fishing with Chris and speared a parrot fish for the poison cru and a 'nason' for the grill. Only a few sharks swam around, which became slightly agitated and/or jealous when Chris speared quite a big blue jackfish. We were invited for dinner at Namasté, Jess made her specialty fish fingers from the jackfish, it was really delicious. For the ones who like cooking:
Take a firm fish, cut the filets in fairly small pieces. Hustle each piece through three different 'seasonings' in the following order: 1: flower; 2: mixture of a raw egg, garlic, hot chilli pepper and a bit of salt; and finally 3: mixture of old bread crumbs and medium chopped nuts. Put as much oil in a frying pan as needed to have a kind of layer. Put the seasoned and breaded fish fingers in the pan, turn when brown on each side and you are done. It is lovely as a main dish with rice and salad or as an appetizer (hot or cold) or lunch snack.
The wind was shifting so we decided to go to the north of the lagoon and anchor there for just two nights. We returned to 'base' when the wind shifted again and was favourable for us going towards Tahiti, a two and a half day trip.
After our ten day stay, we went to say goodbye to the family ashore to try to thank them ones again. This time we took some color pencils for the kids but needless to say, we couldn't leave without another gift in return, another beautiful handmade basket, different from the one we already received. Where else on earth would you meet people like this besides the Tuamotu Islands!
---