Hiva Oa South: September 2nd - 8 th 2011

Aquamante
Vries Peter Pons
Fri 2 Sep 2011 11:00
Hiva Oa South, Marquesas, French Polynesia: September 2nd – 8th 2011
<![if !vml]>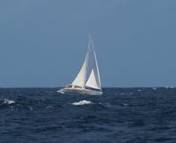 <![endif]>We are sailing again, our first (little) trip after our crossing from the Galápagos. Together with SV Baju we are heading for Hiva Oa, of course it becomes a race and we are not doing that bad. Although the average speed over ground of 9 knots for this catamaran is for Aquamante a bit too much.
Baju is behind initially but takes over somewhere halfway. It takes us only 5,5 hours to arrive at Atuona, Hiva Oa.
<![if !vml]>
<![endif]>
We anchor behind a breakwater but it still is supposed to be a rolly anchorage. It is not that big either so all the boats have a stern anchor out, which we do as well. When we hoist it a somewhat later to re-anchor we pull up another (small) anchor with 10m of perfect stainless steel chain still attached to it; it was a struggle to get it up, but indeed a very nice catch for the day.
<![if !vml]>
<![endif]>Hiva Oa is very different from Fatu Hiva; Atuona is the capital of the Southern Marquesas islands with some 2.000 inhabitants. You can buy all your basic household goods but it is very expensive, even more than what you would pay in Amsterdam. Our stock is more than sufficient except for vegetables, as we strangely enough couldn't get them at Fatu Hiva, and the usual fresh baguette! The trading system doesn't exist (anymore) or does not work for us, so we simply pay for our stuff. There are ATM's here, where we can get Polynesian Francs (119PF/€ fixed rate). For the first time since Panama we have internet access on board. It is not free wifi, but we are already happy we can talk with our families and friends through Skype after one and a half months.
From the bay it is about a half hour walk over a hill to get to Atuona. We counted on hitchhiking, but besides one person who didn't go to Atuona nobody stops. No problem of course, it's a nice walk, the road is paved and again all is very neat. Next Monday Vries goes with Heike and Stefan to the gendarmerie to clear in. Most of the time he can do this by himself and I do not have to join him. We risk it, since I have a Skype appointment with my sister and mom, so I stay on board. Several stories exist about how long we can stay in French Polynesia, some say three month and renewal is just a matter of going to the gendarmerie at Tahiti, some say you can stay at least a year. Even from the gendarmerie we don't get crystal clear answers. Nobody knows exactly, not even the authorities. We now know that Aquamante can remain in Polynesian waters for at least a year without us having to pay import duties on the value of the boat, but we are not sure how long we ourselves are allowed to stay. You would reckon that where the boat is the crew is too but no such thing.
<![if !vml]>
<![endif]>
Every day some locals practice their rowing, in so-called outriggers. You have them in all different sizes, beautiful to see and quite entertaining!
<![if !vml]>
<![endif]>We visit the graves of Jacques Brel and Paul Gaugain at Atuona.
Near the grave of Gaugain a statue stands, made by Gaugain himself. The story of the two man are really different. Gaugain is not much recognized as a master painter yet and comes to the Marquesas primarily to satisfy his predilection for thirteen year old girls. He finds out it is not that easy since the Marquesas have already been strongly influenced by the Holy Word of the many missionaries, who are less than keen on such behaviour. Until this day the Marquesas are Catholic and truly believers. Gaugain still gets two kids (next to the five he already has in France) and the booze is always in close reach. He is not a very popular man in the Marquesas in those days. He returns to France but comes back by sailing boat twice. He eventually dies in Atuona. In the old days the bronze statue near his grave apparently  just stood there without any form of protection against theft,  nowadays it is bolted to a rock, a sign of time even in the Marquesas.
The Gaugain museum in Atuona shows virtually all the works of Gaugain, unfortunately every single one of them a copy in one form or another (mostly repainted by others, some prints and colour copies). W could have known, but still a disappointment. All his local works were sold after his death by the curator, together with his household goods to settle some of his debts.
<![if !vml]>
<![endif]>The story about Jacques Brel we were told by Jeff. Jeff (British) is sailing with Jose (Dutch) on SV Stravaig and his first visit to Hiva Oa was about 35 years ago. At that time Jeff didn't know Jacques Brel was a famous chansonier in France, Belgium and the Netherlands. When Jacques Brel arrives at Hiva Oa by sailing yacht, Jeff is anchored there as well. Brel's intention was to die in the Marquesas, he was diagnosed with lung cancer and had only six month to live. With open arms he was welcomed, big buffet and local dances. Jeff is a veterinary surgeon and he was asked to check some of the animals on a specific disease. Brel joined him on his trips around the island and so Jeff got know him quite well. Hiva Oa apparently did well for Brel, he didn't die as he expected within the six months, although he seemed to have been quite frustrated about this. Eventually he returns to France where he dies some 2,5 years later. His remains are buried at Atuona.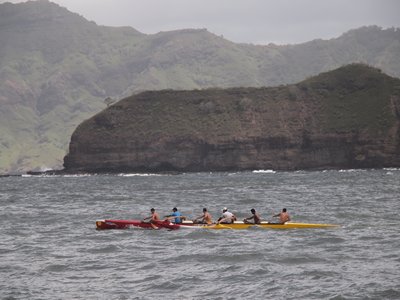 ---