Fatu Hiva: August 18th - September 2nd 2011

Aquamante
Vries Peter Pons
Thu 18 Aug 2011 12:30
Fatu Hiva, Marquesas, French Polynesia: August 18th – September 2nd 2011
The landscape of Fatu Hiva is simply gorgeous, and a stunning contrast to 16 days of only ocean around us. Below some pictures of Baie des Vierges, previously called Baie des Verges (Bay of the Penises, but the missionaries did not like the analogy at all), where we anchored.
<![if !vml]>
<![endif]><![if !vml]>
<![endif]><![if !vml]>
<![endif]><![if !vml]>
<![endif]>
<![if !vml]>
<![endif]>Directly at the end of the bay we find Hanavave, a very small village with 300 residents. Very friendly and helpful. The French influences you recognise immediately, all is so neat, you don't want to know. Attitude of the Polynesians is so different from the Caribbean people, both enjoy being lazy very much but the Polynesians are interested in their own environment and the Caribbeans are not at all, garbage everywhere, the garden is their open air storage for broken washing machines, old tires, electronic bits and pieces and so on.
The bay to the south we can reach by dinghy, 3 miles or so, but even though we are at the leeward side of the island, it is a bumpy ride anyway. At the little cay we can tie up our dinghy, swell is coming in as well, so we take our time, afraid that the dinghy will be smashed towards the rocks again as at the Las Perlas islands (see our web log for this story).
<![if !vml]>
<![endif]>Omoa is a little bit bigger than Hanavave, 500 residents. And indeed as neat as Hanavave. We are looking forward to our first baguette! What a bummer, when we arrive, the baguettes are already sold out. But we can order them for Monday next.
<![if !vml]>
<![endif]>
We just wonder around through the village, everybody is saying 'bon jour', the kids ask for 'bonbon', sweets, next time we should bring them. Everywhere you look you find pomplemousse (grapefruit), limes, bananas, papaya, breadfruit. Unfortunately it is not the season yet for mango and avocado but you can already see them hanging in the trees. Fruit you don't buy, you trade them. Other cruisers already told us to stock well for the famous 'Clos', the cruisers' wine and rum. But also t-shirts, caps, earrings, body lotion actually all different kind of stuff that isn't available at Fatu Hiva.  
<![if !vml]>
<![endif]><![if !vml]>
<![endif]>Our dinghy is still in good shape when we return from Omoa at the dock, although we got quite worried upon our return, as we could no longer see it; the locals moved it to another place due to the arrival of a fishing boat.
The locals take their dinghy out which is quite a hassle these days since their slipway cannot be used because of the rocks lying there after some heavy rainfall earlier this year.
<![if !vml]>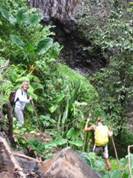 <![endif]>
<![if !vml]>
<![endif]>Both villages, Hanavave and Omoa, lay in a valley, jungle around them, it's so green it almost hurts your eyes. There is a waterfall some 1,5 hours walk from Hanavave through the jungle, you really walk on the edge of the mountains, great tour which we did with Henk and Miranda from 'Mirus', another Dutch sailing vessel. There are enough wooden sticks around we can use as a walking stick to make sure the soil, where you are about to put your foot, is still there.
<![if !vml]>
<![endif]>We can hear the waterfall during our walk but when you actually see it, wow, impressive.
We take a bath in the very, very, cold water that comes down in a kind of fresh water pool. Lovely indeed!
<![if !vml]>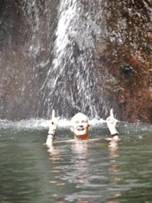 <![endif]><![if !vml]>
<![endif]><![if !vml]>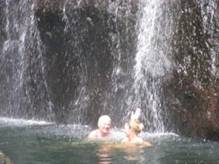 <![endif]>
<![if !vml]>
<![endif]>Next day SV Baju (Stefan and Heike) arrives after a 17 day voyage from the Galápagos! We are celebrating their fast and safe crossing with ice cubes, as promised.  See also our email correspondence with them during our crossing in a previous log entry.
<![if !vml]>
<![endif]><![if !vml]>
<![endif]>Although we are used to the strong wind gusts through the gorge in the valley, we had one or two that finally tore an already weakened part of our bimini (fixed sun cover). It needed to be fixed very soon since the gusts were frequent.  Mirus has a sowing machine on board which I can borrow!  I fix the bimini and since it is still raining I decide to make new covers for our cushions as well. I already had bought the Sunbrella fabric in Panama but had to get a sowing machine that I could borrow for a couple of days somewhere. Mirus stays for another two days so I have to hurry to get it done. I don't have a clue how the covers are made. I try to figure out with the old cushions and make a cover example of an old sheet. Finally after half a day, I think I know how to make them. Measuring takes another couple of hours. In the end, I manage to finish on time.
The same day Vries, Stefan, Heike (SV Baju) and Maarten (SV Aletis, single handed sailor) walk from Hanavave to Omao, in total 4 hours walking up and down a steep gravel road to only get there. The people from Hanavave usually go by dinghy to Omoa, much quicker than by car. Besides, the road is not paved, so it damages the cars as well and spare car parts are very expensive and not easy to get. Since the chance of a car passing by to get a lift back is really small, they're in for a long walk back.
<![if !vml]>
<![endif]>So, while I am busy with my sowing they having a long, long walk of some 8 hours. Vries took the handheld VHF, calls me when they have arrived at the top of the mountain from where they can still see Aquamante at anchor, and waves frantically, but I cannot trace them, not even with the binoculars. Too much green, for me impossible to spot where they are standing and waving. Blond? Oh yes, but hé, what the ….. The walk Vries made was tiring, but fascinating: beautiful views over the bays, a bit of rainforest, but higher up it almost looked like the Alps.
<![if !vml]>
<![endif]>On the way to Omoa they stopped at a wood carver, who, next to the famous tiki (statues) also makes  "ukelele's" (the small guitars) and wooden boats. In Omoa, where they only stayed an hour or so in order not to be late for the return walk of another 4 hours, they visit Joseph, a very kind and talkative grandfather of many on the island, whose family owns the bakery and adjacent supermarket and who invited Maarten for lunch the first day he visited the supermarket (would it not be nice if AH would do a similar thing).
<![if !vml]>
<![endif]>
<![if !vml]>
<![endif]>He shows them his huge tam tam, a hollow tree with symbolic carvings on it of his family, of those who helped make it and of religious (catholic, the missionaries have been very active on these islands) symbols. He tells a few wonderful stories, also on that subject.
The missionaries very much disapproved the liberal morality (hence renaming Baie des Verges) on these islands, where sailors could have their sexual appetite satisfied for as little as a nail (ships anchored here almost fell apart as so many nails were taken out, sailors were searched before they went ashore) and thus the locals danced the censored version of their dances until the last missionary went home, and only then the version, truest to their culture was performed with everything that followed. It is said (not by Joseph though) that the reason for obesity on the islands is the abolishment of the frequent orgy-like dances, what a shame! When Joseph is told they really have to head back for Hanavave, he only allows them to go after he has handed them a whole chocolate cake, fruits and a bottle of drinks for the long road back. 
Miranda asks me to come over for a drink. It is almost dark and the others haven't returned yet from their trip. Finally, around 19.00u, they arrive at the little dock in Hanavave. It takes at least another half hour before they can leave. It is almost full moon, thus spring tide and low water, the swells are enormous, and in the dark it is tricky to get out of the protected dockside, but they do not have other options. They all manage to arrive safely back and even dry, although it was a narrow escape from a wave breaking into SV Baju's dinghy, and so Mirus is invaded by the gang. We have a lovely evening on board at Mirus, drinks and great pasta made by Miranda.
<![if !vml]>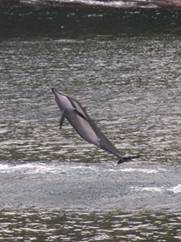 <![endif]>
At a lazy day we are surprised by the dolphins. The weather is tranquil which is quite often an indication that dolphin's can show up, and they did, a show it was, spectacular!
<![if !vml]>
<![endif]>Because we are already at anchor for some ten days at Hanavave we get to know the people. Vries is fluent in French again and that helps! Together with Baju, Mirus and Aletis we are invited for Sunday lunch at Serge's house. We bring the booze, they make lunch. At first Serge had invited us for lunch we thought but it seemed that we could have lunch at his house for almost 20 euro per person!
<![if !vml]>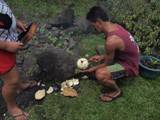 <![endif]>
We thanked him politely and a couple of days later Vries could explain to Serge that it is much nicer to get to know each other while having lunch and everybody does their bit. In the end he understands. So after all, lunch at Serge's home together with his family. Here a picture of how breadfruit is cooked, simply iin the open fire like you do with hot potatoes, it also tastes a bit like a potato.
.
After lunch we head back for the dock which is also a bit the center of the village to spend a lazy Sunday afternoon. Some locals are enjoying their day off playing volleyball. It takes only a minute before the guys are playing as well! It is a mixed game, man and woman, but three intruders is more than enough. 
<![if !vml]>
<![endif]>
<![if !vml]>
<![endif]>
<![if !vml]>
<![endif]><![if !vml]>
<![endif]>
<![if !vml]>
<![endif]><![if !vml]>
<![endif]>
<![if !vml]>
<![endif]>Since we didn't want to overwelcome our stay (you can not clear in at Fatu Hiva, you have to go to Hiva Oa) we were planning to leave for Hiva Oa to clear in.  But then, unexpectedly, SV Paramour III arrived!
We had already met them at Isla Isabela, Galápagos and knew they were heading for Fatu Hiva as well but since they had not yet arrived so long after us, even though they left only one day after us, we thought they had changed plan and had set course directly for Hiva Oa, boy were we wrong. After 27 days they made it from the Galapagos. We blew our horn when they entered the bay.
Next day we celebrated their arrival at SV Baju, even though it was raining cats and dogs again. Jamie is the captain and a single sailor until Panama. There he picked up 4 backpackers, none of them knowing each other and no sailing experiences what so ever! They did great and are heading together for Australia where the youngsters go to earn some money and continue their travelling and Jamie intends to sell his boat.
Our last day at Fatu Hiva would have been a very special day, a big event at Omoa, a cruise ship was arriving! We all wanted to go, Paramour went by boat, their outboard wasn't strong enough to go by dinghy. We decided to go with Aquamante as well, stay there for the night and leaving the next day for Hiva Oa. Everybody had left already, we just lifted the anchor and all of a sudden Vries realised no water was coming out of the exhaust so our main engine was running dry! Even though we were in time to prevent the main engine from overheating, the damage was already done, the impellor was completely gone.
It took us most of the day to find all the bits and pieces from the impellor in the cooling system and put on a new one. No nice dances to watch, no flower necklaces, no fresh baguette, no last beautiful smiles from the people of Fatu Hiva ;-(. Luckily there will be chances on one of the other islands to see a similar thing and then there is the festival this December in Nuku Hiva, where all the dancers, sculptors, painters and other artists from most of the South Pacific islands come together once every four years to perform. That is supposed to be the best of all and we're for sure not going to miss that.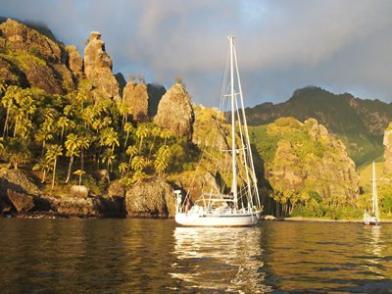 ---