Toau: 15th - 22nd November 2011

Aquamante
Vries Peter Pons
Tue 22 Nov 2011 08:00
Tuamotu islands - Toau - Anse Amyot - November 15th – 22nd 2011
We leave for Fakarava where we shall meet Pacific Bliss as well. Crossing the exit passage can only be done at slack tide which shall be at about one in the afternoon. Daph is eyeball navigating on the bow since the charts to not cover all possible coral heads or shallow spots. Normally it is at least 40 meters deep but than all of a sudden there is this shallow spot of not even 1 meter. Everything went well. At the end of the passage we see a couple of very big dolphins. Just when we have passed Apataki and are ready for our nightsail to Fakarava Pacific Bliss is calling on the VHF. Plans has changed, they haven't left Apataki carenage so we decide to go to Toau instead of Fakarava. Which means no nightsail afterall but arriving at Toau in the dark at about eleven in the evening. We have never been in Toau so a bit tricky to arrive by night. Numerous times we try to contact Valerie and Gaston but no success. Finally somebody answers the VHF. On one of the boats moored at Toau there is a party, Gaston and another guy come toward us in the dinghy to give us a leading line to enter the pass of Toau. Only the next morning we see where we are, a beautiful spot! Valerie and Gaston are taking care of the mooring and run a little restaurant as well. We have met at Paulines birthday party at Apataki Carnage. Valerie is Paulines cousin. Valerie and Gaston have taken the week off. Unfortunately Valerie is not feeling well at all.
Pacific Bliss arrives the following day. So action with the kids, Cosmo and Zinnia! We have our canoe race in all possible variations, boys against girls, young against old, young and old against young and old. We <![if !vml]>
<![endif]>had a ball although the oldies need to recover. Tea and bisquits at Pacific Bliss, what else?
<![if !vml]>
<![endif]>
Gaston caught 80 kilo's! of langoustine the night before we arrive so we don't have to think what to have for supper. Next day we lunch ashore at Valentine's and Gaston's together with Pacific Bliss and Eva and Sep, an Austrian couple. Again langoustines, but also passion cru, homemade pizza as an appetizer, homemade coconut bread, the works! We had a fantastic lunch.
<![if !vml]>
<![endif]>
<![if !vml]>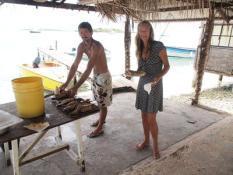 <![endif]>
<![if !vml]>
<![endif]>Cosmo took his lego toys, we all received a bag full of them. Every couple had to make something with all the given pieces. Valerie and Gaston never saw lego before in their lives! After finishing we all told our story with the object we made but your story started where the last story ended. We could have written a children's book about it, great fun!
<![if !vml]>
<![endif]>
<![if !vml]>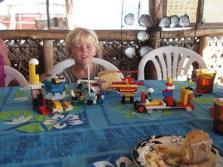 <![endif]>
<![if !vml]>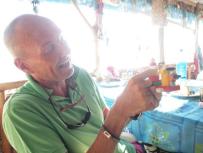 <![endif]>
<![if !vml]>
<![endif]>
<![if !vml]>
<![endif]>Playing time wasn't over yet, the so called rope trick, where you have to make a knot in the rope while the rope is in both hands and without letting it go.
Eva tried and so did every one else, it is almost a bit lit Twister (a game from our childhood). People who remember Twister know what we are talking about, what a laugh we had.
We smoothly continued into another game, patanque or en Francais jeu de boules. Kids weren't aloud to join, patanque is a very serious game in whole of Franch Polynesia. At sunset, on Toau, the pictures say it all.
<![if !vml]>
<![endif]>
<![if !vml]>
<![endif]>
<![if !vml]>
<![endif]>
<![if !vml]>
<![endif]>
<![if !vml]>
<![endif]>
The day after we went ashore to the other site of the lagoon, Vries took his kite. Cos and Zinnia tried but were more interested in finding shells. The big boys enjoyed the kiting. When we got back Gaston was trying to kill a white tip sharks. The huge amount of lobster he caught, 80 kilo's, need to be fed, they love shark. During sunset you see the white- and blacktip sharks in the shallow water. Gaston is just standing on his boat. Unfortunately he didn't catch any this time, tomorrow another day and so another try.
<![if !vml]>
<![endif]>
<![if !vml]>
<![endif]>
<![if !vml]>
<![endif]>
<![if !vml]>
<![endif]>
Before we finally leave Vries cracks a few coconuts so that we have fresh coco for the poisson cru. Valerie and Gaston are the proud owners of a coco grinding machine, wow, that makes it a lot easier than grind the coco by hand!
<![if !vml]>
<![endif]><![if !vml]>
<![endif]>
---